We would like to thank personally all 1,335 of you who took the time to compete our State of Outsourcing 2011 study we're conducting with the London School of Economics Outsourcing Unit. This is the largest ever study that's looked at outsourcing, which included all industry stakeholders (buyers - both business ops and IT practitioners, service providers and advisors). A special shout also goes out to our partner, the Sourcing Interests Group, for inviting their members to participate, in addition to our 53,000 loyal readers.
We've been sifting through the findings these past few days, and let's start here:
Engagements struggle to deliver business value beyond cost reduction
Whatever the motives buyers have when they outsource, the first critical metric they must reach is to save the money they were promised at the onset of the engagement. And we have spectacularly good news for the entire outsourcing industry - the cost savings targets are being met - and being met well, with over 95% of current buyers viewing the engagements as effective for reducing their operating costs. And half of them are really pleased with their cost-reduction progress, the other half seeing progress as "somewhat effective". However, that's pretty much where the good news tapers off, as the rest of the results are pretty modest...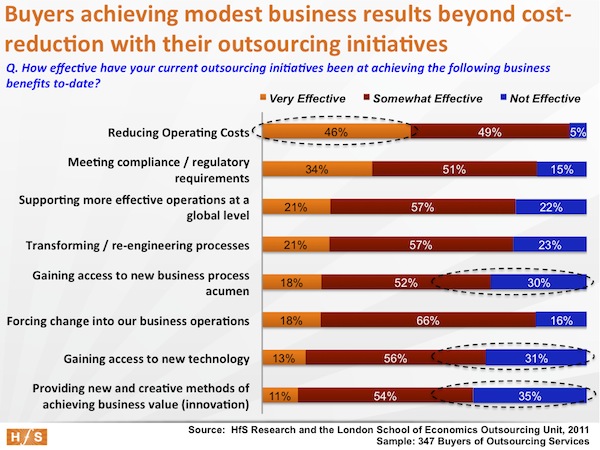 After cost-reduction, how is outsourcing faring?
Posted in: Business Process Outsourcing (BPO), Buyers' Sourcing Best Practices, Cloud Computing