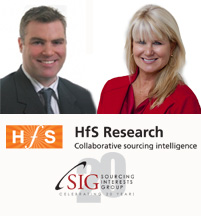 HfS Research VP of Marketing Mark Reed-Edwards got together with HfS Founder and CEO Phil Fersht and Dawn Evans, President and CEO of Sourcing Interests Group, to discuss the new groundbreaking industry research and networking partnership announced on March 8.
Click here to listen in on why on earth they decided to do this:
Download the HfS Podcast here (right click for options).
You can also read more about the HfS/SIG partnership here.