So HP acquired EDS.  Wow.  Biggest services news since HP acquired Compaq a week before 9/11?  In my opinion it is, anyway.
We discussed here in January the issue of consolidation among large outsourcing suppliers, and the general view was one that we would be unlikely to see acquisition among services firms that were similar in nature:
Outsourcers like to acquire firms that bring something new to the table to enhance their outsourcing offerings – for example new technologies, or a niche expertise that gives them competitive advantage.  Too many large outsourcers are too similar… they overlap too much and a merger would often end up as an unprofitable exercise and result in a mass exodus of key talent.

So the HP / EDS merger goes against the grain. We noted some specific areas where there are some strong complimentary offerings – namely in BPO areas – but the overwhelming motive for the merger is one of scale and going-big to compete more effectively with IBM. The increased BPO delivery capability also puts HP on a firmer footing against the other global BPOs, namely Accenture, ACS, Capgemini, Infosys, Wipro and TCS. The newly-merged entity needs to examine how it builds out its business consulting and transformation expertise further if it wants to challenge the both IBM and Accenture's BPO market leadership.
This merger-event could change the game considerably, and we could see other BPO suppliers to re-evaluate their acquisition strategies to generate more global scale and increase their client-bases. With the cost of client acquisition becoming increasingly prohibitive, the valuations of services firms decreasing in these market conditions, and the desire of many enterprises to move into more rapid outsourcing engagements, the leading vendors need additional scale and capacity. So this begs the question whether we could see some similar-scale outsourcing services mergers in the near-term?
Please vote on the toolbar to the left whom you think is likely to be acquired over the next year – you can have up to three choices. I included major BPO suppliers with revenues under $9 billion and significant BPO client-bases. I would also love to hear your views on how the HP/EDS merger will impact consolidation in the BPO industry.
Update: The polls are now closed: here is how you all voted: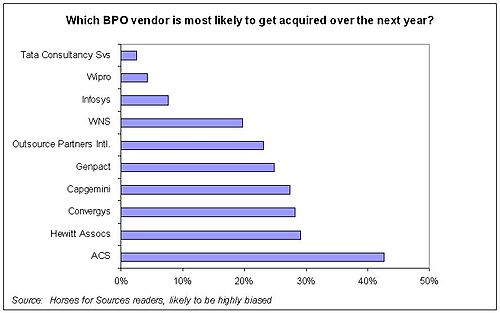 Congrats to ACS, the lucky winner… or should that be TCS?
Posted in : Business Process Outsourcing (BPO), Finance and Accounting, HR Outsourcing, IT Outsourcing / IT Services