I found myself embroiled in a debate with a colleague today, who covers software markets. 2008 promises to be a year of unprecedented consolidation in many niche software markets… because supply usually outstrips demand in new innovative areas (where software products tends to live), software products often complement each other, and software companies like to buy each other to hoover up more clients. Software is an acquisitive industry, which is so well highlighted over at the Human Capitalist with the example of HCM vendor Workstream hawking itself around potential suitors. (I know several software entrepreneurs who spend all their time trying to find someone to buy them out…. that's their end-game).
So why do we see zero action happening with the large outsourcers? True we, see growing outsourcers like NCO buying up specialist process vendors like OSI to build out their global delivery model and broaden their process scope, but what ever happened to Accenture buying Hewitt, or IBM buying Genpact, or Infosys buying CapGemini (the list goes on….)? So here's my reasoning:
Outsourcing industries let themselves flesh out naturally… remember HRO? The only large acquisition of any note was ACS buying Mellon's HRO business, which seemed like the right move at the time, but did little to bolster their HRO business. After that episode, the leading players saw the market for high-end engagements dry up and they simply watched as the second tier took itself out of the enterprise market.
Well-resourced ambitious outsourcing providers prefer to grow organically and acquire new clients they want to grow their long term business. This way, they can shape the type of services and global delivery model they want. Moreover, why buy up a rival, when many of its clients are not particularly (if at all) profitable, and you will pay an inflated premium to acquire all its assets? As outsourcing solutions mature, each deal is (normally) structured better than the last, buyers get smarter, and the risk of failure decreases. It's fascinating to observe the leading Indian-HQed providers competing aggressively with the Tier 1 incumbents for high-end clients – they want to build up their client infrastructure their way, and not simply inherit clients whose engagements may not be optimum.
Outsourcers like to acquire firms that bring something new to the table to enhance their outsourcing offerings – for example new technologies, or a niche expertise that gives them competitive advantage. Too many large outsourcers are too similar… they overlap too much and a merger would often end up as an unprofitable exercise and result in a mass exodus of key talent.
The market for IT outsourcing and F&A BPO, which tend to derive from companies which have both offerings (namely IBM, Accenture, Infosys, CapGemini, Wipro, Genpact), are doing well and there is enough business to go around for the time being.
However, I would add that the new tier of Indian outsourcers, namely Satyam / Nipuna, Patni, HCL and Comnet are potentially disruptive to the Tier 1s. They have the capability to aggressively undercut pricing with offerings such as Remote Infrastructure Management, which can drive significant downward pricing pressure on an engagement, and eat into the lifeblood of CSC, EDS et al. Some Indian-based firms are already claiming a 50% cost decrease from original budget with their RIM offerings. It's not inconceivable that some other Tier 1s will look to take these firms out of the market as a strategic move to protect their market share.
All in all, I don't expect any major acquisitions in the outsourcing space in 2008. With a likely recession poised to spike demand, there will be enough business to go around. I can see the industry reaching saturation in 2009 / 2010, and then we may see some strategic moves, but at the end of the day, outsourcers simply don't like the taste of each other.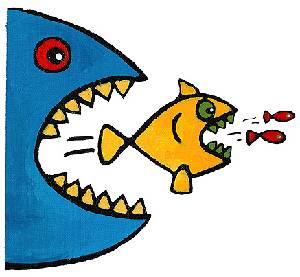 '
Not sure I really fancy this….
Posted in : Finance and Accounting, HR Outsourcing, IT Outsourcing / IT Services, Procurement and Supply Chain