With all the recent fuss in the media and the global sourcing industry about protectionism derailing new engagements, I wanted to set the record straight with some brand new survey data and some views into President Obama's current position, that protectionism is not proving to be as big an impediment behind companies' making outsourcing decisions in the near future as many people have stated.
To this end, I wanted to share some preliminary data from our current survey on global sourcing dynamics that tackles the issues preventing companies from making outsourcing decisions this year: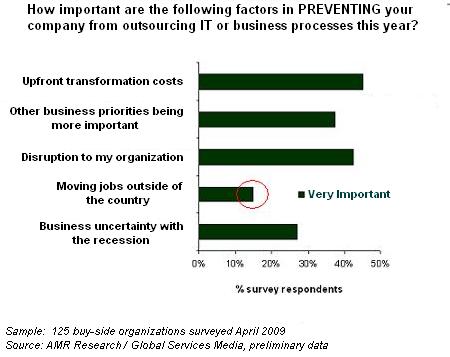 Barely 15% of 125 buyers currently surveyed view moving jobs offshore as a very important factor preventing an outsourcing decision this year, while close to half view upfront transformation costs and potential disruption to their organizations very important factors.  As Professor Bob Kennedy pointed out to us recently, there is a growing chasm between political rhetoric and action.  So while people in media, politics and in other settings, whose jobs are unaffected by global sourcing, are publicly voicing their objections, those executives fighting to drive costs out of their businesses and move onto more innovative global delivery models, clearly have other priorities. 
Clearly, President Obama needs to put together tactical measures if he wants to deter buyers from using offshore resources, but when you look at his new appointments and current lack of anti-offshoring policy, you start to wonder if he is going to pursue any policies with teeth that will impede offshore outsourcing in the future.  The following clip from CNN discussed his recent appointments of Diane Farrell, the former Director of McKinsey's Global Institute, and Jeffrey Immelt, GE's CEO.  Both are strong public advocates of a global sourcing model:
Posted in : Business Process Outsourcing (BPO)