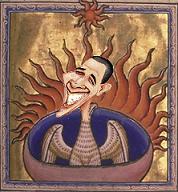 I was having a little joke yesterday, where the premise was: "So what do we do once all the jobs have been offshored?"  My initial solution was:  "That's easy -  we create great low-cost skills here, and we bring them all back".  The other partaker in the mirth added:  "Wrong – we will still be offshoring, as all our business headquarters are moving out too.  In effect, we'll be offshoring jobs to America". 
As we rolled around on the floor in uncontrollable laughter (OK, it wasn't that funny), it did hit home how unattractive the US is becoming for businesses. 
US corporate taxes are among the highest in the world.

The cost of living and wages in business centers such as New York, Philadelphia and Chicago is off-the-scale.

The cost of healthcare is a killer – and, despite the excellent intentions of this new proposed healthcare reform, the tax burden on the US business is going to get even worse.  For the cost of one years' benefits package in the States, you can hire a full-time ABAP programmer in your offshore captive for that entire year, or pay for half of one (for the entire year) with a service provider.

Other Western countries are far more corporate-friendly.  I was helping a friend with a business plan the other day, and the cost of hiring qualified graduates in London (yes, London) is half that of New York (and getting even cheaper in this market).  Why even consider setting up a global business in the US these days in this virtual environment?
As much as I admire all the efforts of President Obama to drive reform and economic stimulus into the US economy, I just don't see the environment for the US business to thrive and create new jobs being created.  I'd like to see stimulus money being allocated to helping businesses create new knowledge-jobs that are competitive with those on offer from India, Europe, China etc.  The way things currently stand, the US business environment has never been so ripe for outsourcing – not just for accessing lower-cost skills, but also for our businesses themselves.
Posted in : Business Process Outsourcing (BPO), IT Outsourcing / IT Services