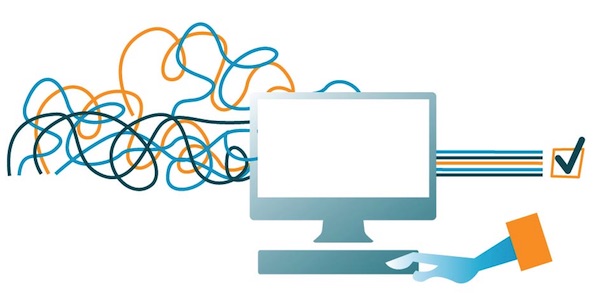 Focus everyone on the shared outcome: The healthcare consumer experience
"We are, frankly, still at a stage in which healthcare technology often hinders, rather than helps, physicians trying to provide better care," says Andy Slavitt, Acting Director of Centers for Medicare and Medicaid. The examples he shared at HIMSS16 still resonate with me: feedback from physicians who have told him, "To order aspirin takes 8 clicks on the computer. To order full strength aspirin takes 18." Another said, "I can't track my patient's referral; I sent them to the hospital and can't track them."
Despite the increased, even prolific, use of IT in healthcare with member and patient portals, electronic records, and online billing and payments, the clinician or healthcare consumer experience has yet to change fundamentally for the better. To truly become digital, healthcare organizations have to rethink their use of IT. In many cases, where they have software vendors and service providers involved, they also need to revisit their engagement strategy, especially as the industry shifts to value-based care and payment based on results.
A single-minded focus on the customer—patient, member, employee, clinician, etc.—can break down the barriers in and across organizations to drive meaningful processes and use of IT
Digital healthcare, in its purest form, is all about transforming the healthcare business to create, support and sustain the healthcare customer experience – customers being, at times: plan members, patients, physicians, caregivers, etc. The "end user" can be the same person in different roles, or working with people in other roles, creating a complex network of constituents with varying wants, needs, and motivations. So, creating a healthcare experience is not a job for a solo artist, either – it takes the whole orchestra playing together to create a musical masterpiece and not just a cacophony of sound.
Simply stated, a pivotal factor for being truly effective in delivering the vision of better health and care at a more reasonable cost for the industry is a coordinated, interactive, and interoperable approach in operations, what we at HfS call the Intelligent OneOffice. OneOffice is all about how people use data and digital technology to bring together the front, middle and back office to enable a user experience that matters, thereby having an impact on health, care, and the viability of healthcare organizations and businesses.
Everyone in the industry has a role to play in supporting this person-centered approach. In some cases, the impact is more obvious and intuitive, such as the front line staff of doctors, nurses, and pharmacists directly discussing a patient's care plan, therapy and medications. However, roles that are more removed from these direct touch points also have an impact on health, medical, and administrative outcomes. For example, operations support staff processing claims are analyzing data to identify care gaps and opportunities for new interventions, making sure patients are informed through the design and input into systems that automate outreach and reminders through phone, email, or text, for example. So much of how the touch points in healthcare can be more effective depends on the data, digital technology, and relationships that extend from "hidden" roles in "the back office."
People who can identify and articulate problems and coordinate across internal and external organizations to focus on the end-consumer, are key to bringing together IT and operations
Generating the kind of synchronistic flow from less customer-facing processes to support the healthcare customer experience is no easy task. What will help drive change is finding and/ or cultivating "brokers of capability"—people who can articulate a business problem or opportunity, the desired outcomes, and then coordinate and facilitate across internal and external entities to reach those results. In healthcare, we see brokering going on to create networks such as for ACOs and hospital systems leading to data stores and insight-driven interactions to better manage a patient's health and care, end to end, covering socio economic/financial and medical needs.
Who are your brokers of capability? People you identify in your organization with critical thinking and networking skills, people who put people first. Taking this approach also creates a more attractive workplace and can play on a naturally altruistic synergy as many people enter the healthcare profession to "help others." No matter what role they play, as a nurse, doctor or physician, or a claim processor or medical coder, there is an opportunity for everyone to impact the customer experience and gain a greater level of satisfaction and engagement.
Note to readers: Our study on achieving Intelligent Operations, with input from Cognizant's Center for the Future of Work and Business Process Services practice, canvassed 371 major buy-side enterprises and had 45 healthcare executive participants. Link to The Journey to Intelligent Operations in Healthcare and download for free after registering on the site.
Posted in : Business Process Outsourcing (BPO), Digital Transformation, Healthcare and Outsourcing