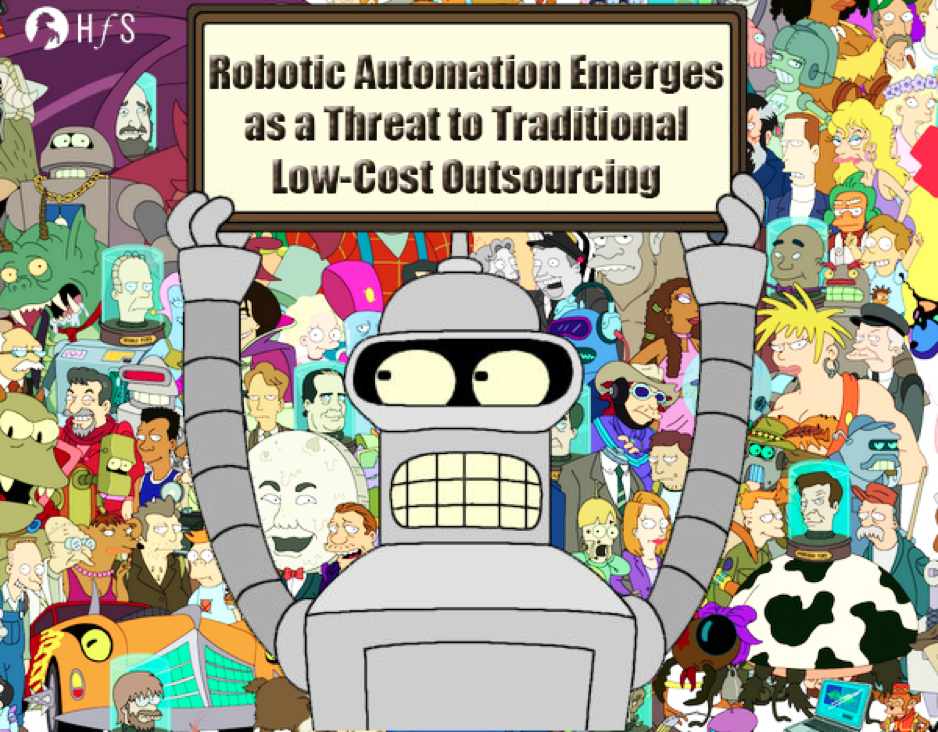 I remember vividly reading an article back in 2012 that a new set of software termed "robotic automation" could be a serious threat to offshoring if not outsourcing at large. Suffice it to say I sat up straight in my chair and wanted to find out more. And I am very glad that I not only read that article but started to research those topics. This research not only got me immersed in the small yet highly innovative Intelligent Automation community, but it led to HfS suggesting that we should join forces to push the envelope on how these tools might disrupt our industry. At the time, Phil titled the blog in his inimitable fashion: "Greetings from Robotistan, outsourcing's cheapest destination." And the key strategic questions the HfS team was asking included: If you were a buyer, how fast would you jump at the option to hire FTEs at rates that undercut the Indian body shops by 50% — without sending jobs offshore? ("Hire" isn't the right word, of course: it's "create".) If you were a BPO services provider, how would you like to build a software robot to automate a business process for one client, and then resell copies of that robot to a dozen other clients in the same vertical?"
So, fast-forward 4 years, is the offshoring industry any closer to the abyss? Those questions raised by HfS can be condensed to the suggestion that RPA will lead to a surge in insourcing which in turn will cannibalize large parts of the offshoring industry. This was underpinned by the assumption that scaling those robots is a piece of cake. Suffice it to say those suggestions need to be understood in the context of time, but equally that it were tool providers like Blue Prism and UiPath pushing that narrative in order to get the concept of RPA on the radar screens of the industry's stakeholders. So where is the industry really at and what are the likely scenarios moving forward? Two recent industry events might help to shed more light at this. First, early in December Capita announced restructuring program. Crucially, the expected job losses are meant to be buffered by both moving services offshore as well as investing into a proprietary RPA solution. Capita is an important reference point as it has been used by the likes of Blue Prism and UiPath as a case study for the suggested trend of increased insourcing through RPA. What this tells us is that we have to stop ask binary questions, namely is one concept supplanting another. This is also demonstrated by the second event. HfS did spend a couple of intriguing days in Vietnam visiting Swiss Post Solutions (SPS) delivery centers in Ho Chi Minh City and Can Tho. SPS is a compelling example for scaling out RPA as part of its Global Sourcing strategy. The company is blending proprietary IP, RPA (UiPath) and Artificial Intelligence (Celaton) to accelerate toward higher value services. Thus, SPS is aiming to expand from its core in document management outsourcing toward BPO services. This journey is incremental, building on its historical strengths around document management and invoice processing but progressing to broader capabilities in F&A BPO and Insurance Claims processing. Unlike many other RPA deployments which tend to focus on client specific activities, often on a sub-process level, SPS is focusing on industrializing the core of its delivery capabilities through RPA and AI.
Before you raise your eyebrows, the point here is not to suggest that the market will necessarily follow SPS, but that we need a much more nuanced understanding of the implications of RPA and Intelligent Automation at large. HfS has been vocal, to put it mildly, on the impact of automation. First and foremost, this impact plays out differently in different scenarios. We see the most pronounced impact on service providers internally. It is here where RPA is being deployed aggressively and as financial earnings calls show, thousands of jobs are being "freed up". Service providers are much coyer in deploying RPA in Managed Services contracts as top line revenues will be impacted. More recently we see a surge in transformational projects building out captive automation capabilities for clients. However, the boundaries between the last two scenarios are blurted. As part of the sourcing mix both might exist within one organization. But equally, we are seeing failed in-house projects that end up as BPO contracts and vice-versa.
However, to get a better sense for potential disruption, we have to continuously enhance our understanding of what automation really means. The more I think about automation, the more discussions I have with stakeholders, I keep increasingly coming back to one issue that helps me crystallizing my thoughts on the impact: How much of automation conceptually is actually a managed service and how much conceivably could be run as unsupervised learning. Take the example of SPS, business agents are being supported by elements of RPA and AI but their activities continue to require significant manual intervention. You can apply the same logic to the various tool providers and you get a sense when you visit their offices. Do you see hordes of developers doing manual tweaks and coding or do you see largely just R&D capabilities? Unsurprisingly the latter technologies offer higher value moving forward, even though at times it might require more effort to get the deployments up and running. Now combine the emerging notion of Virtual Agents underpinned by those forward-looking technologies and we really are staring at highly disruptive scenarios. On the danger of sounding like a broken record, we urgently need an honest and transparent debate on the various implications of Intelligent Automation.
Bottom-line: Intelligent Automation projects will only be successful with constructive change management
The White House released a report on the implications of automation and AI on the economy, the UK Government undertook an inquiry into robotics and artificial intelligence, yet our industry appears largely to remain in denial about those issues. Almost all service providers we try to engage with around this topic continue to suggest there will be no disruption. People "freed up" from projects will re-trained, re-badged – and you will have guessed it – all be happy. But I keep scratching my as we work in the sourcing industry. I am the last one proposing restructuring and job losses, but we finally have to get to a more honest and transparent debate on all of this. The implications will not only be felt in global sourcing locations but much closer to home in equal measure.
Posted in : Business Process Outsourcing (BPO), intelligent-automation, Robotic Process Automation