You may recall we've been a tad harsh on the municipality of Orlando over the years here on HfS, once even going as far as equating being middle-seated en route to the Floridian enclave as being stuck in purgatory all the way to the gates of hell.  After many lost nights' sleep trying to seek out that elusive morsel of innovation, it has finally dawned on us:  where better to look than the Magic Kingdom?   So after writing a personal letter of apology to both Jeb Bush and Mickey Mouse (was an easy copy/paste) we are delighted to announce that HfS is making an Orlando tribute tour to SSON's magical 16th Annual Shared Services & Outsourcing Week: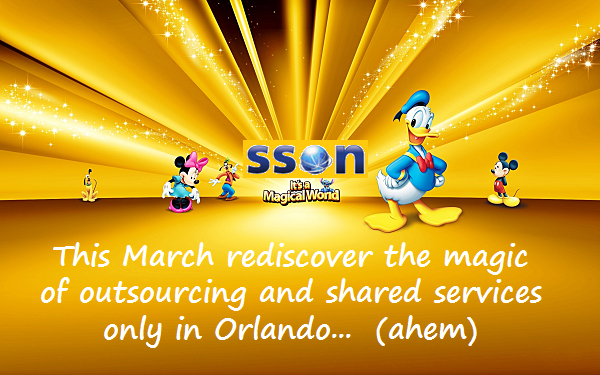 We'd love to meet you at the Hilton, Orlando, March 7th-9th, where you'll get the usual deluge of panels, G6 big-thinking debate, session break outs and every single possible angle you can ever attribute to shared services and outsourcing.  We're also excited to feature on the analyst discussion with our good pal Stephanie Moore of Forrester Research (read her HfS interview here) and to have an on-stage interview with Microsoft's Chief Procurement Officer, Tim McBride (read his interview and HfS case discussion here).  And yes... you may even discover a morsel of innovation before resorting to scourcing the bottom of your wine glass.
And... of course... our friends at SSON are extending a special discount to our loyal cynical HfS readers, who have been so cruelly brainwashed against the magical delights of Orlando and its sourcing magic...
Just click here and type in the code 'SSOW12_HFS' to take advantage of our special "Orlando we are ready to try again" 15% discount
Have a magical day folks...
Posted in: Business Process Outsourcing (BPO), Buyers' Sourcing Best Practices, Captives and Shared Services Strategies