New research from HfS clearly shows all is not as it seems in the global services landscape.  HfS' Jamie Snowdon investigates…
It would be easy to forgive anyone for assuming that the Indian services majors Wipro, Infosys, TCS, Cognizant and HCL (aka the "WITCH" providers) are dominating the global battle for services supremacy, given the hype that surrounds India's dynamic IT outsourcing economy. However, In spite of their impressive growth over the past ten years, none of the WITCH providers have yet to make the HfS Top 10 of global IT services firms, despite dominating the application development and management business: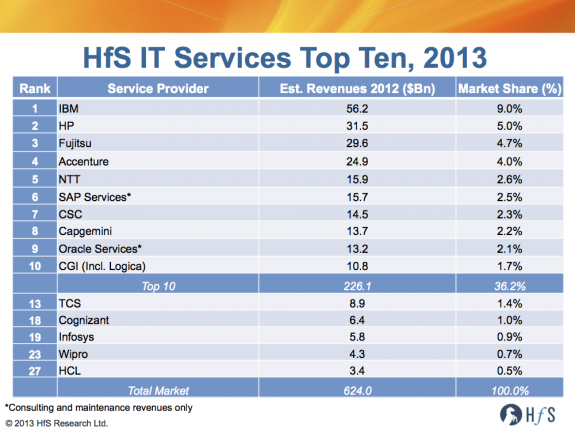 The first of the WITCH providers likely to break the Top 10 is TCS, provided it can maintain its current growth trajectory, break through its landmark $10bn revenue barrier, and there aren't major acquisitions or merger amongst the Top 20 providers.
The IT services competitive landscape is still dominated by the traditional large global IT firms (HP, IBM, Accenture), the global enterprise software companies and local IT services firms with strong domestic/regional market positions (Fujitsu, NTT, Capgemini, CSC, CGI).
HfS Research's new Global IT Services Market Size and Forecast 2013 provides an analysis of the recent financial performance of the leading IT Services companies and the key drivers and inhibitors that are driving growth in these markets, particularly how they are coping with the endlessly on-going economic crisis in Europe and the key technology and business dynamics driving growth in 2013 and beyond.
Ten ways the WITCH providers can break the IT Services Top Ten
1.     Develop a greater client base outside of the US – particularly continental Europe where the benefits of offshore development are beginning to be recognized
2.     Move up the value chain – too many of them are being "ring-fenced" into the IT back office and struggling to get a bigger chunk of the integration business
3.     Expand into the upper-middle market ($1-$5bn revs), where the heritage western firms are much less dominant and demand is highest
4.     Acquire more consultative capability to move clients into the cloud
5.     Invest in word class BPO and business transformation capabilities to become genuine "technology enablers" and not solely IT body shops
6.     Focus on verticals where they can really differentiate with institutional expertise and stop trying to be "all things to all people"
7.     Become more global in nature, establishing more middle and upper management in locations outside of India
8.     Diversify more aggressively IT infrastructure-based services and become less reliant on lower-level ADM work
9.     Diversify beyond legacy ERP services into supporting SaaS enviroments such as Salesforce.com, Workday, Netsuite etc.
10.   Acquire a "traditional" onshore IT services business that can add many of the areas mentioned in points 1-9
Posted in : Cloud Computing, Confusing Outsourcing Information, HfSResearch.com Homepage, IT Outsourcing / IT Services