Surely not, folks… but did the flagging IT services business finally find rock bottom… and we're now working our way back to something resembling (gasp) growth?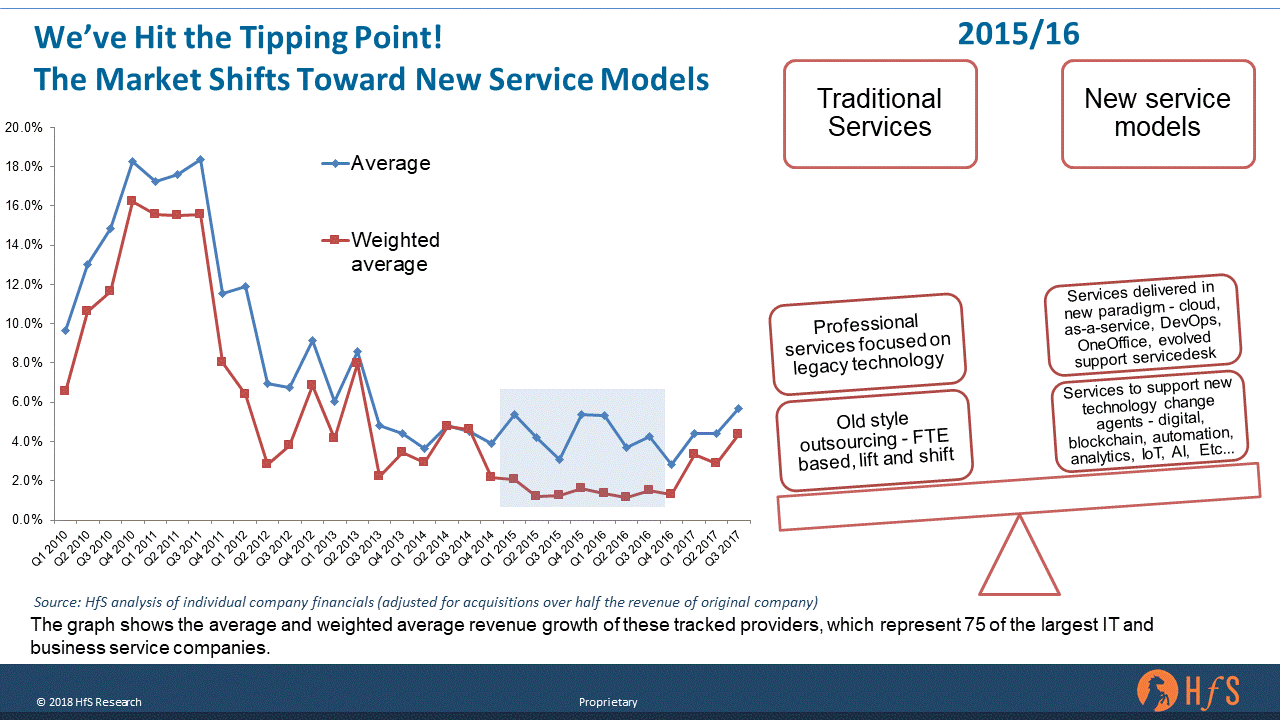 According to our latest market size and forecast, Q3 2017 showed real signs of genuine improvement in the services business. It is consistent with the gradual upward trend we've been monitoring over the past 8 quarters (with the exception of Q4 2016), when the market dipped due to concerns around Brexit and Trump. We've been observing an increasingly significant number of Digital OneOffice type deals, and it seems we may have finally reached an inflection point where these "OneOffice style" engagements are driving more growth than the legacy is sucking out of the market.
How we define OneOffice IT Services
The OneOffice framework is all about collapsing the barriers between front and back office to create OneOffice with unified outcomes, centered around customer impact. OneOffice IT supports this framework. As such, OneOffice IT Services is split into two main components – operational services and professional services: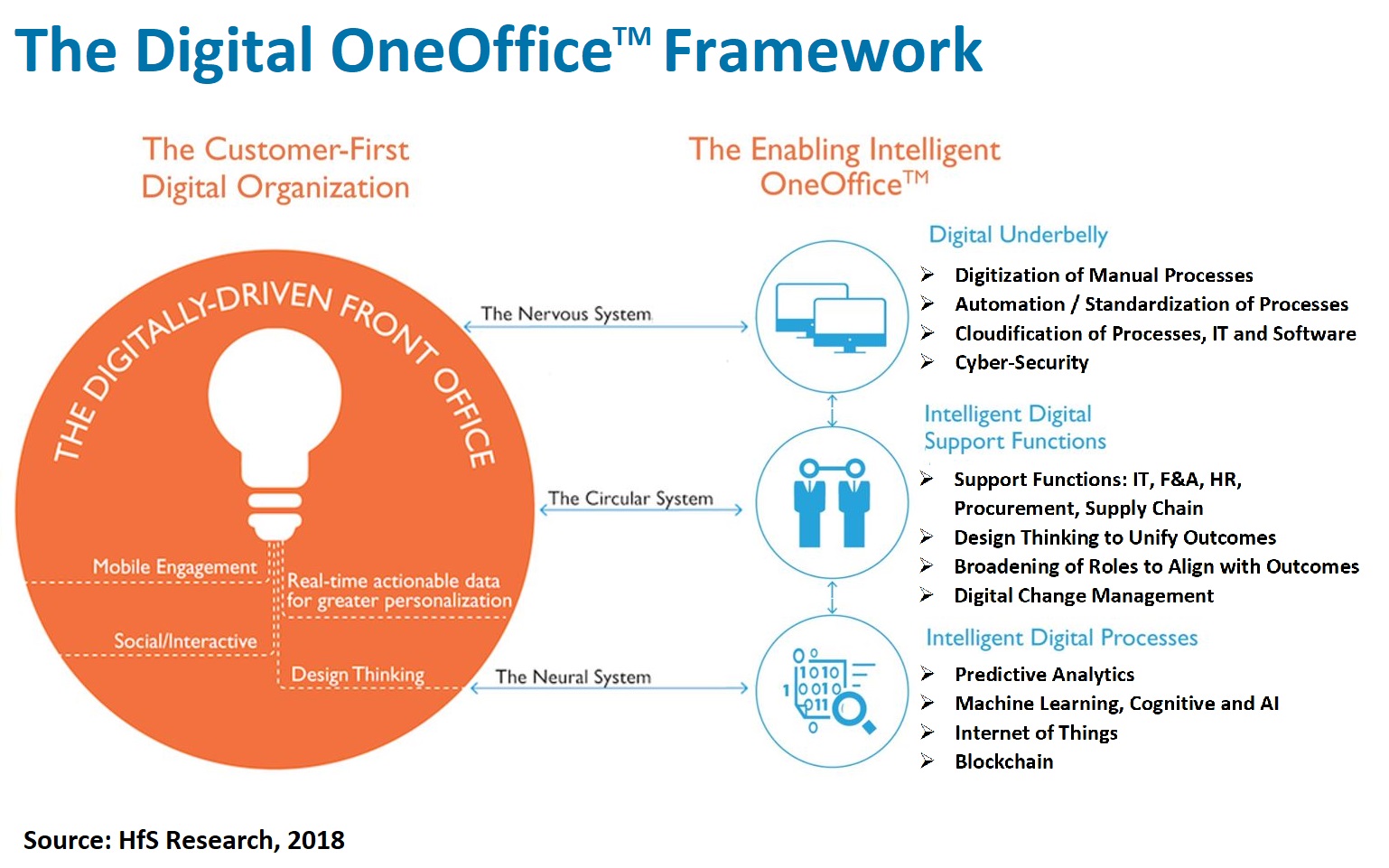 i) Managed / Operational OneOffice IT Services
The difference between traditional operational services and OneOffice operational services is the business model of the services itself and the manner in which the service is delivered. Operational OneOffice services can include both application management and IT Infrastructure focused services. OneOffice services use an evolved service delivery model that shifts the business model towards outcome realization and consumption, so would include hybrid and cloud infrastructure as-a-service, application management in SaaS and DevOps environments, and evolved enterprise wide managed services service desk support. OneOffice framework is all about collapsing the barriers between front and back office to create OneOffice with unified outcomes, centered around customer impact. OneOffice IT support this framework.
ii) Professional Services
The shift in professional services is less about changes to the business model of the service itself, but more about the technology being implemented or consulted about. HfS includes all the services used to support the new technology change agents, namely cloud, digital, analytics, blockchain, process automation, IoT, and AI. Importantly, this includes consulting that changes clients' businesses as part of this new technology adoption.
We are translating this optimism into our market forecasting and are starting by making the first adjustment to the IT Services forecast which you can see in the 2018 market primer infographic: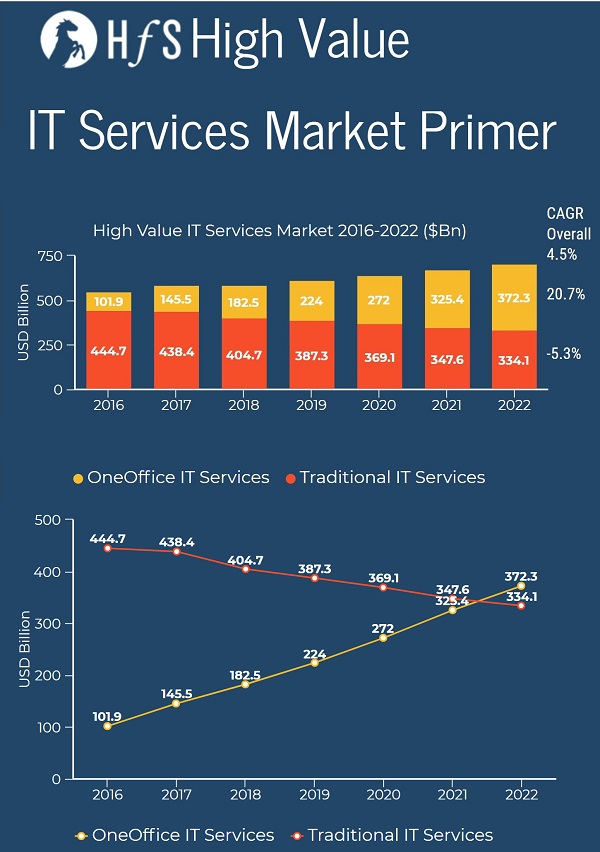 Why OneOffice IT is driving the IT services rebound
The market primer provides our latest size and forecast for the high value IT Services market – this market excludes support services and training and education services. Its main constituents are applications development and management, IT infrastructure management services and professional services. We have provided a split between the new style of IT Services – what we are calling Digital OneOffice IT Services – and traditional IT Services. With the former a combination of newer engagement models and services directed at the implementation and running of the new technology change agents.
Although we do expect the old and new worlds to coexist for some time to come, the distinction between the two will become harder, and less relevant – particularly as the market overall starts to accelerate its growth. We have increased our forecast for IT Services overall to 4.5%, with OneOffice services growing at 20.7% and the traditional markets declining at 5.3%. We expect 90% of professional services growth to come from the emerging change agents (namely digital tech, automation, AI and eventually blockchain), as the consulting and implementation services for traditional IT shrinks.
We can see traditional (or "legacy") IT outsourcing being impacted by big price dips in traditional infra and apps work – and general cost impetus – and a falling out of love with outsourcing as a deliverer of real business value. There is still too much focus on legacy deals – even with the shift towards asset light, as-a-service and cloud taking operating costs out of larger contracts – and the upside of new technologies not compensating. However, we can see some of this changing as growth in cloud services becomes enough to offset these declines.
The application development and management market is still growing faster than the market as a whole. Due to new methodologies like DevOps and the increased "cloudification" of business infrastructure, the lines between IT Services towers continue to blur. This means applications become more front and center and the infrastructure that supports them becomes less important. We have seen more deals and more RFIs where applications and the infrastructure supporting the apps is combined.
Crucially, traditional application management is now largely commoditized, with new growth areas stemming from systems integration, application engineering, and design, enabling the adoption of new IT and digital technologies. Indeed, SaaS adoption is set to grow almost five times faster than traditional software product delivery, with many large businesses showing a preference for the As-a-Service model instead of capital investment.
In 2016, the number of contracts for Custom Application Development (CAD) and Maintenance accounted for 25% of the total market activity, whereas the application maintenance share reduced to 18%. In 2017, we expect customization to be the second service in demand under ADM, after SaaS services.
The Bottom-line: As the line between traditional IT services and OneOffice services continues to blur, we'll see some traditional offshore-centric providers making the smart investments begin to reap the benefits
The professional services market has been kept buoyant with new technologies and digital. However, the pricing for professional services is increasingly at odds with pricing for operational IT services – with operational services becoming cheaper and more efficient over the past decade, through the use of cloud, better development platforms, standardization, automation and, offshore. This disparity between the perceived value of professional services and operational services is starting to show in customer attitudes toward consulting. This also creates significant opportunities for the offshore-centric service providers moving up the value chain to cater for broader transformations over longer team deals – such as the recent slew of TCS wins over the past few weeks.
While it's been a "sluggish" couple of years for the likes of Wipro, TCS, Cognizant, HCL and Infosys (sluggish in the sense of only single-digit growth), we expect many of the investments these firms have made in their delivery capabilities to bear fruit over the course of 2018 and beyond – such as Wipro's Holmes, TCS's ignio, Cognizant's BigDecisions, HCL's DRYiCE etc. While uptake of many of these investments has been slow, we are now seeing many of them being embedded into longer, higher risk engagements, which should ultimately lead to more profitable, higher value delivery. On top of this, we are seeing Accenture lead the way with its concerted focus on digital solutions, but not every enterprise is ready to pay Accenture prices. And with IBM's 23 consecutive quarters of negative growth finally came to an end, this may signal the firm is managing to balance its OneOffice capabilities with its struggling traditional business to better effect. On the flip side, those that fail to convince their shareholders they have to make the smart investments, will shrink and wither away like many of the monoliths of yesteryear (several of whom still limp along on life support).
All in all, we may finally be emerging from a confused couple of years, where the industry struggled to make the switch from the old to the new. Now the blurring if the lines is bringing higher value IT to the forefront and forcing many of the traditional service providers to up their game and provide more value. Expect more investments to follow and some erosion of profit margins to fund this next wave of IT service development… but ultimately renewed growth, which ultimately leads to a healthier, more buoyant and innovative industry.
HfS Subscribers can click here to download the full POV "2018: IT Services Beyond the Tipping Point", authored by Jamie Snowdon, Ollie O'Donoghue and Phil Fersht
Posted in : Cloud Computing, Digital Transformation, IT Outsourcing / IT Services, OneOffice