My husband and I have three children, including twins with autism. Over the past few years we have become accustomed to thinking outside of the box and trying different approaches as parents. We've learned the importance of good planning to meet a desired outcome (often the hard way!). We have also had to unlearn many parenting techniques employed with our eldest child to best support the twins. Service providers have undergone a similar transition, as they battle with how best to support the high growth area of SaaS services compared with the requirements of the on premise world of yesteryear.
I've been an analyst for 20 years, a period dominated by legacy systems, on premise applications and a very strict view of the IT services Value Chain of Plan, Implement and Manage. Service providers and analysts alike list relevant services that should appear in each of these boxes to facilitate product development for service providers and market tracking for analysts. Since I started out as an analyst, I've tracked all sorts of services markets, from network professional services, to security services to application services. Jumping from topic to topic was never a major problem, as I applied the same basic principles of the IT service Value Chain to every area I covered. It was simply a case of coming up to speed on the new technology, understanding buyer needs, and identifying which service providers could throw a practice together to make money out of a growing hot trend. The Value Chain itself hardly altered. Sure, the specifics had to be tweaked but generally speaking service providers, analysts and buyers all knew exactly what you would get in each individual box:
Plan: this is the consulting phase of the engagement and includes a whole host of advice services for business strategy, deployment design, blueprinting, governance, security, regulatory compliance, and so on. It used to be a lengthy engagement, typically at least one year, as service provider and buyer teams tried to tick off every possible eventuality in the upcoming scary deployment phase.
Implement: this includes implementation, integration, testing, training, any customizations and so on. If the roadmap set out in the consulting phase was airtight, the implementation phase was as easy as pie. Of course this seldom happened, and tweaks were made as the project evolved. Typically this was a technical and tactical project with the focus on execution excellence in a cost effective way.
Manage: ah yes, the management phase. That thing that most enterprises don't think they actually need or convinced that they can do it all in-house. But as all the markets I tracked evolved, management services inevitably became more important and in high demand. These were typically stale in nature, keeping the light on type of activities. I saw more proactive monitoring type of services in the network and security market, with some service providers independently making changes to improve network communication or security settings (shock, horror!) but I didn't witness too much of this proactive engagement in the application services space.
I still use an IT services Value Chain at HfS for the three main SaaS Blueprint reports I have authored: Workday, Salesforce and SuccessFactors services. It is useful because it outlines the main services that should be included in each IT service area. Here is our Workday Services Value Chain:
Exhibit 1: Workday Services Value Chain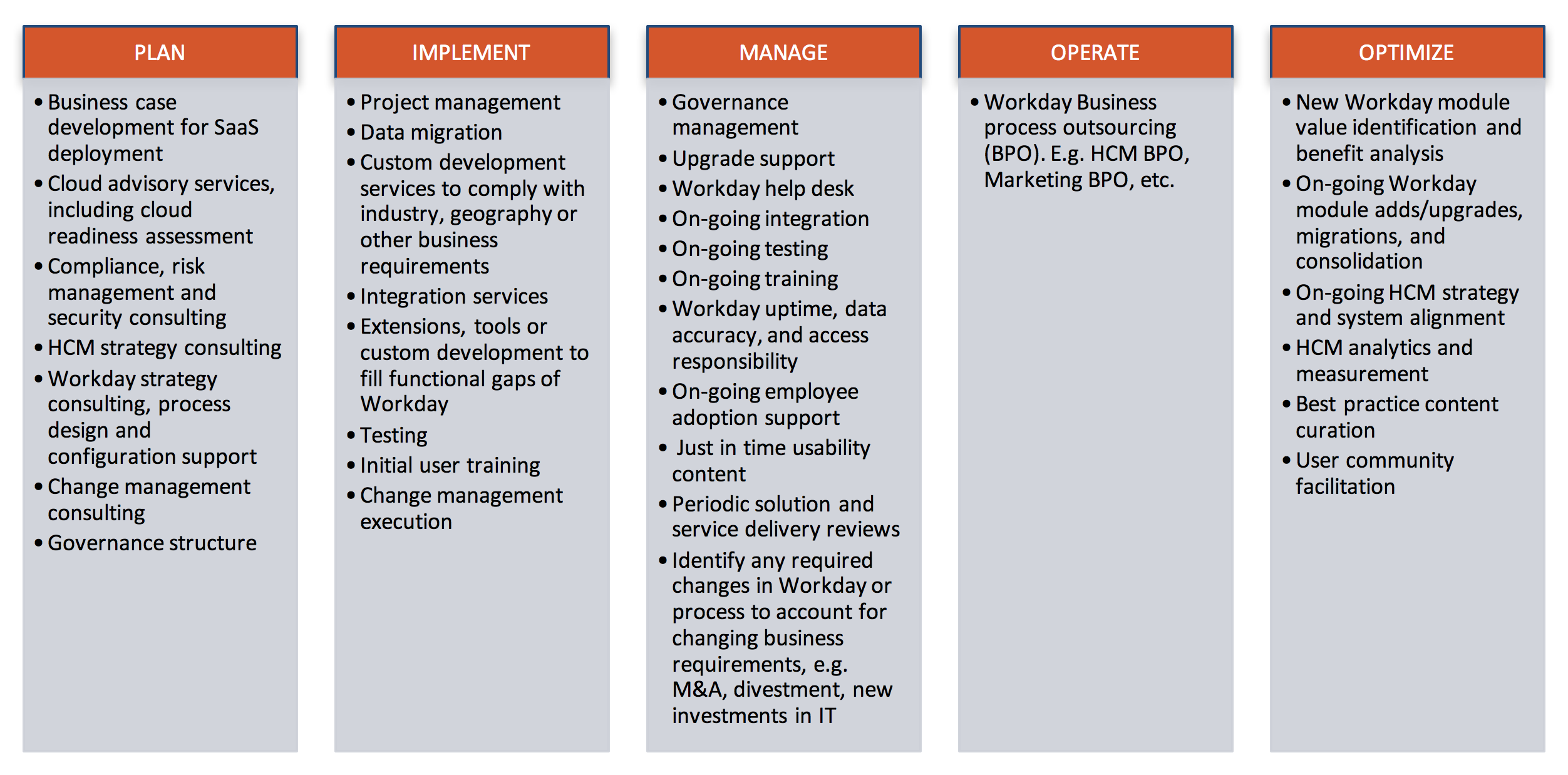 Source: HfS Research June 2016
The silos still serve a purpose, if mainly an informative one – and frankly, this diagram wouldn't look half as good without the pretty columns. But this illustrates the 'what' rather than the 'how' – and it's the 'how' that is radically changing in the SaaS services market.
SaaS Services Requires a Different Approach
SaaS application adoption is changing IT service delivery requirements. The consulting phase remains an important first step because, as with most things in life, successful outcomes often rely on the best planning. But service providers can no longer just use the best brains and collaborative approach in the consulting phase – and then sweep them away to be replaced by technical teams that focus purely on specific module implementation. Moreover, consulting is no longer a drawn-out process. Buyers want fast deployments, with go-lives expected within a year. The implementation phase requires strong account management and project management teams who align all decisions to the desired business outcomes outlined in the planning stage. Management services increasingly look like consulting-as-a-service offerings, with users often purchasing a bundle of hours to use as they wish per month or year. Management services requests could be answered by remote assistance or they may require onsite work. As a result some service providers are investing in in-region delivery centers to be able to deploy consultants to client sites more easily.
In terms of skills and delivery the lines between the Value Chain phases are blurring. The best consultants have a deep understanding of organizational and technical issues that can arise in the deployment phase. Some service providers offer rotation programs for their consultants in implementation and management services as understanding both makes them more effective in their primary roles.
The Buyers Are The Eventual Winners
Buyers have finally had enough of being presented with a catalogue of services to select. They just want the solution to work and for the service provider to share best practice on running the relevant process. Enterprises are more mature about what they can demand from service providers, and they're frankly not as easy to work with as they were 20 years ago. Several buyers I have spoken to in my Workday Services Blueprint, tell me that they insisted on interviewing the proposed delivery team during the service provider selection process. They want to meet the people they will be working with on a daily basis, as ultimately that relationship will determine the success of the project. Buyers are also demanding that service providers challenge them more. Something I hear regularly from buyers is: "I wish the service provider just said 'No' more". SaaS is a relatively new adoption area and buyers rely on service providers to provide sound advice based on their experience. In addition, many of the HfS ideals of the As-a-Service economy are increasingly important to success, notably Collaborative Engagements, Design Thinking, Intelligent Automation, and of course helping clients to Write off Legacy.
Bottom Line: Unlearn or Fail
So can service providers unlearn their old engagement and delivery practices for on premise deployments and embrace the new IT services world of SaaS services? The leading service providers will, or indeed have been investing in this forecasted eventuality in recent years. To succeed they need to adopt new approaches, think outside of the box, and demonstrate real commitment to succeed (trust me, I know!).
Posted in : Uncategorized