At HfS, we've had enough of service providers and their clients raving about how bloody wonderful they all are.
"We have a world-class global delivery operation that guarantees our clients first transformation, then innovation", said one provider. Yep – we were actually told that!
"Our experience with XXXXX was amazing.  They were so responsive and helped us transform our global processes in a way we could never have dreamt when we started out", said the CFO of a Fortune 1000 outsourcing client.  You have to wonder where his next job is being primed…
"We have this incredible culture of driving value to our clients, by making our employees feel empowered to find new thresholds of performance for our clients everyday."  Don't these guys have the worst attrition in the business?
Meanwhile, one SVP of sourcing (after a few bevvies) did confess to us recently, "I have 5 providers and they're all c**p.  They all oversell and under-deliver.  I have given up on any of them doing anything close to what I want them to do, so spend my time squeezing their rates.  If they're going to deliver c**p, we might was well pay them c**p."  Well said, old chap!  Another pint?
And other buyer (this one actually sober) stated "If my account rep turns up one more time in my office trying to sell me something, I am going to get his entry card to our building taken away". Uh, oh…
Yes, folks, it's time to separate the puff from reality, so HfS Research has finally come up with a spectacular new methodology that – once and for all – will expose this behaviour to industry in all its naked glory…
Introducing the HfS Research Painsharing Paradox
Yes, forget gainsharing folks, this is all about painsharing.  We've deployed an air-tight methodology for placing those pesky providers in their true position in industry, based on their acumen to serve up fluffy puff, correlated by their expertise in messing up all their client engagements: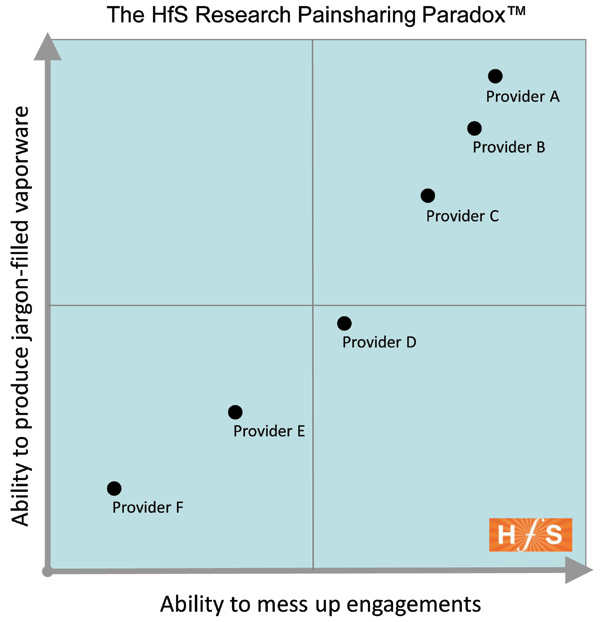 The Painsharing Paradox Methodology
A Painsharing Paradox (PP) starts its life with a market definition and inclusion criteria. It's proposed to our group of chief analysts, who are in charge of determining what markets are PP-worthy, whether or not the market is defined in a reasonable way, and so forth. In other words, analysts can't decide to arbitrarily write a PP, and there's oversight and a planning process, and an editorial calendar that lays out PP publication schedules for the entire year.
The rest is simple.  We figure out which providers have the biggest budgets, and then produce a draft PP – the bigger the marketing budget, the further they are positioned over to the upper-right corner of the grid.  Then the bidding process starts.  Depending on how much we like them, how many first class boondoggles we've been treated to, and how much hard cash they're prepared to pony up, we'll maneuver them down the grid towards that hallowed lower-left quadrant, where everyone wants to be.
However, if we feel the provider hasn't done enough to make us feel special, or once subjected us to two horrible days in a Red Roof Inn in New Jersey (which stays long in the memory), or – heaven forbid – didn't stump up a nice sum of dough for our coffers, we may decide to leave them stranded in that dreaded right hand corner – sharing the pain of humiliation, with the pain they have subjected on their clients.
And that's the Paradox… stay tuned for our first one, coming soon.  And providers, we have a special PayPal account set up especially for your generation donations – simply email us at par[email protected] to get started.  Happy painsharing, folks 🙂
Oh, and by the way….
And while we're reminiscing about falling for April Fools' gags, here is 2010's classic:
Horses for Sources to advise Obama administration on offshore outsourcing
Oh, and here's 2009's which I really hope you didn't fall for too:
Horses Exclusive: Obama to ban offshore outsourcing
The question I now have is whether we have anyone here who's been suckered by all three…
Posted in : Absolutely Meaningless Comedy