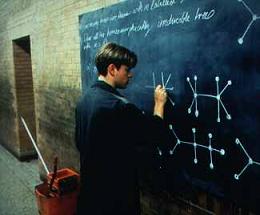 The industry's next phase of growth is unlikely to be dominated by the mega-mergers of the past (DEC/Compaq, HP/EDS etc.).  It's going to be focused on service providers moving into partnership engagements with clients, where they can develop specific IP and industry process competence.  
I see this trend escalating in the application development arena, as this area is now approaching significant scale and maturity, but also believe this will pave the way for future BPO development, as service providers find new opportunities to layer on business process services that compliment their application development work.  It's really about learning specific industry process, how they can be enabled and optimized by smart applications, and processed by smart people who add value.
This isn't simply lift and shift where the service provider does the same with less – it's where the service provider brings specific expertise to the table that allows the client to scale its business globally.  It allows the client to focus more heavily on its core competencies, which provide the real value for its own growth.  And it allows the service provider to develop specific industry process knowledge of its client's industry that is can replicate across its own knowledge workers.  The maturity of the application outsourcing marketplace is now going down this path, where the leading service providers have the lions' share of the talent – and the scale – to provide the technology development services that allow clients to invest in their core industry services that make up core value proposition.  Why invest their scarce resources in IT development when they can find a third-party to do this for them and invest in areas that will improve the front-end of their business?
One prime example of this is the new partnership between UK-based industrials magnate Invensys and service provider Cognizant.  Invensys wants to focus on on its core competency of product definition and architecture and developing its industrial automation platform, with Cognizant being its technology partner for product development. 
Invensys can focus on where it's best, and Cognizant can make a surge into the manufacturing industry.  Invensys will learn from Cognizant's technology skills and Cognizant from Invensys' manufacturing process and operations prowess.  Jobs are not lost, and existing employees are going to enhance their careers with new industry and technology knowledge.  If this partnership works, both firms will end up creating more jobs to support their expanding business portfolios. 
 You can read more about this partnership over at Think Global.
Posted in : Business Process Outsourcing (BPO), IT Outsourcing / IT Services, kpo-analytics, Procurement and Supply Chain