And finally… the eagerly-awaited industry bellwether 2016 HfS Autonomics Premier League table is unveiled…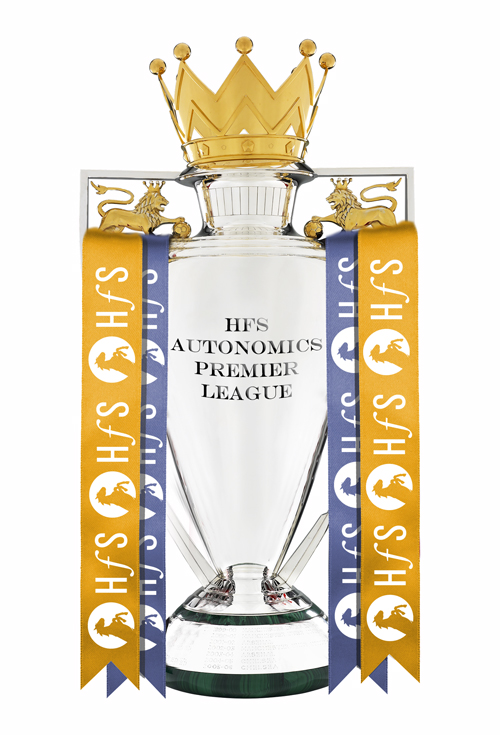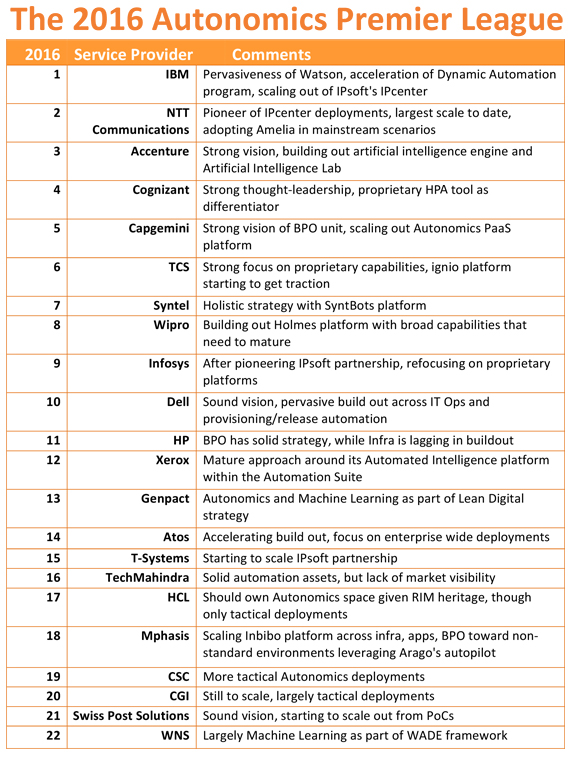 Tom, firstly, what is autonomics and why is it different from RPA?
Thanks Phil, before we dive into the details, let's level set where we believe the industry is at. We have seen the market and the discussion on Intelligent Automation change significantly, both in terms of maturity as well as in terms of scale especially in 2015. The large service providers are accelerating investments in and build out broad capabilities around the comprehensive notion of Intelligent Automation. Yet the mainstream narrative on Intelligent Automation remains largely focused on the narrow notion of RPA rather than depicting the interdependencies and implications of a diverse set of tools and approaches. In our view, the journey toward Intelligent Automation is aligned around three dimensions:
Unstructured data
Less well defined processes
Broad notions of cognitive computing and artificial intelligence
Therefore, HfS is aiming to stimulate a much broader discussion on Intelligent Automation by launching the Autonomics Premier League Table. On purpose, we have opted to use the term "Autonomics" as a broad reference term for process automation approaches beyond RPA. Thus, for the purpose of this study we refer to Autonomics as self-learning and self-remediating systems. Just to be clear, HfS is not aiming to redefine the term for RPA or even Intelligent Automation, we are aiming to stimulate a more holistic discussion!
To your question on the main differences, in short these are around the use cases and around the capabilities. RPA is largely focused on business process services with capabilities around extracting data from heterogeneous systems and around capturing, scheduling and executing process steps. Conversely, Autonomics evolved out of IT centric scenarios where comprehensive cognitive engines are not only self-learning but more importantly self-remediating. Though as suggested for this study we chose a broader definition on Autonomics to include a plethora of approaches including Machine Learning and Crowdsourcing that span across the spectrum of IT and business process services.
"Automation" has been the watchword of 2015 – has it lived up to the hype? Can we expect the noise to continue next year, or will it calm down?
If I am honest I am shying away from calling it hype. Normally in our industry no topic is small enough or largely aspirational to be hyped. But typically it is the IT juggernauts that are at the forefront (or being culpable) for hype. Within the context of Intelligent Automation the large service providers and BPOs are unusually coy on the topic, presumably because they haven't yet fully understood the impact on revenue models as well as being anxious about the levels of transparency resulting from automation. This manifests itself in many NDAs curtailing our ability to discuss many of the issues in public. Thus, it is the comparatively small technology providers who are educating the market. Put in other words, the market is still nascent but maturity is noticeably setting in.
Having said all that, both the level of interest as well as of deployments has increased significantly. For many organizations having an automation strategy has become a strategic priority. It is about de-coupling routine service delivery from labor arbitrage. At the same time Intelligent Automation is a key building block for moving toward the As-a-Service Economy. And lastly, the large service provider are starting to educate the stakeholders around automation. All this will lead to Intelligent Automaton moving center stage in 2016. However, as I have indicated, RPA is not only dominating the discussion, but is also more mature than Autonomics, not least at is much smaller in scale and aimed at low hanging fruit. But my hunch is, that in two years' time we won't talk about RPA anymore as it will be a reality in the back-office. The differentiation will be around cognitive computing and artificial intelligence.
So what was your methodology behind putting together the Autonomics Premier League?
The process started by sending out a RFI to the leading service and BPO provider. This led to deep dive interviews with the participants. These insights were enhanced by HfS research stream on Intelligent Automation. At the same time input by technology providers balanced and corroborated the feedback by service providers. All this information was analyzed and we ranked the service provider by the following criteria:
Vision and credibility of Autonomics strategy
Breadth and maturity of internal tools and external partnerships for Autonomics
Scale of deployments
Institutionalization
Commercial traction
Effectiveness of marketing effort behind Autonomics strategy
However, the Premier League Table is just a catalyst for a broader discussion. Stay tuned for the Intelligent Automation Blueprint in Q3/16!!
So what did you learn throughout the research process? Why are some providers outperforming and other less so?
Beyond the issues I have called out already, two points are jumping out. First, the process has reiterated our belief that Intelligent Automation is about cost and value. Thus, the direction of travel should be around human augmentation. We have to move beyond narrow notions of cost take out. Second, higher levels of automation are the prerequisite for getting closer to the endgame which is in our view vertically infused insights and analytics.
The provider standing out are either the pioneers who took on risk and scale out deployments such as IBM and NTT Communications or organizations demonstrating strong thought-leadership including Accenture, Cognizant or Capgemini. Crucially these leaders embraced the Continuum of Intelligent Automation and don't look at individual tools as the panacea but are building out a portfolio approach to Intelligent Automation. However, the dividing line between the leaders and laggards is drawn around two issues: The willingness to take on the risk of revenue cannibalization as well as overcoming the fear around transparency that automation invariably will create.
When you look at how this will shape up for next year, are they some providers you expect to surge up the table?
2016 will be the year when the IT juggernauts are finally taking the plunge and will start to educate the market. This will lead invariably to a significant acceleration of maturity. At the same time organizations are increasingly demanding from their service partner to help them moving to a more holistic automation strategy. As a result all the provider in the table are likely to move closer together. The India heritage provider will ramp up their comprehensive proprietary engines. Providers like Dell and Atos who have demonstrated sound visions, will aggressively ramp up deployments. And even organizations like Swiss Post Solutions who can hardly be described as the usual suspects will built on their strong understanding on Autonomics and scale out.
Crucially, the discussion on Intelligent Automation will move beyond RPA toward broad notions of cognitive computing and artificial intelligence. The HfS Continuum of Intelligent Automation will get ever more crowded as new technology players will enter the fray and will find their place in automation portfolios. Thus, the ability to manage and integrate this plethora of automation approaches will become the reference point for providers' maturity and ultimate success. As we have stated at the outset, HfS is aiming to broaden the discussion and extend our collaboration with stakeholders. We would love to hear your views!
Great work Tom – it's been a pleasure having you help drive our autonomics coverage this year and am excited to see how rapidly this space continues to evolve in 2016.
HfS premium subscribers can download their copy of the Autonomic Premier League table and analysis here.
Posted in : Business Process Outsourcing (BPO), Cognitive Computing, Digital Transformation, HfSResearch.com Homepage, HR Strategy, IT Outsourcing / IT Services, kpo-analytics, Robotic Process Automation, SaaS, PaaS, IaaS and BPaaS, Security and Risk, sourcing-change, The As-a-Service Economy