In light of all the recent banter on the credibility of awards, I thought we'd serve up our own awards ceremony - and I reckon we can put all of the other lists/awards companies out of business in a heartbeat, because only one vendor will get upset with each award (genius 'eh?)… Here are the categories: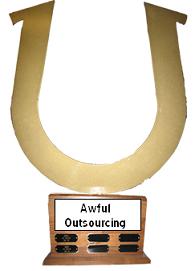 Worst Outsourcing Provider of the year:
Vendors – are you just so plain awful you can't hold down a client?  Then, this could be for you! This is restricted to vendors which have had a minimum of three clients bail on them over the last 12 months, whether they "backsourced", or paid millions to switch to another provider. 
The "Awful Advisor" award:
Rarely is a sourcing advisor ejected from client-site, but it's happened – and a few times!  Buyers – please nominate that team of consultants that drained you of billable hours, before coming up with recommendations that you could have got from a taxi-driver.
The "Bait-and-Switch" special:
Buyers – did you sign up with a vendor, when the minute the ink was try, the entire team who worked their guts out to woo you simply vanished?  Those Six Sigma black-belts, LEAN luminaries and Kaizen karate kids never materialized?  They leave a zero off from the attrition-rate in their Hyderabad call center?  Then nominate your favorite bait-and-switcher today.
The Lousiest HRO provider:
We're spoiled for choice with this one - how many payroll runs did your supplier miss?  Do you blame it for all your dysfunctional HR processes?  Of course you do! Here's your chance to throw your HRO provider fully under the bus.
The Funkiest FAO supplier:
Still closing the books from Q4 2007?  Got 2,748,547 unpaid invoices?  You know what to do…
And finally…. Thought Laggard of the Year:
Sick of the same old bleating from past-it, out-of-touch old industry windbags?  Tired of reading their dreary old articles that they probably got some freelancer to write for them anyway?  Worn-out with ego-filled luminaries starting their own blogs then leaving them stranded after three posts?  Well, now it's time to recognize their anti-contribution to the outsourcing industry!
Posted in : Absolutely Meaningless Comedy