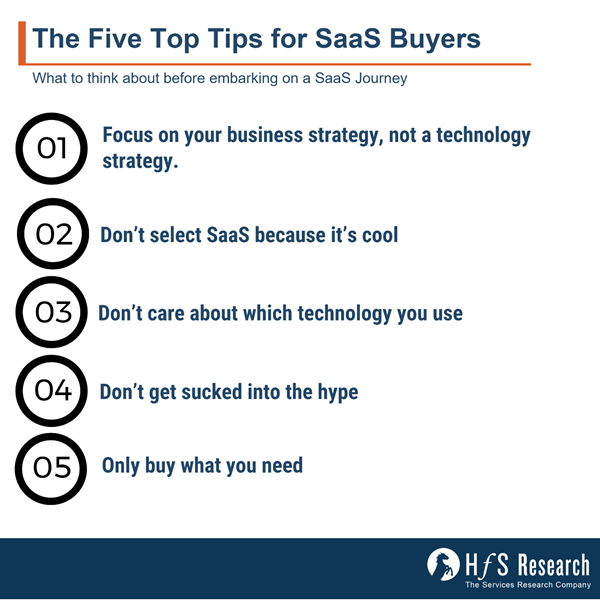 As enterprises embark on their SaaS journeys, we've compiled a quick no-fuss list of tips for buyers to keep in mind. With all the marketing hype created by tech firms, certain analysts, journalists and pundits, enterprise SaaS buyers, more than ever, need to stay focused on their strategic missions and desired business outcomes. Here are five top tips to consider:
Focus on your business strategy, not a technology strategy: Business leaders, such as HCM and CRM business managers, constantly grapple with outlining a technology strategy to support their business requirements. Why? Business leaders are just that – they have a mission to improve their business performance, aligned to specific business outcomes. For example, an HCM manager may need to create a particular culture to engage and motivate employees, or a CRM manager may be charged to increase customer satisfaction. Either way, these missions should not be to use a particular type of technology or procurement method.
Don't select SaaS because it's cool and looks good on your CV: Too many buyers today are selecting SaaS solutions without tight alignment to the overall business strategy. Too many marketing executives' eyes light up when you mention "Salesforce" or HR executives "Workday".Without this, these deployments will ultimately fail. Buyers may achieve automation of mundane tasks but they will fall short of engineering any real business transformation.
Don't care as much about which technology you use: IT is and always will be an enabler to the business objectives and requirements. It's no more than that. One of the most important advantages of SaaS applications is that buyers are not tied to them for years, or even months. If the solution no longer works, you can drop it and find something else. Yes, there are some cost implications, but technically, it is not nearly as painful and cumbersome as trying to swap out an on-premises application.
Be careful of believing the hype – whatever the source: The ISVs are, of course, aware that you can switch a SaaS solution relatively easily. They are, therefore, laser-focused on making you stick with their solution. Antics include bundling in solutions and modules you don't need (but will pay for) and stressing the importance of using one complete solution for integration simplicity.
Only buy what you need: The ability to integrate easily between cloud and on-premise applications is obviously very important, but SaaS buyers need to focus on exactly which modules they need to fulfill their business mission and only use and pay for those. If an alternative solution or application meets a specific business need, then don't be afraid to use it. Let system integrators pick up the headache of integrating it all – that's what they are paid to do.
Bottom Line: You achieve business transformation through organizational and cultural change – not with a software tool or a procurement method.
And yes, we're looking at you, SERVICE PROVIDERS, to help buyers understand this and keep them focused on their business mission and requirements. Judging by a recent survey at our HfS User Conference (see: The spreading outsourcing disease: barely a third of buyers see real value in their current provider relationships), there is still some way to go before service providers actually act as true partners to clients.
Posted in : saas-2