I feel like we've been here before.  Oh wait – we have!  Remember the heady old days of HR BPO, when a couple of hundred enterprises shifted multiple HR functions over to service providers, with the hope of saving money and – perhaps – find a few smidgens of improvement with their HR strategy?
While a couple of service providers failed to get their delivery model right and ended up losing money, HR executives screamed from the rooftops to ensure every single negative view of HR BPO was expounded in all the HR media, and anyone else who would listen.  They got their wish, as firms such as Convergys and Hewitt got crucified by Wall St, and most of the providers made a hasty retreat from the business.  In fact, it proved such a grueling experience for Convergys, it recently jettisoned one the industry's largest HRO businesses for loose change.
Now enter the latest threat to HR:  Recruitment Process Outsourcing.  And this time, our HR friends will have to try a lot harder to throw this one under the bus. 
Firstly, most of the providers in this space have been dealing with recruiting for years, and, secondly, the newer providers have been getting their feet wet with a host of successful pilots and early client engagements, which our forthcoming HfS Research report will discuss at greater length.  And thirdly, these providers are fulfilling a badly-needed service for many enterprises today:  helping them source new pools talent, get a handle on managing the talent pipeline, access new recruiting technology and social networks, while helping drive out cost by running various back office recruiting tasks offshore.  
HfS Research's latest study, conducted in conjunction with Human Resources Executive Online, gleaned the views and dynamics of 238 HR executives towards RPO, of which 34 percent were senior VPs or VPs of HR.  And the first factor that was apparent, was that RPO was low down the list of recruiting services HR executives are going to take a look at this year.  Let's examine this further… 
HR's major recruiting concerns
Quite simply, HR executives are struggling to cope with the demands of developing and nurturing their organization's talent pipeline, while trying to avoid the exorbitant fees of headhunters and staffing agencies. Our new study illustrates these elements of recruiting new talent are proving to be a "great concern" to organizations: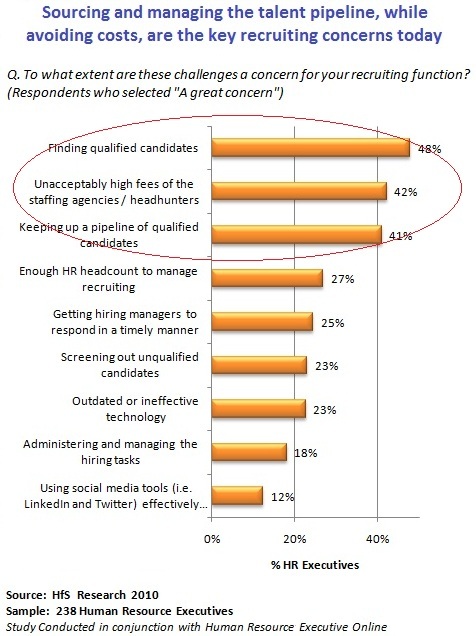 HR executives need help and should consider transferring part of its recruitment function to an external service provider.  The more leg-work they can offload, and the more help they can receive to develop the talent pipeline, and the more time they can actually devote to strategic functions, such as spending more time understanding the needs of their internal hiring managers and facilitating ongoing  staff development initiatives. 
HR executives are highly resistant towards outsourcing any of their recruiting processes
Seven-out-of-ten HR executives claim they won't looking into RPO because it "does not fit" with their corporate culture or ethos, which is consistent across all sizes of organization.  And if you examine that datapoint further, you'll find that attitude running at 80% for the SVPs /VPs of HR: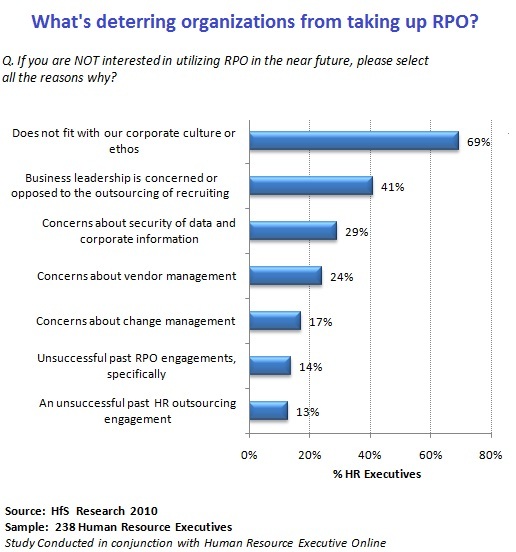 Recruiting smartly is about engaging outside help that can infiltrate marketplaces effectively to get the best results – not too far removed from a PR agency which can engage markets with added expertise, technology and canny use of social media.  HR trying to perform all of its recruiting inhouse is like marketing doing all their PR work internally.  No CMO worth his/her salt would really contemplate running all of its PR internally these days, unless it was a very small activity that didn't warrant outside help.  So why should the SVP of HR be any different, when it comes to running recruiting?
Other business functions have all resisted outsourcing in the past:  IT, finance, procurement, claims processing, clinical data analysis etc.  However, once staff and managers got used to working with outside help and expertise, and realized it was a vital part of their team, most have accepted that it is a way of life for today's organization.  So why is HR so different that it has to try and run everything itself? 
The HfS Viewpoint:  If HR continues to resist RPO, key decisions over talent management will like be made for them in the future
Emerging from the Recession, the focus on developing new talent has never been so intense – especially in increasingly globalized markets where it's getting harder and harder to manage the recruiting pipeline on tightening budgets. If HR leadership fails to seek the help it needs soon, it may find decisions being made in corporate meetings, where the SVP of HR isn't even invited.  The challenge for RPO providers is clearly to find avenues of communication with operational leaders outside of the HR department.
This little outsourcing saga has a few cycles yet to run, and is likely to have a major impact on the way companies approach their talent management in the future.
HfS Research's coverage of RPO will be featured for research clients in an upcoming new market landscape report, in addition to a forthcoming featured article in Human Resource Executive magazine
Posted in : Business Process Outsourcing (BPO), HR Outsourcing, HR Strategy