Who remembers this classic "statistic" from a couple of years' ago, where we caught some friends declaring RPA fantasies that are simply miles from reality:

We've been keen to share with the world that RPA satisfaction has been in positive territory for more than half of the adopting enterprises, which is OK for a relatively complex new type of solution that takes a while to get right, and we revealed a 58% a satisfaction rating a few weeks later.
Sadly, two years on, satisfaction ratings have not improved
Our brand new study of 355 operations leaders, conducted with the support of KPMG, has revealed that only 56% of the Global 2000 express a positive experience from process automation and robotics: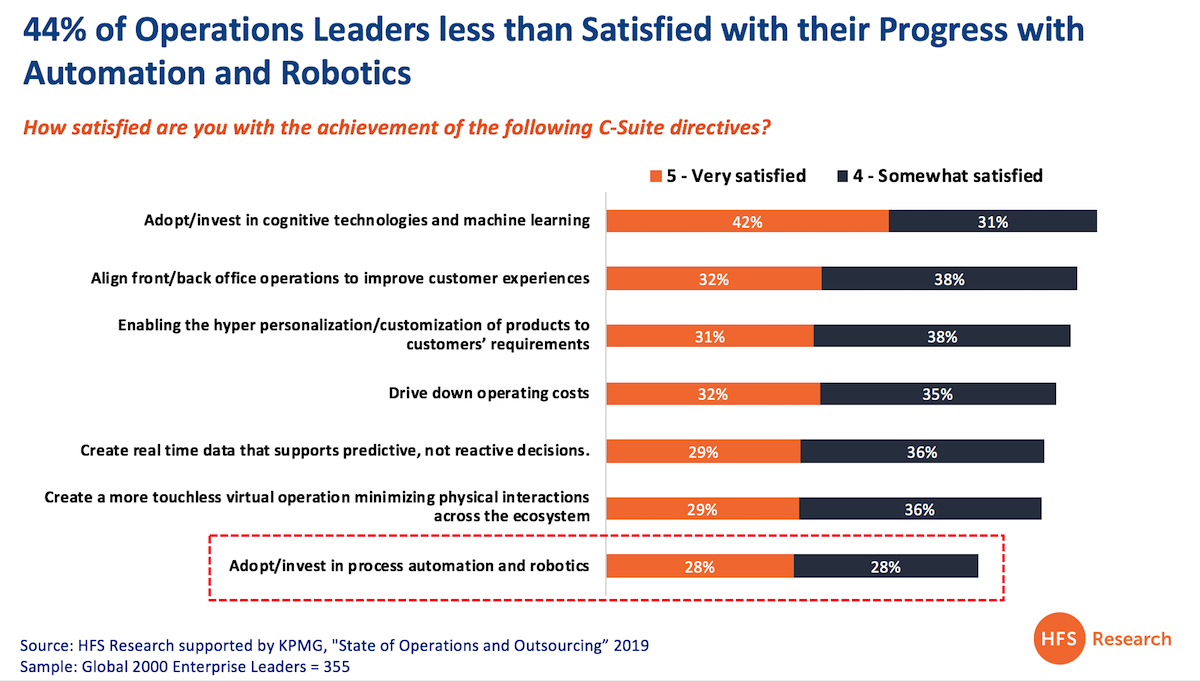 What's alarming about this is we asked operation leaders to assess the satisfaction levels of all key C-Suite directives, such as the adoption of AI/ML, enabling hyper-personalization, ever the old faithful of "driving down operating costs" …and process automation finishes dead last. I would argue this isn't because process automation and robotics initiatives have been a disaster, but more likely, expectations from the sell-side have been vastly over-inflated. While this may sell more licenses and consulting days in the short-term, it will stunt longer-term growth for the industry. Let's delve deeper here…
Why are process automation and robotics lagging in terms of satisfaction?
The over-hyping of how "easy" this is. The problem we have in this industry right now is an obsession with glittering outcomes and not enough real-world guidance on how to achieve them. The majority of robotic adopters have never ventured into double-figures of bots deployed, and many simply have little idea how to progress their adoption beyond a handful of pilot projects. The focus of the narrative needs to be directed to helping clients develop broader robotics strategies across organizational areas. We're also hearing about some enterprises aborting some major RPA projects because they just didn't expect the cost and scale of the effort to be so large. So we need to be realistic and balance the great benefits of robotic software with the challenges of training people on it, scaling the technology and gaining buy-in across business units.
Lack of real experiences being shared publicly. Enterprises RPA adopters are fed up with the constant deluge of "motherhood and apple pie" being served up by the industry when they know full well these deployments are among the biggest challenges their customers have ever faced. The RPA vendors – and several of the leading services firms – will be far more appreciated if they started sharing the real customer experiences with the world. For enterprise operations and IT executives, being successful at automation and AI is career critical – they want to learn how to be effective and how to invest their time wisely. If this stuff was easy, they'd be out of a job pretty quickly, but fortunately for them, it is not, and they can embrace these experiences to increase their value to their firms and their careers.
Huge translation issues between business and IT. Simply put, most IT folks have little understanding of RPA and think all their world problems can be solved with an API. RPA – for most operations executives – is the first time they have had to work with actual software development and get involved in some low-code activities. And they approach it with a "process first" context – how can I use these tool to integrate these apps / screen views / objects / documents etc? I can honestly say I have been to two major software developer conferences where RPA is on display and the developers are simply clueless with regards to how RPA fits into their world of platform modules and APIs. If we can't bridge this divide, we run the risk of RPA being relegated to the scrap heap of failed technologies.
Obsession with "numbers of bots deployed" versus quality of outcomes. If I hear another executive claim he/she has deployed over 100 bots, and that is their prime measurement of success, I will start naming and shaming =) In all seriousness, there is no race the finish-line with this, and can see many enterprises still grappling with automation projects for many years to come. The ones whom I have met who have expressed the most dissatisfaction are those who have bought far more licenses than they know what do to with, and have real issues trying to explain this their over-investment to their bosses. I've even seen some fired because of it.
Failure of the "Big iron" ERP vendors and the digital juggernauts to embrace RPA. Let's be honest, with the exception of SAP's small acquisition of Contextor, which didn't even warrant a mention at the recent Sapphire event, the IT bellwethers haven't fallen in love with RPA. It's just not sexy and scaleable enough for their suites, and if you read some of the guff on social media from IT "thought leaders", they have no bloody clue what RPA really is – and does. IT people just struggle with a technology that starts with a business process headache – they prefer to work with code-intensive products that can be shoe-horned into businesses, which they can make really complicated to install and manage. Only Pega, from the world of large enterprise software, has made greater efforts to embrace process automation with its 2016 acquisition of OpenSpan, and I was quite impressed with the prominence it gave digital process automation at the recent PegaWorld event, but, even at Pega, it's clearly a challenge to communicate the true benefits of RPA to the Pega traditionalists, whose entire world revolves around its shiny CRM orchestration platform. While we can point to all the lovely partner announcements we hear from the big three RPAs about their Google, Microsoft, Oracle, Workday, IBM etc partnerships, the truth of the matter is excitement and investment levels from the IT glitterati have been nothing close to what we were hoping/expecting just a couple of years ago.
Bottom-line: Over-setting expectations is putting the automation industry at risk of failure, not setting it up for the success it should be
The lesson here is that the sell-side is pushing too hard to sell too much too quickly and is setting up too many clients for disappointment. We just need to set expectations better and get the balance right…. Rome wasn't built in a day. We need to hear the RPA big daddies talking about how enterprises are grappling with real issues of internal change management, training and education. We need to hear our IT leaders finally reach their "aha!" moment when they finally understand how robotic software is pulling in their frustrated business operations leaders into their world of embracing technology to help achieve real business outcomes. Because one adage has rang true for 30 years now – design your processes the way your business needs them to achieve the business outcomes you crave… then invest in the right technology to make this happen. RPA has the potential to be the first true catalyst to make this a reality, and we mustn't waste this opportunity. Let's create an industry that can flourish for the next 30 years, not one that we'll break in the next couple with our greed to get rich and close that next contract…
Posted in : Robotic Process Automation, robotic-transformation-software