As am sure most of you noticed, HfS quietly released the most comprehensive customer satisfaction benchmarking of the 10 leading RPA solutions, authored by Saurabh Gupta, myself and Maria Terekhova.  We covered 359 super users of RPA products (enterprises, advisors and service providers) across 40+ customer experience dimensions across the following 6 key dimensions:
Features and functionality
Integration and support
Security and compliance
Flexibility and scalability
Embedding intelligence
Achieving business outcomes
As an example, here is how dimension 6, "Business Outcomes" came out looking across the products: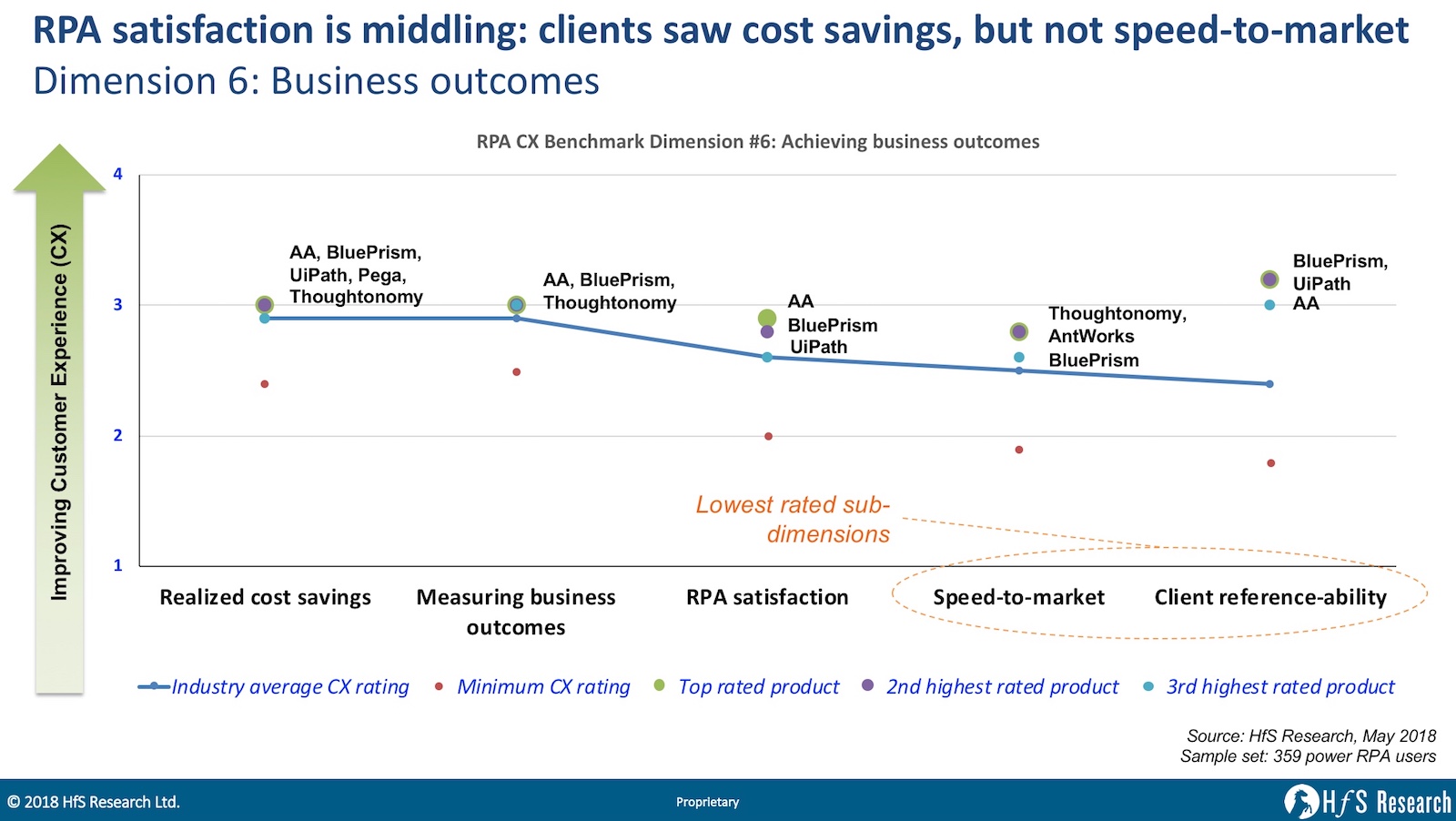 So why did we undertake this research?
Our industry is plagued by many consultants with limited depth in RPA, who have no access to product level data that supports the tough decisions facing enterprises. In addition, most analysts deliver these 2 x 2 matrices which offer very limited insight or value (and all look remarkably similar). It's time to dispel myths and provide enterprises with unbiased, credible and highly statistically significant data. The HfS RPA customer experience benchmarks are designed to help enterprises with RPA product selection as they formulate their intelligent automation roadmaps.
It's more than a report… it's an online RPA decision-support tool
In addition to the report, HfS is also launching an online RPA decision-support tool for enterprises to enable client-specific due diligence on RPA providers. This tool will allow HfS clients to customize the decision criteria and associated weights from the available 40+ customer experience dimensions. It will provide clients a customized report detailing the top three RPA products that the client should consider, based on the rich insights that HfS collected as a part of the RPA study. HfS analysts are also supporting RPA clients through collaborative ThinkTank sessions, half-day workshops designed to problem-solve and validate strategies. These ThinkTanks go beyond the data where HfS analysts can share HfS IP, perspectives, and experiences on RPA tool selection, best practices, and common pitfalls to avoid.
So take time to delve into the realities of RPA and some of the findings may just surprise you
The industry is still struggling to solve challenges around the process, change, talent, training, infrastructure, security, and governance. Our mission at HfS is to dispel this confusion and uncover the truth to successful RPA deployment. It's time to separate the hype and propaganda from reality – and here is the reality!
Premium HfS subscribers can access the HfS Benchmarking Report: Detailed Assessment of the 10 Leading RPA Products here
Posted in : Robotic Process Automation