We've never seen a boom in demand for tech and business process services since the dot-com days (hopefully some of you can still remember those when we texted on flip-phones with 12 keys and thought it was cool to put an "e" in front of everything we did).  However, we believe the services market for the virtual economy is only just ramping up, and this is merely the hors d-oeuvre before the real feasting starts…
What is driving this new phase of growth in IT services?
1) A frantic race to the cloud to function in this virtual economy;
2) A worrying shortage of available 'digitally fluent' talent to support both complex and mainstream IT transitions;
3) A high confidence in the outsourcing model as enterprises choose flexibility in unpredictable markets;
4) Aggression from many service providers to win more of the Global 2000 IT pie.  We're in a 'landgrab market';
5) Many firms using this virtual economy to make the shift from legacy shared services to outsourcing models;
6) The German market, along with other European regions, rapidly scaling up their service provider relationships.
So which of the major providers are taking advantage of this?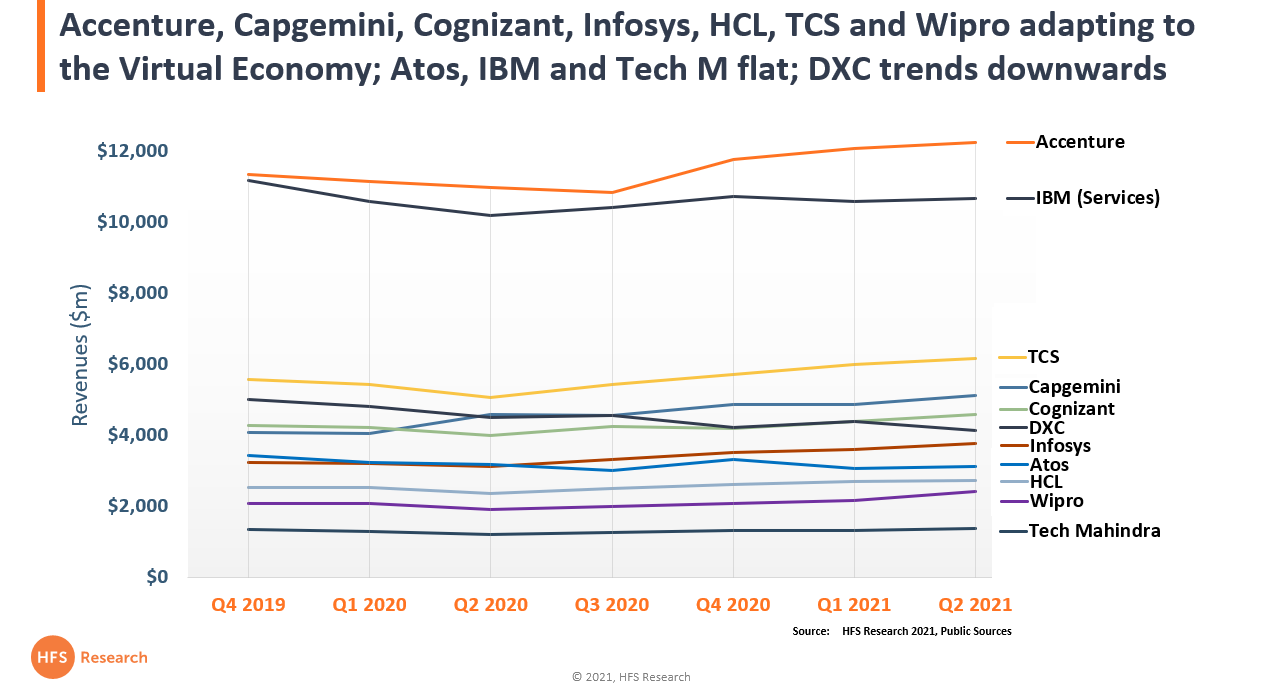 Accenture has performed quite the pivot since the pandemic rocked up, de-emphasizing themselves as an advertising firm and reinforcing their prowess in cloud and IT services.  Capgemini has raced on since its acquisition of Altran and making some long-overdue leadership changes internally, which has reflected in a strong uptick in performance that actually saw the French firm sneak above TCS last quarter.  Cognizant has quietly picked up its performance after taking a write-down of its Samlink Finnish nightmare in Q4 last year and has bedded in several new leaders right across the organization.  After a challenging pandemic that included a ransomware attack, the firm is finding some stability to support this renewed growth curve.
While IBM sold-off of its commodity services business lines, it is still struggling to post any significant growth, but at least this is a major improvement from its difficult years where the firm posted declines for several years.  The business is stable, its focus on retaining and growing complex engagements is bearing fruit, but there seems to be an eternal conflict from its leadership on whether IBM's long-term future lies in services or software. With the future of services tied intrinsically to the intersections across SaaS solutions and the services to enable them, IBM needs to forge a clearer path for itself and the role it wants to play.
TCS' performance going into the pandemic was lackluster, after being the market's most consistent, aggressive and dominant Indian-heritage performer – and by some margin – for several years. The firm seems to be ingesting these last few years of heavy growth, but struggling to pivot as quickly as some of its competitors in this market, where responding to demanding clients and aggressively investing in new engagements are the watchwords. There was a time when TCS could win any large IT services deal in the world if it wanted to… those days seem to be from a different era in this environment.  However, the TCS rebound is strong since last year and the "Walmart of IT services" definitely seems to be finding it feet again in this virtual economy.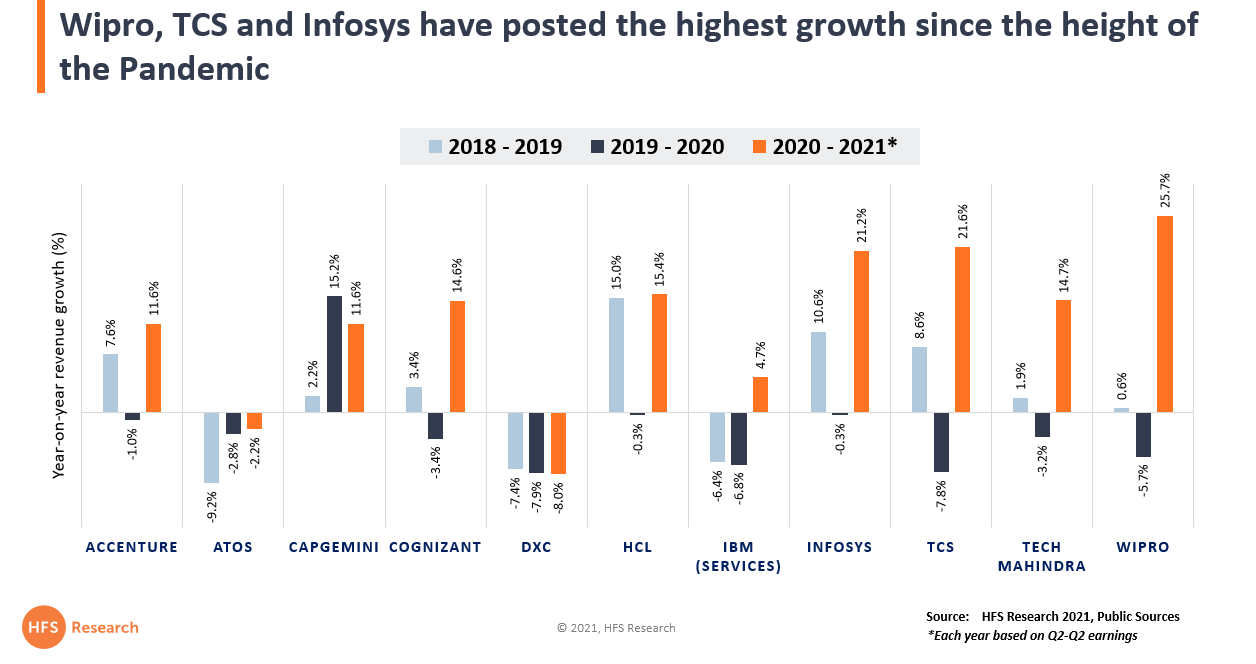 When comparing the growth over the pandemic itself, comparing Q2 2020 performance with Q2 2021, the two standout performers, in terms of revenue growth, are Wipro and Infosys.  The first year of Thierry Delaporte at Wipro couldn't have gone more smoothly, where much of the old guard were jettisoned in quick-time to make way for a host of new leaders from within the firm and externally.  In addition, a restructuring of the firm around geographical locations seems to be paying dividends, despite some challenges, and the major acquisition of financial services consultant Capco has really improved the perception of the firm and encouraged several enterprise clients to increase their investments.
Infosys simply sailed into the pandemic after a series of impressive quarters and has continued unabated.  It has a reputation for delivery reliability and has demonstrated real stability in leadership and focus.  Moreover, investments in locations such as Germany and Ireland have helped pivot Infosys as the leading Indian-heritage provider from a perception standpoint. Pre-pandemic investments in its onshore US locations have also paid dividends as the firm continues its impressive growth across both IT services and BPM (BPO) lines.  Infosys is arguably the leading Indian-heritage provider at present, giving the likes of Accenture and Deloitte and real run for their money on major deals.
HCL has continued to command a strong presence as an infrastructure and engineering-focused IT heavyweight, but hasn't been quite as impressive with its performance over the past year, compared to its rise to prominence over the five years prior.  Tech Mahindra has struggled greatly to command a market position and communicate to the industry where the firm's direction is pointed, but its performance is at least stable and 2021 has been a better year for the firm from a financial standpoint. Atos promised a lot leading into the pandemic but seems to be drifting somewhat, as it continues to lose ground to the Indian heritage providers and hasn't done much with its expensive acquisition of Syntel.  Moreover, its weak US presence continues to plague the firm, not helped by a failed takeover attempt of the industry's performer struggling the most:  DCX.  As for DXC? The firm continues to struggle to find any sort of foothold to stem the bleeding… maybe Atos needs to take a second bite at the apple when the stock prices level off…
The Bottom-line: The Pandemic has changed the IT service provider landscape quite significantly… and it'll change even more as the Virtual Economy takes hold
Just observing the world of services providers over the past 18 months, we've witnessed a dramatic sea change in which firms are driving the market, and which ones are losing steam. Am pretty certain we'll see yet more movements occur in the coming months and some firms come back more aggressively, while others get stuck ingesting their recent wins.  I also expect to see consolidation as the impressive wave of mid-tiers continue to snap at the heels of the majors – and the dearth of talent will force inevitable mergers between service providers.  The services market for the virtual economy is only just ramping up, this is merely the hors d-oeuvre before the real feasting starts!
Posted in : IT Outsourcing / IT Services, service-provider-analysis