As I've mentioned before, I admire people with the dedication and focus to write a book… especially one about their experiences of offshoring. Step up Utkarsh Rai, who heads up India operations for Infinera, an optical transmission equipment supplier, after starting his career working for Siemens in India in the '80s and spending time in Germany and Silicon Valley in various roles. Uktarsh has a deep and unique experience of setting up offshore operations in India and has kindly offered to share some of his views here, taken from his book Offshoring Secrets. I found the book an extremely informative and refreshing read about the trials, tribulations and best practices behind developing successful offshore operations . Over to you Utkarsh:
'
Global corporations, especially those with large operations in the west, are constantly seeking to reduce costs, improve bottom lines, and create "quarterly results" magic in the least possible time. There are many secrets to make an India operation successful, to name a few:
'
Leadership skills: It is not appropriate to expect that one person should be able to provide both management and technical leadership with equal ease. During the initial setup time where around 60-70% of the time of the leader spent in non-engineering activities, it is very important to have someone coming from parent company to provide the technical direction.
'
People Management: The Indian IT industry is marked for their heavy dependence on people. People issues can arise due to any of the following: career crisis, appraisal, pay hike, designation & promotion, work content and many more. It is important to understand that people management demands a good amount of time & attention from people managers.
'
Attracting Talent: There are many ways by which one can attract right talent: Few of them are: Rejected candidates sometimes help in spreading the word if they are impressed during the interview process. Providing an excellent work environment, a challenging work and a competitive compensation and benefits package are important in attracting the talent. Reference check should not be treated lightly and should not be left to the recruitment agencies or HR. Hiring manager or engineering head should personally undertake this activity as it will help in positioning the company better. Senior management should spend time with prospective candidates and last but not the least Ex-employees as company ambassadors so one should treat them well.
'
Attrition and Retention: The widely held believe that most of the people leave because of salary is not true. It is mostly the manager.
'
Cost of operations: For the last three four years the salary raises have been given to India employees in the range of 15-20%. But this does not translate into the payroll cost. The annual payroll cost increase can be around 5% or so, depending upon the type of growth in the headcount. Also the cost should be compared against the average experience level in the center, which can provide the correct data about cost escalation. Initial years might see a higher experience level and higher cost, which will lower with the expansion of team.
'
Communication: There are many ways in which any surprises in execution can be avoided. Frequent voice contact is a must. Status report should state assumptions and facts clearly. Early identification of risks and its tracking is important. In order to get better result, it is imperative that engineer to engineer interaction should be high by travel and by voice contact.
'
Cultural differences: Though there are many cultural differences between India and the West, but to name a few ones:
'
"Compare and contrast" culture: The compensation and other personnel details are discussed freely leading to multiple people issues.

"Social" culture: The work environment also becomes a social network which on one hand helps in better teaming but on the other hand fuels "compare and contrast" culture.

"Seniority" culture: In Indian society, age and knowledge are important factors in commanding respect. Age usually takes precedence over knowledge.

"Difficult to say no" culture: Saying "no" means different to different people. It can be interpreted as impolite or disobeying or doubting ones skill etc.
'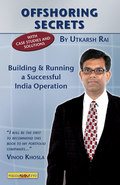 Commitment: This is the fundamental question which should be asked to the person responsible in the parent company for the offshore team in India. Most of the time the decision to open an offshore center or team is forced upon him and he has no other option for the lack of alternative plans for achieving the desired goals.
' '
Trust: The offshore center that is being setup or is operational will not be successful if the core ingredient of trust is not present between the parent organization and the India operations. Trust is mutual and plays a significant (but hidden) role in the success an Indian office.
Posted in : Outsourcing Heros