What a difference an election makes.  When we ran our State of Operations and Outsourcing study in 2014 (mid-way through President Obama's final term), Global 2000 enterprises were still planning to increase their short-term investments in offshoring their IT by more than 20%.  When we re-ran the study in 2016, offshoring intent was clearly dropping to a 12% intended increase (which is a realistic number for a saturating market), but this year it has nose-dived to a mere 5% increase, which is a clear result of the anti-offshoring sentiment that has hurt offshore-centric deals: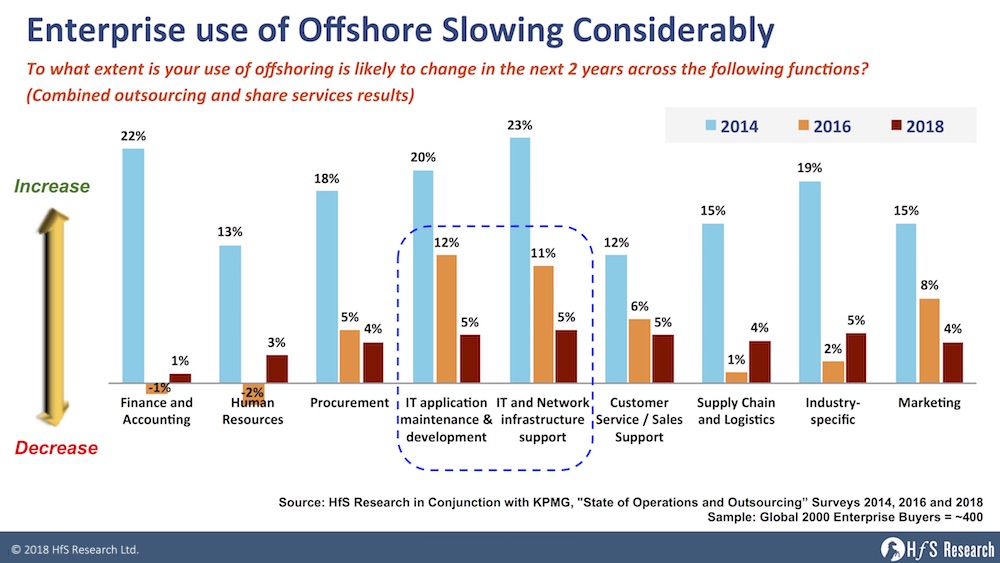 I discussed this trend with one of the lead partners at ISG, the offshore outsourcing industry's largest deal advisor, and he shared that Trump's stance against offshoring was considerably slowing down the deal cycle for his firm, and he was even seeing some outsourcing deals going to the likes of Accenture and IBM because it created the façade that work was not being offshored (even though it was).  Yes, this is the kind of stuff that happens when a president likes to get fast and loose with his twitter account!
However, while Trump's open attacks on American firms using offshoring stoked panic into many paranoid C-Suites, what really transpired was a rapid shift in how US firms are viewing their partnerships with global service providers. Today's reality is technology has become core to business competitiveness by creating new revenue channels made possible by interactive communications technologies with customers, by simplifying business operations to support the business with real-time data, and by supporting broader processes that respond to the needs of customers, as they occur.
Offshoring may be slowing, but the services business is in its best shape for four years
The healthy trend here, for the future of IT and business services, is the fact that the industry finds itself on the healthiest growth footing since 2013 – so clearly offshoring is no longer the primary driver behind IT services investments: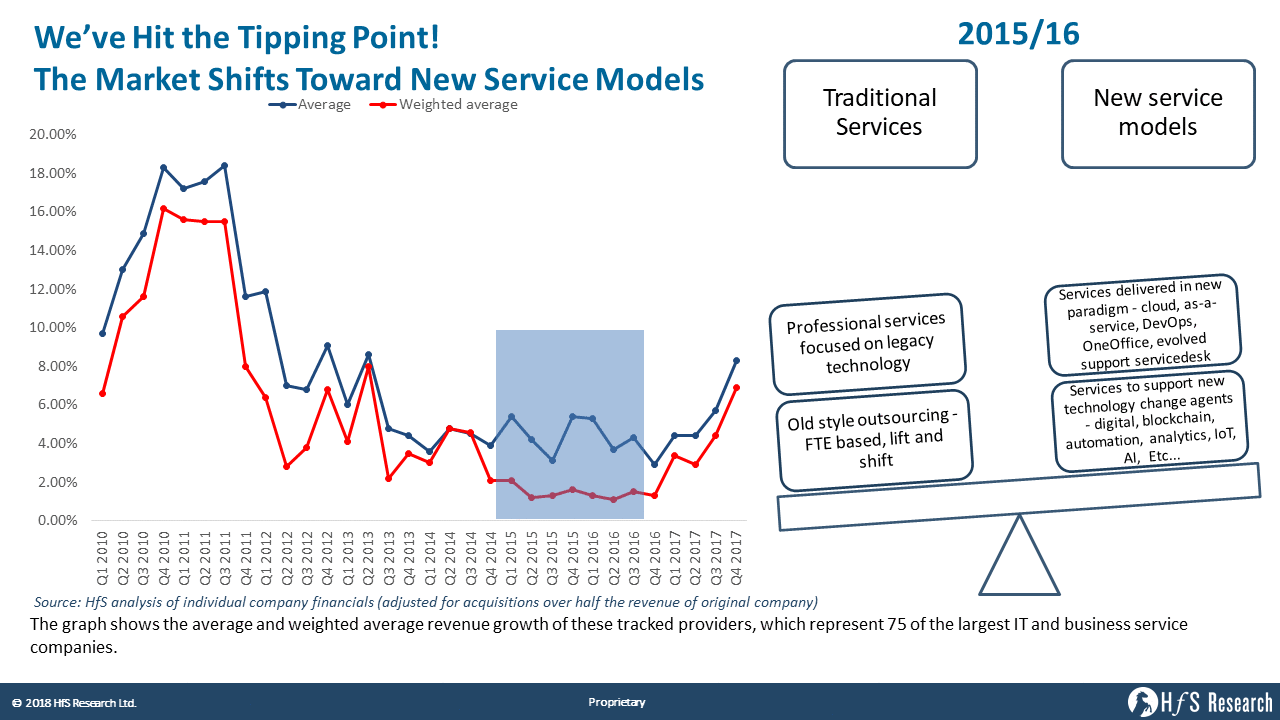 President Trump merely speeded up the development of global services from a cost-reduction to a business-value proposition
Many enterprise leaders are clearly no longer thinking, "How can we shave some more cost off our annual IT budget by moving more work to India?".  Instead, they are thinking, "How can I get quality services delivered at competitive prices that take advantage of the cloud, automation, and global talent."  The subtle shift here is clearly one from an obsessive focus on low cost, to one of getting quality services as the industry matures, where there are many leverage points to find productivity gains, beyond merely relying on FTE rates.  The more pricing shifts towards outcomes, volumes and KPIs, the less visible offshoring becomes as a cost-lever.
When you buy electricity, do you care where the supplier houses its generators?  When you use public cloud services, do you bother to question Google, Amazon or Spotify where they house their massive data farms?  It's the same when engaging with IT services firms to get work done: business operations leaders are barely thinking about where they are located anymore – and all President Trump has done is shifted the optics, compelled the leading India-heritage firms to make substantially more onshore staff investments – which they needed to do in any case – as the nature of IT work is driving the need for greater client intimacy and physical proximity between service delivery staff and client staff.
Traditional outsourcing is being replaced by partnering, and "offshoring" is not even part of that conversation
Our recent study looking at digital transformation to the OneOffice reveals that the majority (57%) of the highest quartile of performers in the Global 2000 (based on revenue and profitability) view their primary service providers as supporting their digital transformation roadmaps, as co-innovation partners helping them achieve co-defined business outcomes.  Only a third viewed their service providers solely as a resource to provision skills and scale via a headcount model: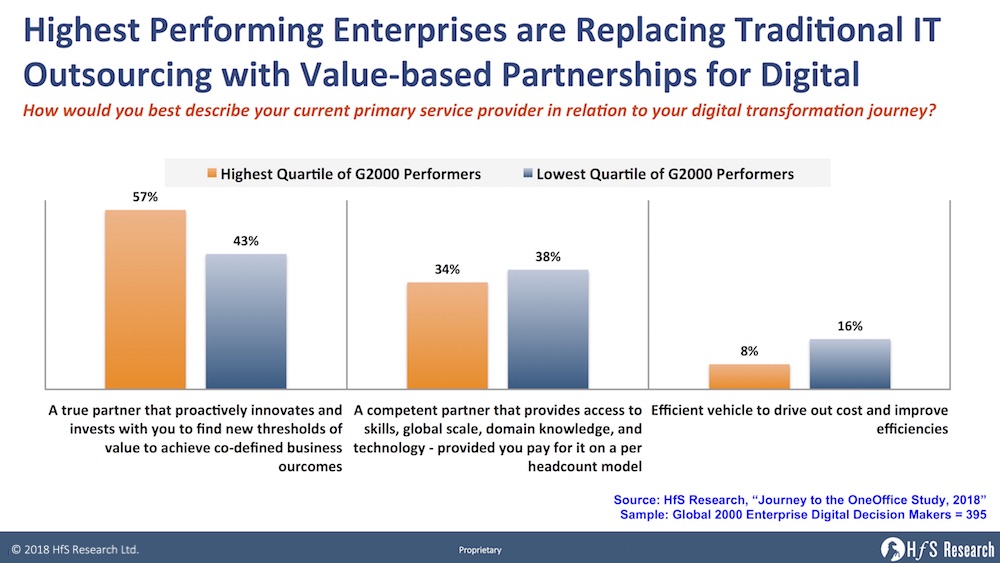 This data speaks volumes – enterprises digital leaders need providers which can work with them to achieve outcomes that are increasingly challenging – most no longer requisition 500 developers per year to code in ABAP for strategic initiatives – that is a commodity practice today, usually delegated to lower level manager to lead.  Nearly all G2000 firms, today, have a Chief Digital Officer tasked with taking their companies through significant business model change, enabled by smart technology provided by partners which understand what is required.  Whether the talent for these strategic projects resides in Bangalore, Basingstoke, Bucharest or Baton Rouge is moot – this is about getting results where top talent is hard to source, and the location is just not very relevant anymore.
The Bottom-line: Trump did us a favor and ripped off the legacy Band-Aid for the services industry
Trump's stance on offshore outsourcing sparked two behaviors which have set up the future of services to be far more value-driven and business oriented: All the major Indian-heritage service providers have been aggressive adding 10,000+ staff right across North America and Europe.  Several are also embarking on ambitious acquisitions of niche onshore digital firms (both creative and tech-driven) to engage themselves higher up the foodchain within their clients and be considered for more lucrative digital engagements where there are deeply engaged with their clients redesigning business models that need sophisticated technical support.  So while the industry suffered from a couple of flat years trying to squeeze the last vestiges of life out of a dying body-shopping model, the new reality is a global delivery model that is now embedded in engagements where the focus is much more on business value and outcomes than prehistoric effort-based inputs.  We are also entering an era where the likes of Cognizant, Infosys, TCS and Wipro will cease to be called "Indian providers" and merely be referred to as global IT services firms.  Location is irrelevant… expertise most definitively is not.
Posted in : Digital Transformation, IT Outsourcing / IT Services, OneOffice