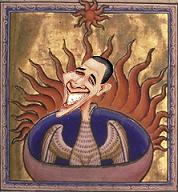 When we look at the carnage of our economy, it's not too hard to come to one hard conclusion:  we're at rock bottom.  And we may even get worse than rock bottom, but fortunately the English language has yet to cater for an expression of such depths of bottomness, so we'll just stick with "rock". 
The consequences of the next few months' policies are going to shape how we recover from this.  And while many have tried to devalue the importance of the US as the epicenter of the world economy, noone can escape the fact that the US is tasked globally with dragging us out of our current predicament. 
The Chinese have long-boasted that they can shut themselves off from the problems of the West and thrive on their domestic and regional dominance, but the world's second-largest economy is now suffering from more severe recessionary problems than those which Western countries are going through (Iceland aside).  They thrived on the US economic prosperity and its free-spending of the last two decades.
And having just spent three days with the leading retailers at the NRF show, all I can tell you is we're in dire need of an economic stimulus package and some new leadership.  What a time for a new President to take the reigns – and what a mandate he has to make some bold new policies.  Just when we're running out of hope, here comes the audacious one.  Over to you Mr O… you couldn't have dreamed of a better platform to change the world. 
Posted in : Business Process Outsourcing (BPO)