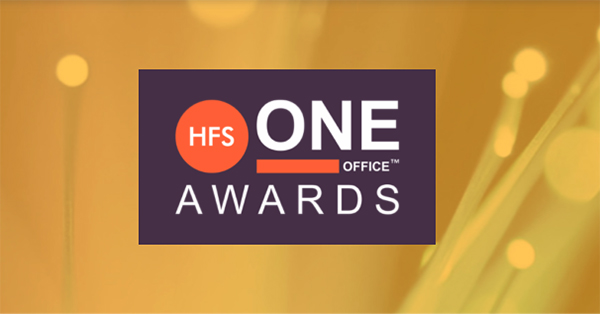 (Click to visit the Awards page on our website)
As you all know by now, no one gets a prize for coming last at HFS… but you can now get one for coming first in each of eight different categories!
This Awards program is close to our hearts at HFS. It allows us to showcase and laud organizations who have embraced the opportunities presented by our new business reality, those that have taken a transformational leap rather than a simple step-change. Denise Colgan, the OneOffice Awards program director, spoke with me to learn more about the story behind the awards and the timing of the launch.
Denise Colgan, Director, Awards & Strategic Programs, HFS: Hi Phil – and thanks for your time. Nominations are now open for the OneOffice Awards and we are all very excited that the program is live. How are you feeling about it? And why has HFS launched an awards program in the first place?
Phil Fersht, CEO and Chief Analyst, HFS Research: Hi Denise. I am also excited that the OneOffice Awards are now live. HFS has always been a trusted resource for clients looking for data, information, and informed opinions about what is happening in the market, but we wanted to add another layer – real-life examples of truly transformational projects and programs. People want to be inspired. Being able to learn from the journeys of others and see the real, quantified results they have achieved can help spark the flame of their own transformation. And those who have led the way and taken those leaps of imagination and commitment should be applauded. So, it's a win-win situation really – we can celebrate the great results achieved by visionary companies and their provider partners while inspiring and informing the next wave.
This is a great fit for HFS. We always strive to think differently and are passionate about combining knowledge with impact to help organizations realize long-term value rather than simple incremental improvements. I can't wait for people to send in their nominations so we can see some of the great work people are doing – and their results!
Denise: It sounds really exciting – and such a great idea. But why now? Is there any significance to the timing of the OneOffice Awards launch? 
Phil: Yes, there is – our research has shown that the pandemic has added another level of urgency to the need for transformation. Pre-Covid-19 organizations talked about transformation but were stuck doing so alongside legacy dragons and embedded thinking. The pandemic has flipped that one-track corporate mindset of resisting change to one of demanding change overnight. Business resilience is now front of mind rather than the old trope of quicker, faster, cheaper.
We are now seeing the dawn of the OneOffice organization, bringing together connected, global talent and intelligent, automated processes and data running in the cloud. The bold enterprises, who design their organizations to thrive in this era will be the winners – and we can't wait to share their stories.
Denise: That's wonderful to hear Phil. It's great to hear that the OneOffice Awards are focused on the creative use of technology, data, and people skills to keep businesses relevant and successful in this new world. What award categories are being included?
Phil: We have decided on eight categories, each of which is close to our hearts and can bring about real and lasting business change.
Data and Decisions: Recognises organizations and teams that create a culture of data that drives new opportunities through interactions, insights, and predictive capabilities, giving the ability to access data at a speed that drives critical decisions for their business
Native Automation: Rewards organizations and teams that leverage a range of emerging technologies to create intelligent and automated workflows in the cloud, enabling the new "native" standards for consistent cross-functional enterprise operations
People and Process Change: Applauds organizations that develop and manage talent to build OneOffice skillsets, address process debt by eliminating wasteful activities that plague our organizations, and manage change across the organization to make a meaningful impact
Horizon Three Innovation: Identifies organizations that find completely new sources of value by collaboration across multiple organizations with common objectives and who demonstrate organizational characteristics like an infinite mindset, data monetization, and autonomous processes, while leveraging horizon 3 technologies such as blockchain, 5G, and/or quantum computing
Innovation Ecosystem: No one can be everything to anyone! This category recognizes the service provider that embraces collaboration across start-ups, technology providers, academia, industry bodies, researchers, influencers, and even competitors to drive unmatched value for its clients
Sustainability: Celebrates organizations that meet the triple bottom line: social, financial, and environmental. An enterprise that has a positive effect on the global or local environment, community, society, or economy
Diversity: Applauds organizations and teams that unleash human potential by getting serious about people diversity to maximize the potential of every person and drive real innovation
OneOffice Mindset: Recognizes an enterprise that runs processes end-to-end across the organizational value chain, focuses on employee experience as a significant component of the overall customer experience, and drives organizational alignment and metrics that measure value creation, not just cost reduction. It represents an organizational mindset that breaks down front-to-back legacy silos to create the only "office" that matters.
Denise: I can't wait to see the entries flood in! Who can get involved? And where/how can they get started on nominations?
Phil: Everyone is welcome! Nominations are open to client-side organizations and their key partners worldwide and across all business sectors, including the public sector. Technology and service providers are also encouraged to nominate their own clients and share their success stories. All of the information needed can be found on our OneOffice awards homepage. We have a dedicated, easy-to-use awards platform where entrants can register and start their awards entry. It's a really simple process. Everything can be saved in progress, so start your entry here.
Denise: Well, good luck to all entrants! Are there any key dates or considerations they should be aware of?
Phil: That's a great question – thanks. The OneOffice Awards are open to enterprises from across the globe and must have been live at any point between January 1st, 2020, and the date of entry.
Nominations are now open, and we encourage people to get started as early as possible, especially if they need to gather information from different sources or get executive sign-off. Key dates for the OneOffice Awards are:
Nominations Close: Monday, 24th November 2021
Finalists Announced: Friday, 24th December 2021
The winner in each category will be announced at a celebratory event to be held in London on Thursday, 24th February 2022. We will share more details about that event nearer to the time.
Denise: Do you have any advice for companies considering getting involved?
Phil:  Yes – just do it! Sharing our successes and inspiring others is so important. There is so much hype out there, so real stories about real projects and quantified results are a must-have for organizations who want to make lasting change. So, my advice is – just get started. And if people have questions or need any help, they can contact you at [email protected].
Denise: Indeed they can. I will be happy to help!
Click to visit the Awards page on our website
Posted in : Digital Transformation, OneOffice