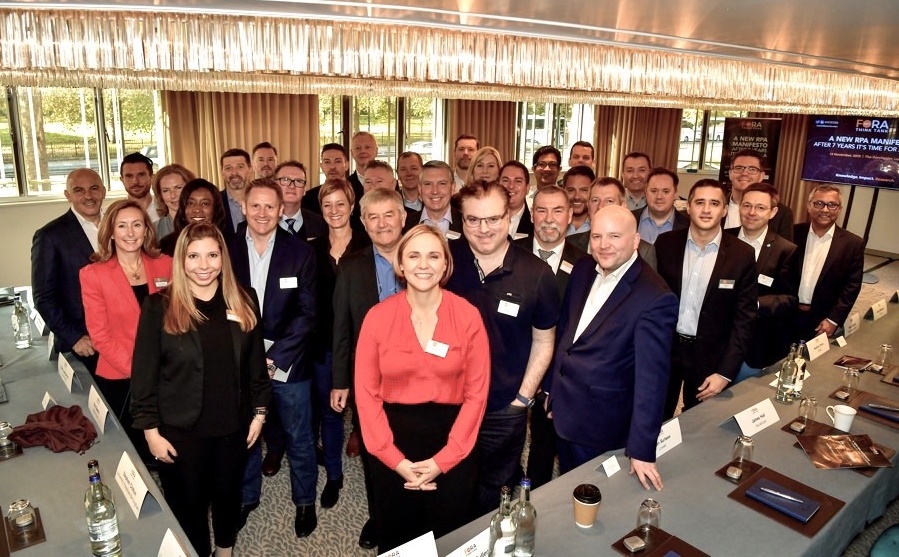 A cross-section of founding customers, analysts, and advisors assembled in London on November 13th 2019 to debate the key areas the RPA industry must address
Exactly seven years ago, HFS launched the concept of robotic process automation (RPA) to the world via a seminal report and blog. We described a Blue Prism technology offering that "appears best suited for processes that are highly rules-driven and the requirement for which is too tactical or short-lived to justify development by IT organizations that favor service-oriented architecture (SOA) and tools like business process management (BPM) suites." This was the first time a low-code tool gave business professionals a means to bypass traditional IT protocols to fix and digitize tasks—and potentially entire process chains.
The ugly truth surrounding the first seven years of RPA adoption is that we've simply succeeded in using RPA to move data around enterprises faster with less manual intervention rather than to rewire our business processes and create new thresholds of value.
The industry is in desperate need of a renewed vision for RPA—a manifesto for the next seven years focused on long-term value, not short-term land grabs, if we are to realize the potential of a truly digital workforce.
HFS, supported by Blue Prism, assembled a cross-section of founding customers, analysts, and advisors (see above) to refresh and reinvigorate where the RPA value proposition is heading at a critical time when investors are getting nervous with high-profile startups struggling to meet demand. Simultaneously, the systems integrators, BPO providers, and consultants—critical to driving this market—are noticeably losing their voice. In short, the industry known as RPA runs the risk of fading into enterprise insignificance if we cannot communicate its value to the world, set the right expectations, and re-ignite excitement surrounding the long-term value it delivers.
RPA's success and longevity over the next seven years hinge on it becoming part of the enterprise digital transformation agenda and emerging digital architecture. Without a digital workforce, many enterprises will fail to support the digital needs of their customers, employees, and suppliers, and RPA's capabilities to support these fundamental process transformations are of utmost importance.
What follows is the result of extensive thinktank brainstorming on what needs to be true to enable the success of RPA. Here are the new rules:
HFS' Ten Laws of Robotic Process Automation
1. IT and business must work together and share the responsibility to digitize processes, or digital business models will likely fail.
In short, this is the first time many operations executives have dabbled in low-code solutions to improve process flows, and IT is a critical partner to make it work long-term. The two factions cannot succeed without each other. They must agree on the roadmap and operating model for the future because the business must design process flows that support the core business outcomes that IT can enable and deliver. Businesses often love RPA, but IT often misunderstands it because RPA doesn't fit IT's logic. Business units must remember that IT has responsibilities far beyond business processes, including security and resilience. Furthermore, IT often bears the brunt of troubleshooting automation gone awry and maintenance, too, whether it was involved from the outset or not. RPA often starts in shadow IT, purchased by the business through an unsanctioned side door. But it's difficult to get to scale from the shadows. The age-old corporate holy war between IT and business must find its peace if the next-generation digital architecture and workforce of the future is to be achieved.
2. Mutual respect between IT and business massively improves your chances of success.
If one side is not ready for change, then there will never be the required balance to succeed. This maturity is essential to match risk and determine eligible processes. IT must ideally be open enough to accept that their business ops colleagues could work differently, and their forays into RPA are helping change their mindsets. The business needs to respect and embrace IT's process, risk, and governance capabilities. Anything less relies on luck and hope, and that is not a strategy.
3. Automation and strategy must be led by an overarching business strategy.
If automation is not part of the overall business strategy, senior leadership will not focus on delivering automation projects because of their risk of failure—or at least mediocrity. Most businesses can only deliver against three or four strategic initiatives at a time, so they should stop any automation projects that are not directly contributing to one of them. Automation's focus always needs to be on the desired measurable business outcomes of these high-level initiatives; otherwise, they become too tactical and will lack management commitment. The short-term targets and KPIs need to have a clear and logical relationship to the bigger picture.
4. Treat RPA as an enterprise application.
If you view RPA as a widget or productivity utility, then it has no chance of supporting broader digital change. Part of business and IT alignment is recognizing RPA as part of the canon of digital change agents that are helping advance how companies are run. No tool alone can ever do the job, but the exponential power of "and" is compelling.
5. Establish meaningful and measurable KPIs.
HFS and the event's brain trust vehemently oppose the use of numbers of bots as a measure of value or success, and we advise against it as an incentivization metric. Look to what the bots can achieve and the impact they deliver—not how many you have; there is no consistency in bot definitions and functionality, so that number is meaningless. Better measures of value include how many hours bots saved and what they accomplished and alignment with core strategic business metrics like contribution to operational efficiency and employee retention. Ultimately, many enterprises will measure successful initiatives with numbers of FTEs freed-up (or eliminated), but it can take years for soft-savings to become hard-savings as enterprises learn how to best apply the technology.
6. Treat RPA as a gateway to embrace process mining, process discovery, machine learning, data ingestion and advanced analytics to achieve real artificial intelligence for enterprises.
For most business process executives, RPA provides the first toolset on the road to full artificial intelligence (AI) adoption. In short, this is the first time many business process experts have learned to use low-code solutions to remove manual workarounds and correct workflows, and the benefits are naturally driving them to explore advanced process mining and discovery applications, advanced data ingestion and analytics tools, and also learn how to manage machine learning initiatives that pave the way to the ultimate goal of full AI and end-to-end process automation. Moreover, learning to change the logic of processes to delivery business outcomes is driving ambitious executives to look at the world and the desired experience from the user perspective. Users can be customers, employees, partners—anyone. Manual work is not the enemy; poor user experience is. Improve or reinvent processes before you automate them. You must have an opinion on whether a process is good or bad before you automate it. Failing to evaluate processes is arguably RPA's most glaring missed opportunity. Cultivate these capabilities through Lean Six Sigma programs, process mining and discovery tools, or other means. Then, track the pipeline opportunities. For automated processes, use the baseline to help measure and determine whether you made the right automation choices. There is nothing wrong with trialing RPA with legacy processes to fix manual workarounds, keep older systems functioning, and learn how the technology works, but, ultimately, maintaining legacy will never reap long-term benefits. Go broader than cost and piecemeal process automation. Work toward a desired "to be" state, don't just automate parts of sub-optimal processes. RPA will never be part of the broader digital agenda if it's just a band-aid.
7. Automation must orchestrate end-to-end processes across both front and back offices.
New research clearly shows that most automation dollars have been plowed into the back office of companies, notably to improve finance and IT processes. Ambitious enterprises must align investments in automation, AI, and other digital technologies with driving the customer experience, improving the top line, and aligning business operations with customer-driven outcomes. Exhibit 5 details how the ''OneOffice" experience is dependent on process flows spanning the customer at the front end of the organization with the supporting operations at the back. Being able to stay ahead of competitors relies on anticipating customer needs, often before the customer even knows them, and RPA can provide capabilities to stitch together applications, activities, systems, documents, screen-scrapes, and other touchpoints. Naturally, this entails the enterprise leadership to break down silos between business functions to design end-to-end processes and craft full-scale automation solutions (Exhibit 5).
How RPA can orchestrate end-to-end processes that deliver the OneOffice experience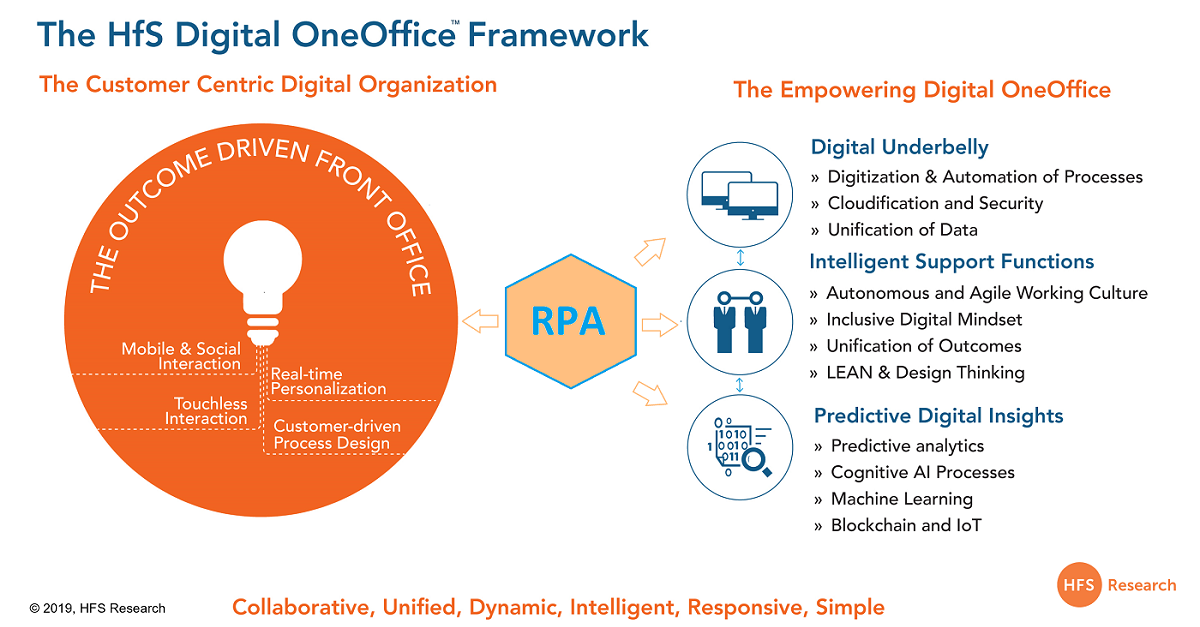 Source: HFS Research, 2019 (Click to Enlarge)
8. Bring new talent and perspective into the automation market.
We are generally unaware of our own biases. Despite the rallying cry to drive change, loads of business operation and IT leaders looking for ways to do the same things faster and cheaper are powering the automation market. We must raise awareness and cultivate new talent through schools and universities, reskill workers of all ages and skills, and generally strive to bring new experiences and talent into the conversation. Diversity and new perspectives are proven to drive change and thwart the status quo.
9. Don't forget hearts and minds.
RPA facilitates the creation of a digital-enabled workforce that concentrates and enhances the human skills and capabilities of the analog-based workforce. RPA does this by taking repetitive tasks offline, which results in more fulfilling work, or by creating substantially enhanced real-time access to data or computational skills, both of which increase productivity and quality of outcomes. It augments humans, which may eventually result in requiring fewer people, but it also provides the opportunity for growth and better customer and employee experiences. Unless we continue to educate humans about the power and potential of RPA and automation, no amount of IT and business alignment or well-intentioned strategies can make it work. Invest in ongoing education about the value and benefits of automation, and use simple language.
10. Consider dropping the word "robotic" from RPA.
There is no doubt that the term "robot" was the catalyst to driving unprecedented interest in RPA since its 2012 inception. However, most RPA engagements today are largely attended desktop processes that constitute barely more than five robots, as opposed to the unattended engagements that were the true initial intention when the solution was invented. So, why persist in using a word that is deeply associated with job elimination, has confused many, and has added little but confusion and ignorance into the market? Related areas, such as process mining, machine learning, and data ingestion, do not need the term "robotic," so why use it when we are really talking about automating processes and tasks?
The Bottom Line: RPA is dead unless business leaders align it with their broader digital transformation agenda.
Today's business leaders are inarguably those that prioritize speed-to-market and top-line impact through sales. The laggards continue to focus on cost reduction and efficiencies. Appropriate use of RPA and automation capabilities is no different. RPA must support enterprises' digital transformation agendas.
Enterprises and the RPA ecosystem must make RPA part of something bigger—part of transformation, strategic initiatives, and broader goals for user experience. Stakeholders must align RPA to other digital enablers: complementary change agent brethren such as process mining, low-code BPM, elements of AI and smart analytics, APIs, and microservices.
The RPA we've known for seven years is dead. The fate of RPA for the next seven years is contingent on collaboratively supporting something bigger.
The New RPA Manifesto can be downloaded here
Posted in : Artificial Intelligence, Robotic Process Automation, robotic-transformation-software