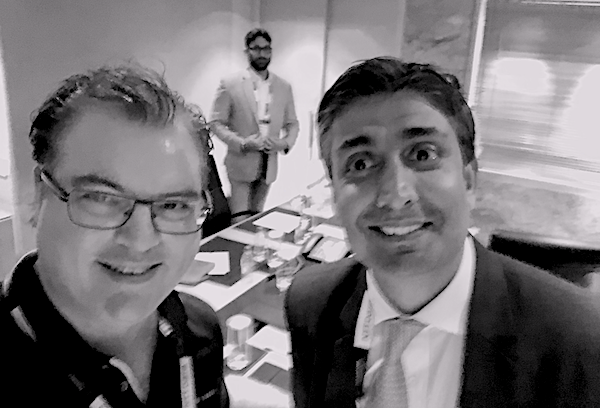 I just couldn't resist the annual pilgrimage to Mumbai to experience the Indian IT elite's gathering, in the case my concerns that the offshore-centric IT service delivery industry was getting complacent were misplaced. Sadly, they were not.
It has been two years since the NASSCOM leadership forum of sell-side IT execs was held in Mumbai (after a pretty disastrous diversion in Hyderabad last year), so it was pretty obvious that attendance was clearly down, compared to two years' ago. Am sure numbers will be reported otherwise, but it was pretty easy to navigate the entire venue without having to resort to the traditional scrimmage position to hack through the usual sea of people.
My takeaways:
The atmosphere was "relaxed". Seriously. The traditional urgency has somehow dissipated to this bizarre – almost chilled-out – mindset from most of the people there. "Aren't you guys worried about Brexit or this Chinese/US trade war escalating. Surely that could really hurt Indian service delivery?". Most people just shrugged. No-one seems to care that much anymore… everything is just fine, and, I hate to say it…. BORING.
Digital as a term is done. Yes, even in India. After the last few years of digital overdosing, the only time the word is now uttered is when an Indian provider exec explains that "half their revenues are now digital".
"AI" is the new Digital. And absolutely no one can define it. Great. Hurry up Quantum…
Service providers fell into two camps: inspiring and downright awful. Yes, we literally hammered our way through 30 meetings and I can honestly report that about a third were truly inspired conversations… the other two-thirds were dull as dishwater. Some came to us with a precise vision and focus, others literally had nothing to say beyond "we're doing OK". There was nothing in between.
There is a depressing lack of service delivery disruption. All the execs wanted to pitch was their amazing new pricing models that incorporated some RPA and some type of "outcome" pricing. Few were pushing their ability to disrupt actual service delivery with a next-generation talent development strategy. Few were talking about how they were helping clients with innovative role development, with change management programs, with co-investment plans, with the re-platforming of IT for their clients. And no-one was talking about investments in cognitive assistants and blockchain… it was all about dumb RPA bots and new-fangled pricing models that helped them win deals. Who is advising these people? Don't they – at least – talk to decent analysts anymore to tune up their messages?
Where were the CEOs? We got visits from Salil Parekh (Infosys), C.P. Gurnani (Tech Mahindra) and mid-cap CEOs Keshav Murugesh (WNS) and Nitin Rakesh (Mphasis). In addition, we were treated to Accenture's CTO Paul Daugherty, which was welcome… and Capgemini's Thierry Delaporte, co-COO (and potentially the next CEO) did manage to make the trip. However… Cognizant, HCL, Genpact and TCS all failed to serve up any C-Suite royalty.
Isn't this supposed to be India's premier IT event? And what about IBM and DXC, two of the largest IT employers in the country? I don't think a single leadership soul from those giants made the effort. Not to mention Deloitte, EY, PwC… all huge beneficiaries of Indian IT talent. Where were they?
Where were the RPA dignitaries? Considering RPA was pretty much the most discussed topic this week, apart from AntWorks co-founder Govind Sandhu and a rumored sighting of Automation Anywhere's Mihir Shukla, they all gave this conference a wide berth. Considering the Indian IT service provider channel probably represents the largest growth opportunity for the RPAs, this was a huge miss from them. And from NASSCOM for not inviting them along.
What happened to the analysts? Aside from single individuals from Gartner and Forrester, only a handful of lower tiers analysts were seen parked in the meeting lounge desperately trying to pitch their wares to Indian marketing folks (pretending to be excited by them). Even the HFS trends session was thrust into an obscure breakout room that ended up with wall-to-wall standing and disappointed people being turned away. When I mentioned to some NASSCOM folks that it "may have been wiser to stick us on the main stage", the response was "We're truly sorry, but we have to be careful not to upset the other analysts". As if anyone would have cared… there were hardly any there in any case… and when did the feisty Indian IT monster of yesterday worry about upsetting a few people?
Thank god for Rishad! The one truly bright shining light was the effervescent Rishad Premji gracing the halls, bouncing around on stage, talking to everyone he could, even having beers with his buddies in the hotel bar. Someone with a vision, oodles of passion… saving the day for a tired old show that badly needs a facelift. I must apologize to my friends at Wipro, but can you just let this guy run for PM?
The Bottom-line: It's time to change the Indian IT record… or this industry will be disrupted by… something else
I can recall all the way back to my first NASSCOM invitation in 2002… this was THE event of the year, back then. Anyone in IT services who meant anything just had to be there. This thing literally used to be Davos for global IT. Now it appears to be descending into a microcosm of an Indian IT industry bordered on complacency… content to make quarterly numbers and little else.
Having spent time, in recent months, at industry events in the US and emerging European locations, something is going wrong in India. Is Indian IT losing its luster? Has it settled for what is has… losing its ambition to keep disrupting the world of technology, like it did so magnificently between 1995 and 2015? Will we see IT services firms headquartered outside of India creating the next big shift, leveraging more talent from emerging locations such as Ukraine, Poland, Russia, South America and China… and lessening their reliance on India?
Posted in : IT Outsourcing / IT Services, Outsourcing Events