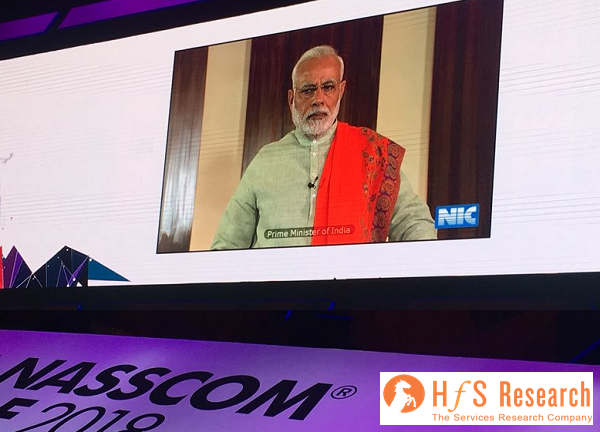 Stability and modest growth should be the best thing that has happened to this industry: companies can plan for the future with greater predictability and make smarter investment decisions. Instead, we're suffering from a culture of endless hype, copycat marketing and an addiction to hypergrowth.
NASSCOM's annual India Leadership Forum is always a good bellwether for testing the temperature of the global services industry – and the 2018 rendition this week in Hyderabad served up some real pearls of wisdom (yes, Hyderabad is the world's leading refiner of pearls).
Getting to the point, the services industry has never found itself in a worse state of bewilderment and confusion. After last year's sense of looming disaster with President Trump's proposed Visa reforms, at least the industry has something collective to hang onto – a common fear of being politicked out of business. However, with that panic pretty much diluted, what has been left is a conflicting range of moods, ranging from confusion to depression to uncomfortable modest growth, alarmingly untrue #fakenews, and a never-ending plethora of meaningless buzz words, which have become so deepset in the fabric of our industry, most of us are resigned to using them, as it's the only language left to communicate basic sentences to each other.
So let's try and shed some light on the confusion, based on some of the terrific conversations we had this week:
The Indian IT industry is struggling to cope with "modest growth". With NASSCOM bravely predicting something in the 7-9% range, most credible analysts are predicting 4-5% for the short, medium and long-term. The reality is, the whole DNA of Indian IT has been borne out of hyper-growth, offering genuine riches to ambitious executives who could project-manage their way to a very nice condo in Bangalore or Gurgaon. The gravy train has now firmly ground to a halt, and most of the lovely folks remaining are still coming to terms with their salary increases slowing down, or disappearing altogether. And many are just pleased to cling to their jobs. The level-headed executives have accepted they are now looking at a more modest outlook for their firms and their own futures, and are making some adjustments, while others are still clambering around trying to find the next hype bandwagon to hitch to their next career move (and payrise). Did I hear the words AI, Blockchain, or RPA anyone?
"Digital" provides a sugar frosting for restating revenues as something that is not traditional IT. While we managed to have about 30 structured meetings with service providers, GICs and tech firms, the term "digital" has become so meaningless, it now ceases to be used in any coherent sentence. It seems to be purely a term now for convincing investors and Wall St analysts that, somehow, traditional services revenues have become something mysterious and new that will set services firms on a new pathway to returning to hypergrowth… and very soon. In reality, "digital" is all about designing new revenue channels for customers using emerging interactive technologies. It's all about collapsing internal silos within business operations to service customers' emerging digital needs. If you're telling me that 50-75% of IT services revenues are now "digital", then please tell me where all the billions of dollars of app testing, app management and IT infra revenues mysteriously disappeared?
Services has fallen hook, line and sinker for its own #fakenews. Suddenly, every services provider has developed the industry's leading competency for delivering automation, artificial intelligence and blockchain… overnight. While, barely a year ago, exactly the same firms were the industry's leading maestros at serving up "digital transformation". Amazing how they could source thousands of experts, and convince so many clients to make this all possible in barely a few months. Until recently, most providers declared they were adopting a "wait and see" attitude to approaching some of these areas, but now are in there fully-fledged and firing on all their lovely blockchain cylinders. Puhlease ladies and gents! At least, in days gone by, most providers would be relatively honest about their core areas of focus and expertise. Now it seems perfectly acceptable for many just to stare you in the eyes and just lie… what on earth has driven us to this place?
DXC continues to baffle everyone. Can someone please explain what DXC is supposed to be doing? I love the Accenture-esque TV ads, but I am still clueless as to what this firm is actually doing to be the next big thing in the industry. While I was very happy with the DXC branded gifts for writing notes and charging my phones, I would rather just get a little postcard explaining what on earth this new-fangled services business is supposed to be doing that is so special…
Sourcing advisors have just fallen off a cliff. Yeah – they just weren't present. Barely a couple of years ago they still trawled these halls with their promises of big deals (or would try and sell you some "research" to make a few bucks). Now they have all but disappeared from the equation. Maybe their absence is the most notable sign that the good ol' days are firmly gone forever, and it's high-time to wake up to something approaching a normal, stable industry?
The Bottom-line: There are some seriously cool things going in in the world of technology services; we just need to unearth them and change the narrative
There is a lot of goodness this industry is capable of achieving if we can just get out of our own way.
For starters, we're seeing the fastest revenue growth from several middle-tier providers who are big enough to go after some large complex deals, small enough to work on new concepts with clients and lack the legacy business to focus on going after greenfield disruptive opportunities that the big guys cannot consider. We are seeing some of the major providers unearth new gold by taking ambitious clients to new places of business value, with a high-risk / high value mindset, using technology that is here today and working with them as a trusted long-term partner. We're seeing real advances in automation, machine learning and digital enablement that are here today – they are now a reality, not some future innovation that is still some years away. We are also seeing a feverish desire from many clients to experiment with blockchain, despite the fact it's still a long way from providing many meaningful business applications today.
The present is now the future and this should be the most exciting time ever to be innovative, courageous and entrepreneurial. So let's stop trying to pretend to be something we're not and focus on the real potential that is staring us in the face. Everyone's tired of the #fakenews… it's time to change the channel!
Posted in : Business Process Outsourcing (BPO), IT Outsourcing / IT Services