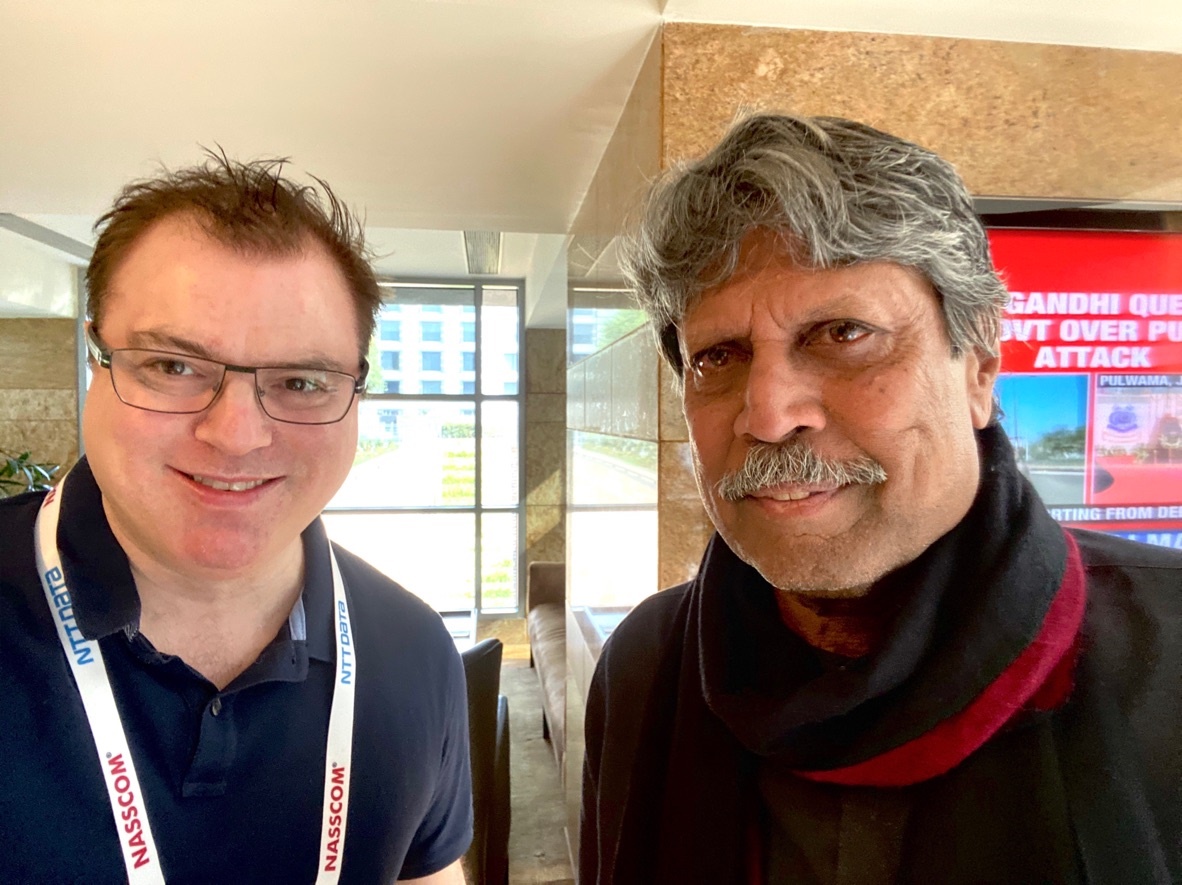 Not quite middle-stump, but India's bowling a better line these days, as NASSCOM is graced by cricketing legend Kapil Dev
After last year's effort, our expectations were set at a pretty low bar for the annual NASSCOM extravaganza in Mumbai last week. The IT services industry had surely reached its rock-bottom when it comes to death by PowerPoint and the same old bleh!
But no… we were pleasantly surprised that bottom has – seemingly – been reached and we're actually clawing our way back!
Ten Takeaways from the NASSCOM India Leadership Forum 2020
1. Coronavirus…. what Coronavirus? Unlike those wimps crashing out of Mobile World Congress, the IT services dignitary did not think for a second of finding a germophobic excuse to bail… In fact, attendance was visibly up from last year. I did suggest to some suppliers that they should dish out face masks brandishing their logos, but no-one seemed to care.
2. Start-ups and emerging service providers and were out in force. One of my personal gripes with NASSCOMs past has been the dominance of the old guard services founders and less of the emerging slew of providers and startups. This was the first time the emerging Indian IT sector drowned out the marketing glitz from the establishment. Here's a decent survey on the Indian startup sector from the Reserve Bank of India.
3. Big, big focus on changing talent needs. One key theme that dominated conversations was the recognization that Indian service providers must invest very heavily in training their talent which really understands business processes and applies it to IT. Only having business process understanding… or only IT… was a fast track to legacy. "We have enough IT guys" was stated by more than one senior executive.
4. "Experiences" dominating the conversation. The rapid growth being exhibited from the mid-cap service provider sector (Hewaware, LTI, Mindtree, Mphasis, NIIT, Persistent, Virtusa, Zensar et al) is being driven by enterprise clients' desire for great intimacy and experiences from their services partners. The days of big, bulky, multi-year contracts are being replaced by rapid, high-impact projects where customers have quicker routes to outcomes and can demand greater value and complex support. Brand is being superseded by expertise and speed-to-market and the mid-cap sector is clearly benefitting. Five years ago, working in a small-scale provider was depressing, with the sector stagnating from flat growth and an inability to compete with the tier 1s. Now the mid-sector loves taking on the juggernauts in deals where the client has deep intimate requirements warranting immediate attention from the A-team.
5. Some big hitters (and bowlers on stage) energized the whole event. Hearing from Tata's Chandra was a much-needed boost for NASSCOM… he still cares about his first love of IT services, even now as he lords it with world leaders at Davos these days. It really was terrific to hear the energy from Rajesh Gopinathan (CEO, TCS), Salil Parekh (CEO, Infosys) and Rishad Premji (Chairman, Wipro) duking it out on stage, and we also were treated to a strong session from Tech Mahindra's CEO, CP Gurnani, on the FutureSkills Prime initiative. However, none could surpass the awesome appearance of one of cricket's all-time greats from the Hadlee, Botham, Viv Richards era… Kapil Dev (pictured above).
6. Lack of presence from BPMs (BPOs). Only WNS, the industry's highest growth services firm, was out in force. The other emerging BPM firm of note was Datamatics, which is making a determined effort to get noticed. Very little from EXL, Genpact, Sutherland etc. which is disappointing considering the rapid blending of process and technology in client engagements.
7. Lack of presence from non-Indian centric service providers. While it was great to have Capgemini's India head, Ashwin Yardi, grace his presence, there were few hitters from the likes of Accenture, IBM and DXC present, despite their seismic armies of Indian IT talent. NASSCOM needs to be about embracing global business investing very heavily in India (and close to half of the employees of Accenture, the IT services leader, are India-based).
8. Automation fading fast from the agenda. Perhaps the biggest surprise was the noticeable lack of presence from the automation firms. A couple of sales booths for AA and UiPath were seen, but the only leaders from any of the automation firms to grace their presence were Govind Sandhu at AntWorks and Atul Soneja of EdgeVerge. The days of cheesy robot posters and embarrassing robots on stage seem to be in the past as automation software becomes part of the fabric of services, as opposed to a major differentiation point. Are the marketing coffers of the automation firms running dry, or do they feel they need to focus on marketing themselves beyond partnering with service providers these days? Hmmm…
9. The gossip surrounding Wipro's successor dominated the chitchat. Whether or not this is a good thing, the rotating cast of personalities leading the heritage Indian service providers dominates the headlines in India. Whether Wipro likes it or not, they have now achieved an Infosys-level feverish status in the gossip columns, regarding Abid's successor. I think about 30 executives from Wipro's competitors have now been linked with the job…
10. The lack of Cognizant executives also added to the gossip circles where their former one-zeros are heading… from Frank to Raj to Gajen to Prasad… people want to know where all these dudes will end up. Surely not Wipro =) Speaking of former Cog-natives, we were also lucky enough to meet MindTree's new CEO, Debashis "DC" Chatterjee (a former Cognizant leader) who's clearly enjoying the challenge of driving one of the mid-caps in Mindtree, and Harish Dwarkenhalli, who recently joined Wipro as President of Cloud Enterprise Platforms.
The Bottom-line: The energy is back as growth picks up and clients really need agile IT services partnerships
For the past three years, we've all argued whether India's IT services growth was going to be anything more than a puny 2-3%. Suddenly, we're back at double-digit levels for the market leaders and most of the mid-caps, while the profit margins seem to be holding true. There is a broad services industry recognition that quality of execution and the ability to deliver real client experiences trumps a few cents on the rate-card in a bullish global economy. The reality is, with IT, the more the India-heritage IT service providers invest onshore near its core enterprise clients, the better this is for India's growth as the IT services industry's dominant home. Coronavirus? What Coronavirus…
Posted in : Digital Transformation, IT Outsourcing / IT Services, Outsourcing Events, Outsourcing Heros