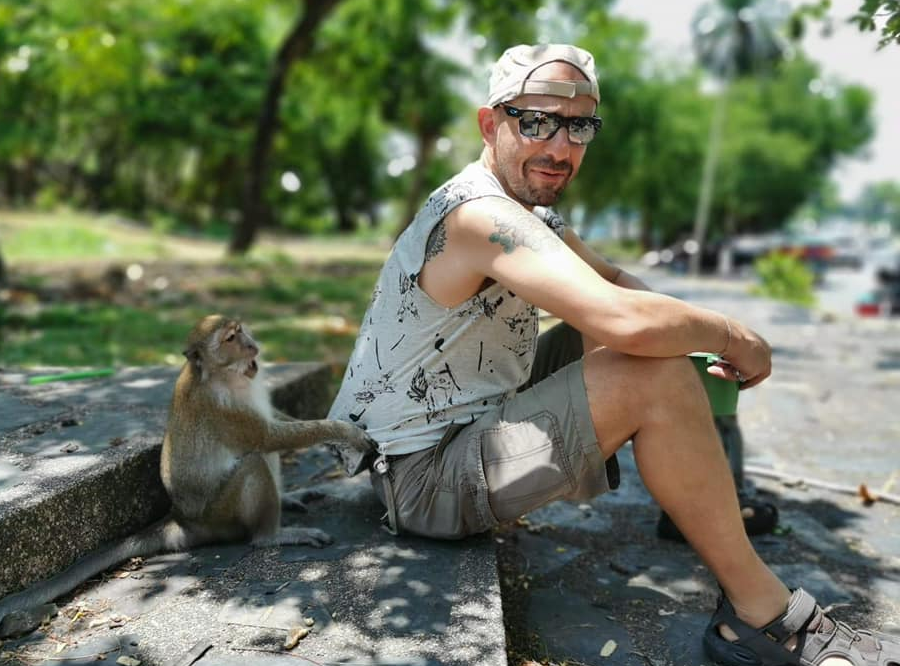 HFS analyst Cyrus Semmence (pictured right) gives his view on low-code and enhanced automation
After many years of hearing the term "low-code", suddenly there is an urgency to understand how it can rapidly enhance automation capabilities as we watch the world spiral into madness. In my view, the right blend of low-code platform capability and RPA, alongside process orchestration tools, such as process discovery and mining, will provide the toolbox to create enhanced automation and a much more scalable digital infrastructure… in an increasingly volatile and geographically diverse market. However, the watchword with RPA over the years has always been "low-code does not mean no-code" and you have to work with your tech folks who understand how all these systems and apps can fit together to achieve our goals (which is where it went wrong recently at the US Small Business Administration).
So we decided to poke a few questions at HFS analyst and monkey lover Cyrus Semmence,
What is low-code, Cyrus?
Low code development platforms are platforms that allow the creation of automated workflows and software using visual and declarative statements instead of raw code to create the business or software logic.
However – in the hype to whet people's appetite – some misconceptions about low code / no code need to be addressed, otherwise, in a few years' time, we'll be talking about the failure of low code. The idea that skilled developers can be replaced by citizen developers is false. You still need architects, solution designers, developers, testers, etc to build and deploy your whizzy new automation. The reason is that low code brings to the table the advancement of true rapid application development (RAD) capabilities due to reduced effort and errors as multiple lines of code do not have to be manually keyed in, which is tedious and can be incredibly time-consuming and leave room for errors and bugs. Instead, the logic is created with drag-and-drop types of functionality. To do this though, you still need people that know what they are doing, how to define the logic, create database schemas, understand the integration requirements with other systems, and to design around non-functional risks and requirements.
Why low-code matters and why we need to care
The work environment has changed. What worked when we were all in the office together suddenly becomes much harder to do when we can't easily pop over to another department and ask a question about something or shout across the desk. This slows down processes and highlights previously hidden problems. For companies that have realized their business processes are inefficient, hard to modify, and are only functioning because of human workarounds, low-code platforms offer a great solution.
Nowadays no senior manager is going to sign off on a bespoke software build project. There is too much risk that some mud might stick to their reputation if it fails and with so many horror stories regarding software development projects who would blame them? However, sometimes that is the right option.
It is true there are many commercial off the shelf software (COT) solutions that could be purchased and avoid the risk of building from scratch, but despite all the best intentions I doubt there are many large scale enterprise software deployments out there that were bought with the intention of keeping them off the shelf that has stayed that way. Instead, they have ended up being customized to the point there are extremely expensive to maintain and sometimes almost impossible to upgrade.
With low-code, you get the opportunity to automate your business processes in a way that exactly mirrors them, and you only build and pay for functionality you actually need, not all the extras that might sit their dormant with a COTS solution.
Why will low-code platforms disrupt traditional software markets?
Once people start to get more comfortable with the concept then it's likely the uptake of new purchases of CRM, ERP solutions will be impacted. I can't see large corporates suddenly throwing out SAP or Clarity straight away and replacing it with their own in house low-code version. For smaller organizations that might balk at the cost of SAP and just stick with their old order processing system and excel spreadsheets and make do with the problems, no-code could be the door opener to modernize a lot of their systems. Combined with RPA where integration with the odd irreplaceable legacy system that doesn't justify spending a fortune to replace, you have a great way to improve your business efficiency and ability to get to market faster. For the larger enterprises adding a low-code platform to their toolbox means they can quickly roll out point solutions to solve business process problems at the fraction of the cost of re-engineering existing software. In conjunction with a longer-term strategy, if planned properly they could be used to gradually phase out existing enterprise systems as a project instead of a major version upgrade on existing platforms.
How do we get started with low-code – do we need to have real experience in developing apps, or can we engage as business executives to get our IT people on the case?
The journey with low code must start with a highly skilled team. If a salesperson is telling you it's easy, ignore them. Why do you need a highly skilled team on a platform that everyone claims is going to change the way we deploy software (and Gartner predicts by 2023 citizen developers will outnumber professional developers by 4 times)? Because this is not going to happen. Software development is never easy and the last thing you want in your enterprise is a bunch of amateurs building your critical business systems. So, if you don't want to fail on the journey to replace legacy systems that don't quite match your way of working and take a long time to change when your business does, give yourself the best chance of success by getting good people to develop for you. Over time as you get comfortable with the platform you might consider devolving responsibility out to the business, but the risks in doing this must be carefully weighed up.
Will the current crisis drive adoption? Will firms who embrace low-code be at a real competitive advantage?
The current crisis could well drive up adoption as flawed business processes need to be fixed rapidly and – to do that – you need a flexible platform you can mold into the image you wish to see, not the image the software vendor has for you.
Thanks for the practical tips, Cyrus – to finish, let's share the latest research on where enterprises intend to invest in this current "Paradigm Shock": You may have a point that enhanced automation is very much top of mind for enterprises: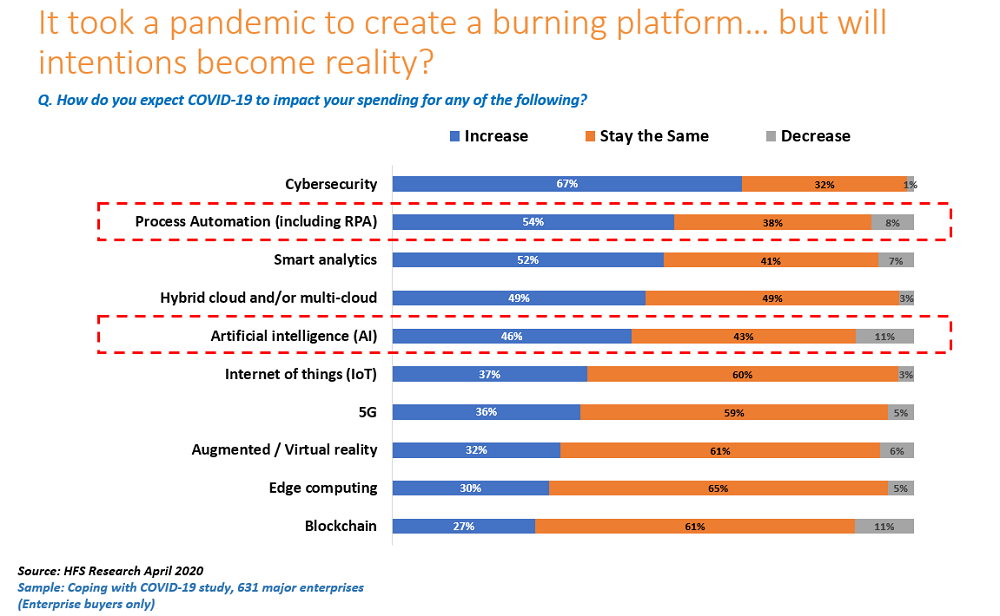 Posted in : Artificial Intelligence, intelligent-automation