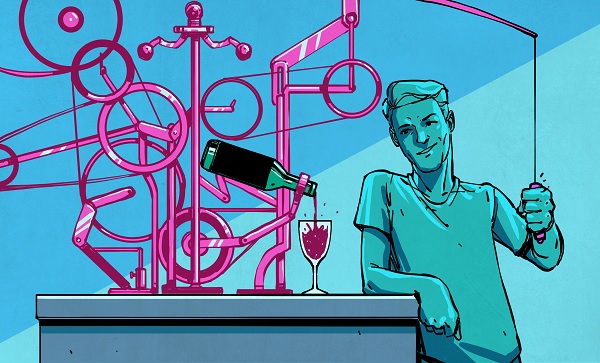 A lot has changed in the last year… especially when it comes to automation: it has now become the broadly-accepted efficiency tool for cost leverage with operations.
Every customer has RPA project managers and automation leads hungry for data, advice, and ideas. Every service provider has RPA embedded into their service delivery models, and every credible advisor has a practice that is working with multiple clients to make this happen. The Armageddon days of talking about robots taking our jobs are over – these are now the reality days where we can see exactly what's going on with automation and AI, and accurately estimate how it's going to impact the services industry in the next few years.
There will be impact, but it's manageable provided we focus on new skills and value.  
In short, the global IT and BPO services industry employs 16 million workers today.  By 2022, our industry will employ 14.8 million – a likely decrease of 7.5%* in total workers (see our research methodology below).  This isn't devastating news – we'll lose this many people through natural attrition, but what this data signifies is this industry is now delivering more for less because of advantages in automation and artificial intelligence.  The new data also shows how job roles are evolving from low skilled workers conducting simple entry level, process driven tasks that require little abstract thinking or autonomy, to medium and high skilled workers undertaking more complicated tasks that require experience, expertise, abstract thinking, ability to manage machine-learning tools and autonomy.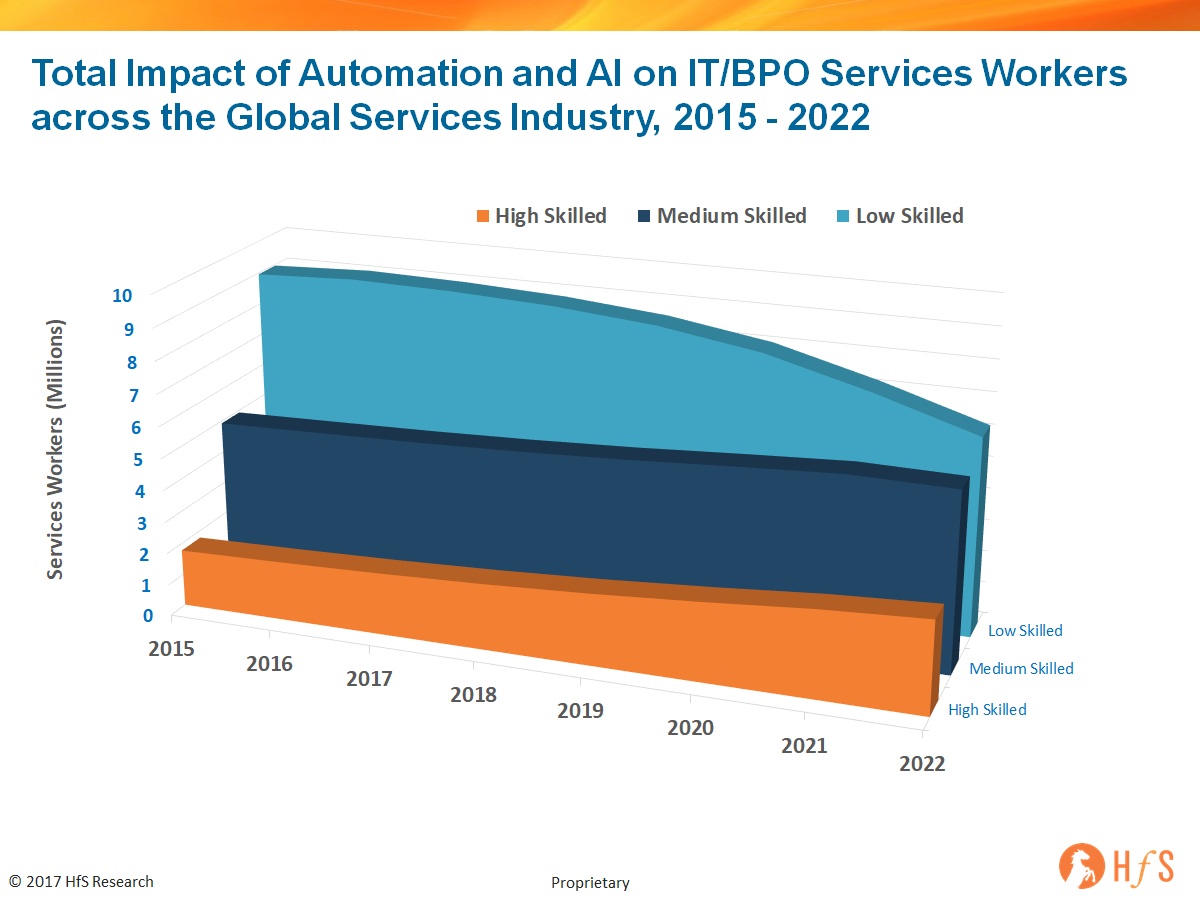 The low skill routine jobs are getting increasingly impacted, and our new demand data shows an acceleration in RPA tools (a 60% increase over the next year) where service providers are the largest adopters into their own service delivery organizations.  We expect to see a more rapid impact on routine job roles which is most notable in 2022 as companies take time to build the impact of RPA into service contracts and figure out how to turn work elimination into hard savings than merely soft efficiency savings.  With barely a 50% satisfaction level, this will take 4-5 years to see the real cost benefits in terms of job elimination.  Most of the short-medium term benefits are being seen in increased efficiencies and more digital process workflows.  All major service delivery locations are expected to be impacted at the low-end, but the higher the wage costs, the higher the expected role elimination (750,000 roles in India and a similar number in the US):
Medium skilled roles are picking up across the board, especially in roles that are customer/employee facing with the need for more customized support, the ability to handle basic customer and data queries, and more customized service work with virtual agent models in 2nd / 3rd tier escalations: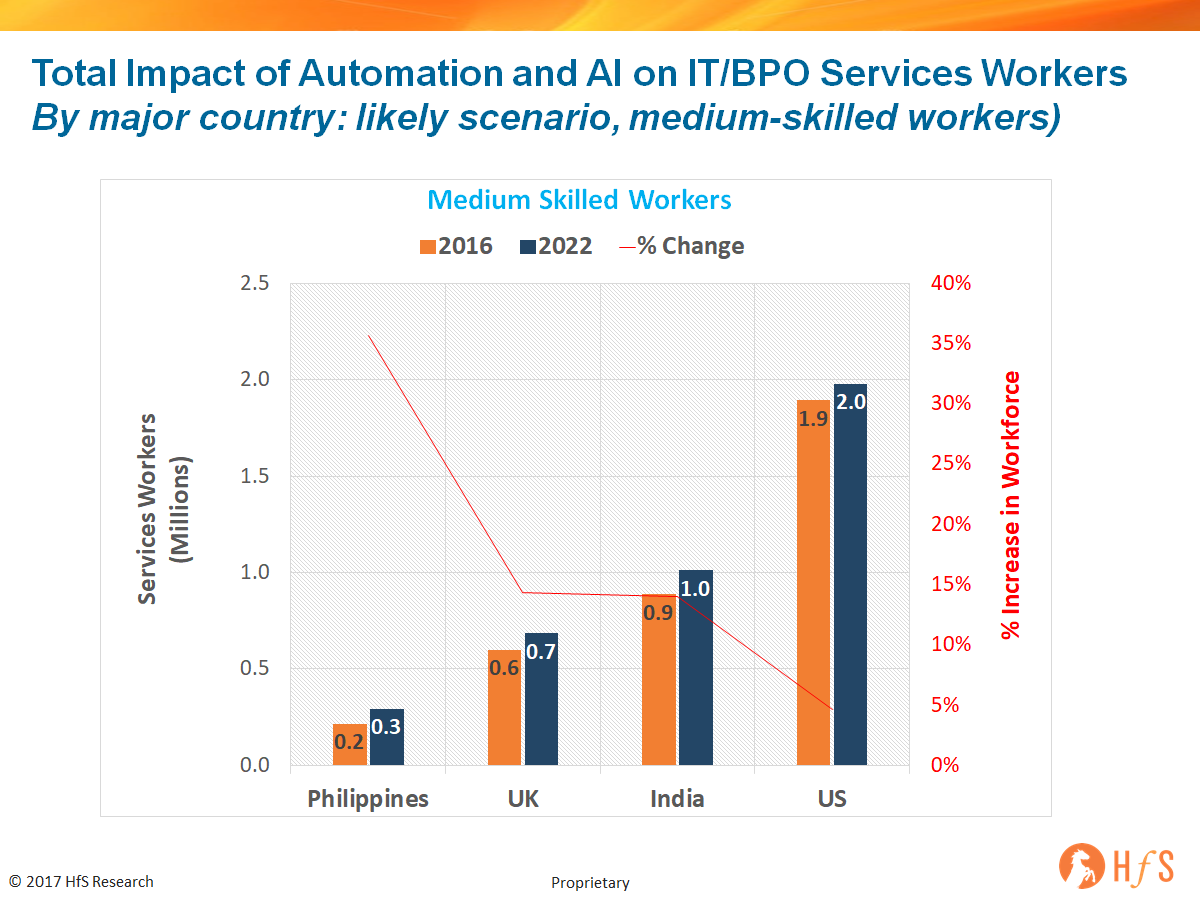 When we look into the high-end, this is where we see most positive impact, in terms of job creation: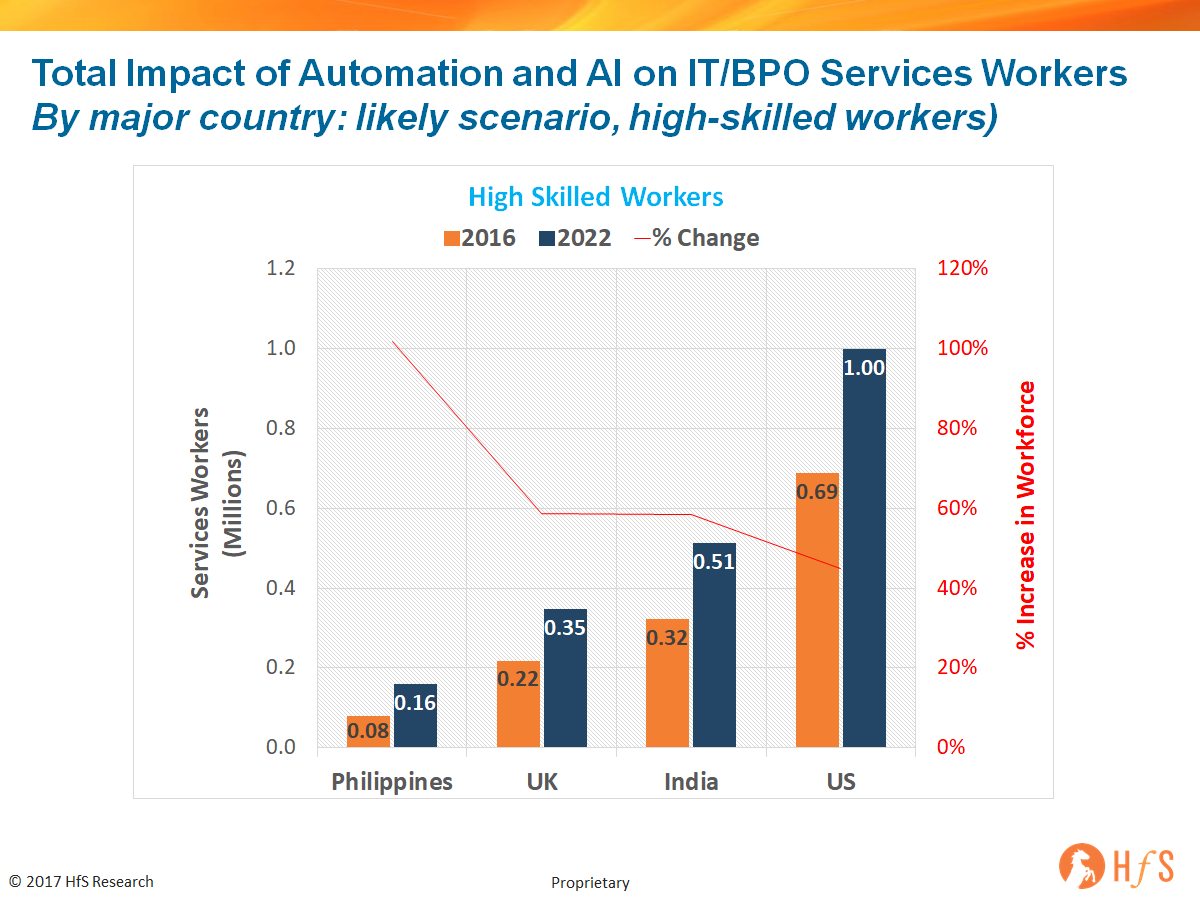 As this data illustrates, the more we automate and digitize, and the more we adopt human + machine technologies, such as machine learning and cognitive solutions, the more we need people to developing skills in managing automated workflows, machine learning mechanisms, being able to interpret data, and service increasingly complex customer and employee needs. So when we take into account the total impact of automation and AI on services jobs, the impact is not nearly as severe as so many of the hypesters and fear-mongerers are prophesizing: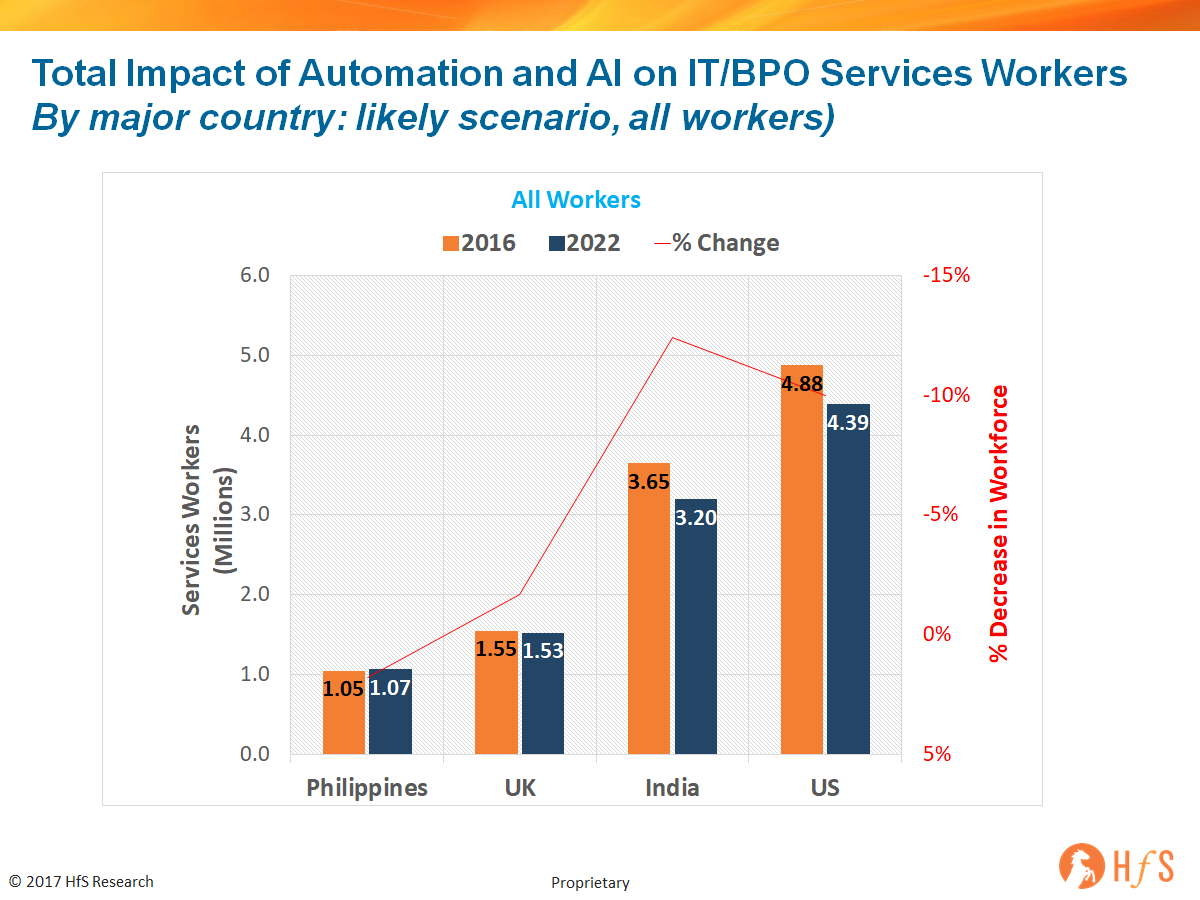 Philippines should actually increase its service delivery population due to its dominance in voice and capabilities to support increasingly complex and personalized customer models, the UK should be flat, especially with the challenges of Brexit and the slowdown in low cost worker immigration, while both India and the US will see a total worker reduction estimated at the 10% level between by 2022.  You can view the total impact on the global services industry – a worker population decline of 7.5% here: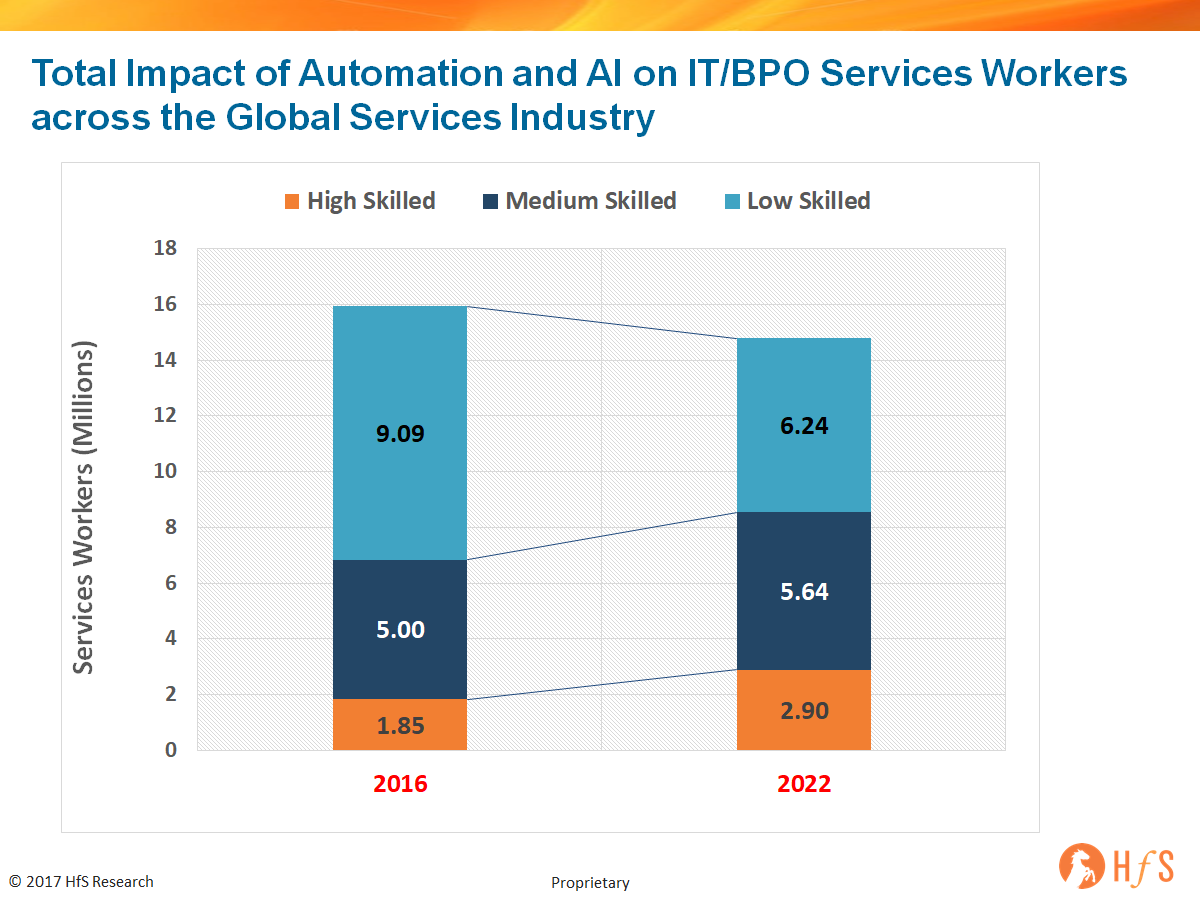 The Bottom-line: The rote jobs are going to be eroded, but there is time on our side to develop the new skills we need
The big narrative here isn't about what's going away, but more about what is emerging in its place. The next fives years we can manage, it's the five after that when the impact on labor becomes much more challenging.  Transaction roles at the bottom of the value chain have been under threat for many years now – with the impact of low cost location delivery and better technology.  Now the emergence of RPA is eventually going to sound the death knell for most high-throughput, high-intensity jobs, as both service providers and enterprises master the ability to apply these technologies effectively.  The good news is this takes time and there is no huge burning platform to do this overnight from most enterprises. 
So our message to all stakeholders on operations and services is simply to get out of your comfort zones, accept that new skills are replacing old ones, and it's critical we have a plan to train, develop and invest in changing what we have.  I will leave you with six things to think about as you ponder your own value to this industry and your firm:
Which customers have you delighted recently?
What new relationships have you made that add value to our business?
What work have you done that excited people inside and outside of the business?
How are you helping energize your colleagues and exciting them with new ideas?
How have you helped add value to new business wins?
How have you contributed to new initiatives that improve productivity and effectiveness?
HfS subscribers can access the full report by clicking here
*Research Methodology
HfS has taken the following assumptions to form this size and forecast for the services industry:
A more aggressive uptake of RPA and Autonomic plus adoption of Cognitive in second half 2017
Leading stakeholders start to educate the market more realistically
The adoption of RPA, RDA, Cognitive Computing and AI reaches exponential growth
Visibility on impact through details in financial earnings calls and beyond
Stronger impact on supply-side, more marginal on buy-side
30% Reskilling to medium and high skilled jobs, with 2/3rd to medium and 1/3 to high
HfS bases its data findings on the following sources:
HfS State of Automation survey (June 2017) covering the dynamics of 400 business operations and IT executives leading automation initiatives;
Market expertise of the HfS analysts across RPA, AI, BPO, IT Services and key industries;
Service provider interviews to understand their automation adoption across global delivery centers and emerging skills competencies with automation and AI solutions;
Government data and data published by industry associations, such as NASSCOM, US Bureau of Labor Statistics, IBAP, OECD Employment and Labour Market Statistics and Office of National Statistics, which provide data on IT industries and education – including specific information about job creation and the impact of automation;
HfS services contracts database, which provides analysis of service providers contracting activity;
Qualitative interviews with service buyers across different industries and company sizes;
Executive-level interviews with key independent advisors in the automation arena, such as KPMG, EY, Deloitte and Symphony Ventures to understand rate of adoption and other core issues related to automation and AI.
Posted in : Cognitive Computing, Robotic Process Automation