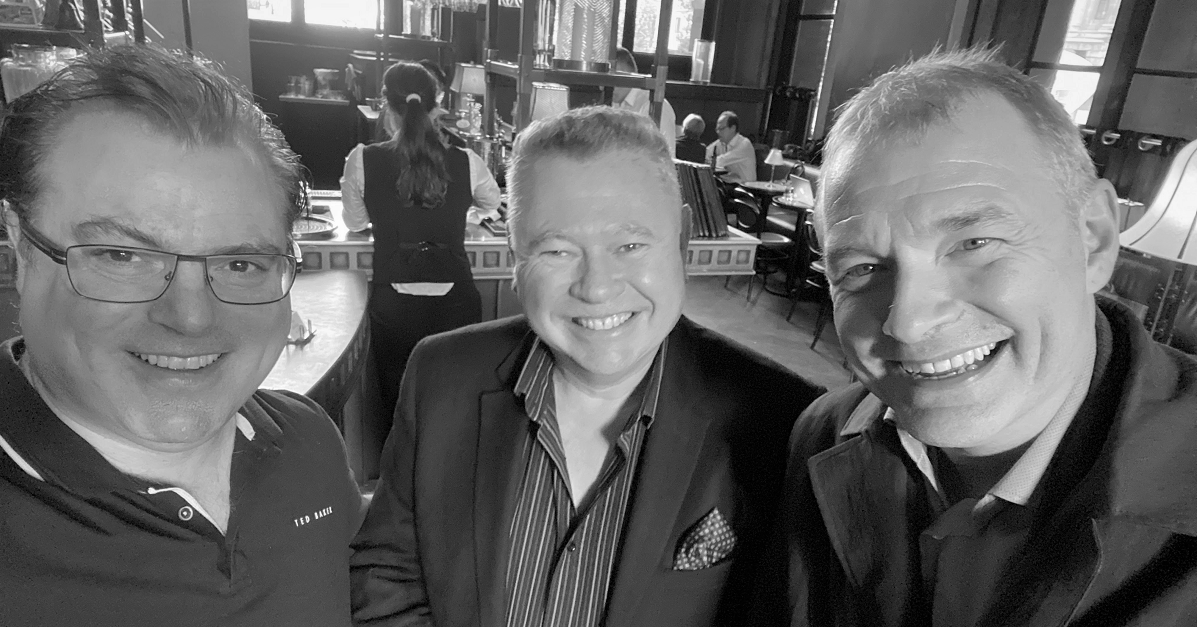 Three of the original RPA pioneers (left to right): Some grinning idiot, Pat Geary (Chief Market Maker, Blue Prism) and Jason Kingdon (returning as Executive Chairman of Blue Prism)
So almost exactly seven years to the day that RPA was invented, Blue Prism's major shareholder Jason Kingdon has scratched a huge robotic itch to make a return to active duty leading Blue Prism to drive its AI roadmap as RPA prepares for its rebirth in the industry. Current CEO Alastair Bathgate (interviewed here), who has overseen the IPO and evolution of the firm in recent years, stays on as CEO, but Jason will be driving much of the technology roadmap and vision with Alastair more focused on the business side.
Jason has a PhD in AI from University College London (UCL) and has been commercializing AI for over 25 years. He was co-founder of the Intelligent System Lab at UCL and Searchspace where he was CEO between 1993 and until its highly successful exit in 2005, when he sold the business to US private equity.
Blue Prism must now grasp these three critical challenges and opportunities
1) Carefully position itself in the industry as the heritage RPA inventor now taking the industry into a new AI-driven phase. While AA and UiPath have been publicly biting chunks out of each other, Blue Prism has soldiered on with its business with minimal noise and hype. In fact, the reverberations from Las Vegas and New York only help drive more attention to the industry and Blue Prism hopes to capitalize… not dissimilar to the amazing work IBM Watson did creating an AI industry for everyone.
2) Roll out a technology roadmap that takes RPA into the AI era. While both its competitors have focused on what Blue Prism calls an "RPA butler service", proving bots for everyone's' desktops, Blue Prism wants to focus on its years of heritage RPA experience managing robots and aligning them with AI capabilities to make them self-remediating and aligned with transformative process roadmaps for its clients.
3) Recreate market energy around itself and its technology roadmap. In typically British fashion, Blue Prism has ignored the noise generated for its high-impact competitors, but now needs to come back aggressively into the market with a laser-focused technology roadmap that is unique to clients and aligned with their deep-set needs.
Bottom-line: This is a marathon, not a sprint and Blue Prism has every chance to reaffirm its former leadership position
Blue Prism did UiPath and AA a huge favor by going public when it did a few years ago, as it exposed the challenges of having its activities open to public scrutiny. However, Blue Prism, under Bathgate's stewardship, has survived it well to be in a position to make critical investments in its platform that many of its large client base will be delighted to embrace. While its competitors will continue to toy with IPOs and increased private investment, Kingdon and Bathgate now have the luxury of greater certainty with clients and their respect as the original pioneer of low-code technology for business operations professionals. Having Kingdon's impressive technology passion and prowess at the helm will significantly benefit Blue Prism's standing in the market and help propel the firm's offering into the AI era…
Now let's get ready to rumble, folks =)
Posted in : Artificial Intelligence, Robotic Process Automation, robotic-transformation-software