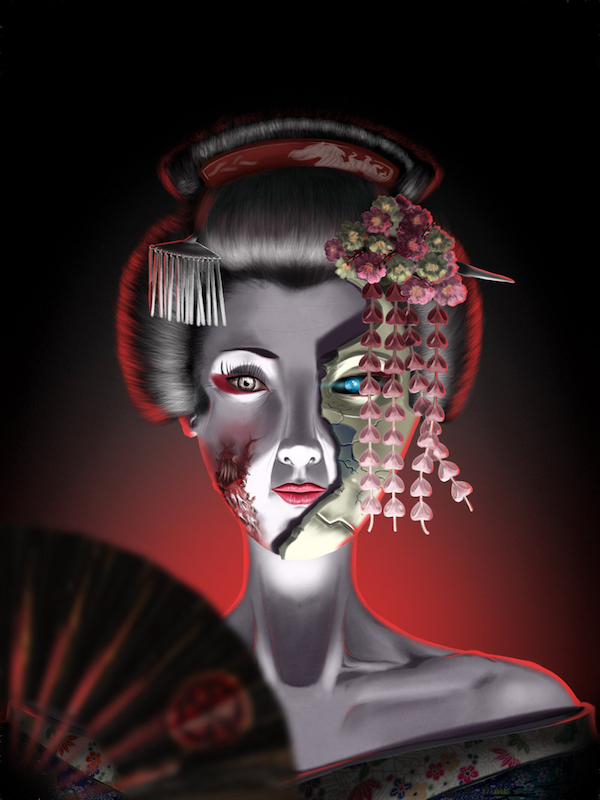 Japan's ageing and shrinking population creates real skills shortages and very high labor costs
Japan is currently the only major developed country that is experiencing a population decline. Unlike other developed economies, it is not offsetting population decline with immigration. In addition, Japan has the largest proportion of elderly citizens of any country in the world. In 2014, 33% of the population was over the age of 60 and this percentage is increasing.
Given its shrinking productive population, combined with its wealth, the cost of labor is high. Consequently, its companies are often the first to adopt new technologies, including artificial intelligence and robotics. Companies use these technologies to increase productivity in a market with severe skills shortages.
Japanese firms increasingly struggle to acquire necessary skills to optimize their technology investments which, in turn, raises the cost of these skills. This is leading to increases in spending with third party service providers that help to fill these skills gaps.
Keiretsu stifle innovation and decision-making
Japan has a unique business culture based around keiretsu. Keiretsu are a set of companies with interdependent business activities and ownership arrangements. Toyota is the largest keiretsu. It dominates its keiretsu and has several tiers of subcontractors, most of which only serve Toyota. The activities of contractors and subcontractors tend to be shaped by the dominant company within their ecosystems. This can inhibit innovation from smaller companies in a keiretsu and make it inflexible. Deals tend to be done at the top of the keiretsu. Japanese business remains hierarchical and labor mobility is low compared to other rich countries. Hence, there are typically fewer stakeholders involved in decision making.
The convergence of Information Technology and Operational Technology is driving major transformation
One of the key things to understand about the Japanese market is that operational technology is converging with information technology at an extremely fast rate. It has to, if Japanese industry is going to remain competitive. Its leading manufacturing and automotive firms are using cloud, machine learning, mobile, and Internet of Things (IoT) technologies to transform their operations.
Until recently, industrial firms used proprietary technology for very specific processes. They were often dependent on suppliers within their keiretsu, for components, management, and maintenance of these proprietary machines. Today, Japanese firms are integrating their machinery with information technology, often supplied by firms from outside their own keiretsu. For example, Hitachi and Mitsubishi are integrating third party mobile, cloud and AI technology into their industrial machinery as a way of lowering planned and unplanned outages, enhancing customer experience and lowering the total cost of ownership.
Similarly, Toyota, and other leading Japanese automotive firms, have been embedding IT into their vehicles, enabling more automation. Third party cloud, mobile, IoT and AI technology are all being integrated into Japanese motor vehicles.
The Japanese business environment poses huge challenges and opportunities for ambitious IT Services buyers and providers
What does this mean for the IT services environment? Industrial firms are looking for IT services firms that understand how information technology is converging with their operational technology. These firms must understand how their customers' businesses operate, at a more granular level than ever before. The integration of the IoT, cloud, machine learning and mobility with operational technology is transforming industrial businesses and enabling firms in Japan to differentiate themselves. Large Japanese IT services firms, NEC, Fujitsu and particularly Hitachi are well placed in their domestic market. In addition to being leading IT services suppliers, they are also operational technology firms. This gives them a huge advantage in the Japanese market and makes it difficult, although not impossible, for foreign firms to compete with them locally. These firms continue to dominate the Japanese IT services market together with the NTT Group. To be successful, foreign IT services firms must be able to demonstrate an understanding of the convergence of operational technology and information technology in specific industries.
The financial services, retail, healthcare and government markets offer enormous opportunities. Japan's financial services and retail sectors are mature, sophisticated and highly automated. There remains a lot of older, legacy technology, so there is an opportunity for IT services companies, both Japanese and foreign to create systems integration, maintenance and management opportunities in these sectors. Financial services firms and retail firms tend to look globally for 'best of breed' technology implementations. Foreign firms such as IBM and Accenture, are well placed to bring expertise created from projects outside Japan, to Japanese clients. This is more challenging in industrial sectors where Japanese firms consider themselves to be ahead of the curve. Nevertheless, in recent years, Japanese firms have shown more interest in what has been happening in Germany and its 'Industrie 4.0' initiatives.
The highly regulated Japanese healthcare sector offers some interesting opportunities. The world's oldest population has focused on innovative new technologies to offer cost-effective care to the elderly. Huge investments in elder care robots have been made by the Japanese government and Japan leads the way with this technology, some of which is being used in Japan. The use of sensors and other devices that can allow remote care is also very advanced in Japan. Again, IT services firms are needed to implement and manage this technology.
The Bottom Line: Japan's skills crisis is driving automation at a breakneck pace
If IT services firms are serious about growing in Asia, they need to develop a strategy for Japan. This is the biggest market. It is hard to say that you have an Asian presence if you are not visible in Japan.
Japan's demographic characteristics, combined with its rigid keiretsu-based business culture are forcing companies to automate processes rapidly. Indeed, Japanese firms are blending information technology, often supplied from outside the relevant keiretsu, with operational technology, to drive out costs, engender innovation, and address skills shortages.
Posted in : IT Outsourcing / IT Services