If I had a dollar every time an executive bemoaned their firm's inability to "change their mindset", to do anything differently to escape their habitual ways of running operations. And if I had a further greenback for every advisor who bemoaned how idiotic their customers are, because they "just don't have the deep expertise to fix their underlying data structure", I would have long retired to the Trappist Order to brew very strong beer for connoisseurs with beards (that doesn't actually taste very nice, but it's just so beardy).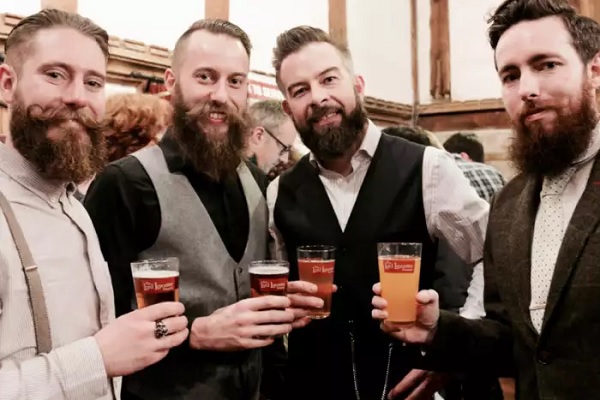 Surely the perfect desired outcome, even if it tastes like crap
It's all about bringing the operations closer to the customer, and lacking IT talent is a major impediment to achieving it
Getting to the point here, it's one thing demanding your employees change how they approach their jobs to benefit your firm from deploying advanced automation and cognitive tools, but entirely another if you don't have the technical expertise to put them to work. It's one thing to design a leading-edge digital interface with your customers, but it's rendered pretty useless if you don't have the capability to integrate it with your operations to provide customer support, get your products and services to them and harvest their data to keep making smart marketing decisions to stay ahead of demand. It's one effort to redesign processes around your customers, entirely another to redesign your operational infrastructure to make it actually happen.
We recently interviewed 100 C-Suite executives from major enterprises and split the discussion across both business and IT leaders. While the industry obsesses about whether C-Suites know where to where to invest, what are their desired outcomes etc., we don't focus nearly enough on the impediments preventing them from achieving these goals. We focus far too much on firms' short-term spending on tools, and not enough on defining the ultimate outcomes and drawing up real investment and change management plans to get there. As we recently discussed, if we only focus on the means, we will never arrive at the end. To address this, we presented the OneOffice Concept to understand what is holding back both business and IT leaders from reaching the promised land of perfect real-time symmetry of their business operations staying ahead of their customers' needs: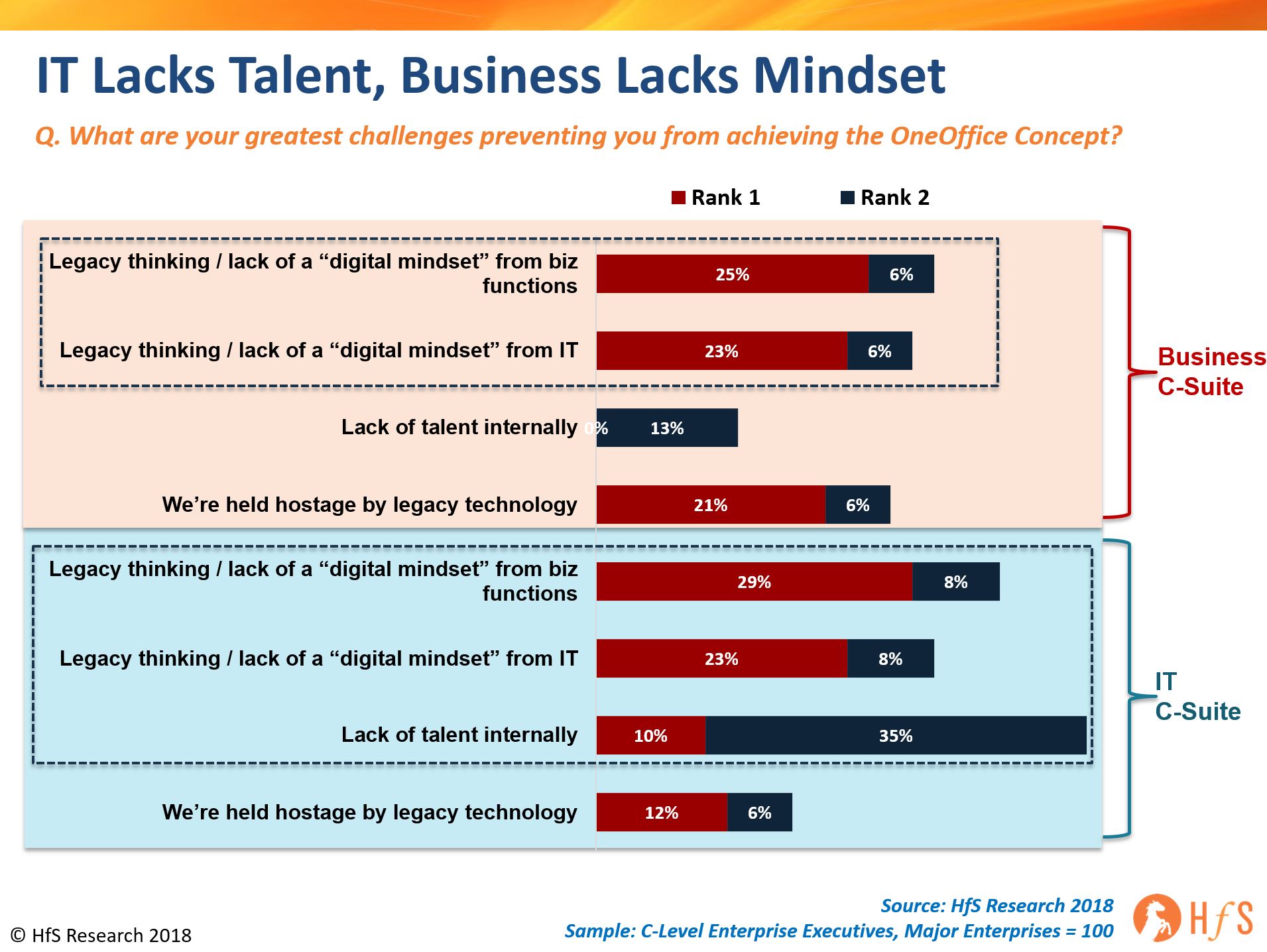 The Bottom-line: The Right Brain only functions when it's in sync with the Left Brain
As we have widely discussed, four-out-of-ten customers (see earlier blog) going through initial deployments of RPA software are struggling to meet the business cases and cost savings goals. And when we bring hundreds of enterprise leaders together at our HfS Summits, the story is consistent: business struggling with change, but they struggle even more with aligning the right technical expertise to work alongside their business talent. Simply put, today's firms are struggling with having IT depth to take their ambitious C-Suites where they want to go. So where do we go from here?
IT is at the heart of C-Suite strategy – it's a business discussion that only works with the right IT capability. You only needed to eavesdrop on the many C-level discussions at Davos to know the IT discussion is firmly at the core of the business. Being able to satisfy your customer's digital business needs is where it's all heading. I was recently talking their the Group Finance Head at HSBC and his whole focus is on two elements – having the best digital app delivery and providing the best customer experience, which is incredibly challenging for any business environment grappling with differing compliance needs across borders, and ever-demanding customers wanting to do all their banking on an iPad. However, while this is a challenge, it is also a massive opportunity for the ambitious who get their business design and IT skillset equation right.
Finding the right partners is more crucial than ever. There is a massive opportunity to lead in the world of IT services, provided you can plug these skills gaps. The challenge is breaking out of the traditional sourcing model to access niche talent across the globe in areas such as crypto-technology, Python development, Lisp, Prolog, Go and C++. While most traditional firms still rely heavily on bread and butter IT services delivered at scale from regions such as India, the emergence of talent in Central and Eastern Europe, China and parts of South America also need to be brought into play. The IT services world will be a very different place in a couple of years as boutique firms offering niche skills come into the fore. Not to mention the emergence of crowdsourcing for IT talent. Having really savvy IT leaders who can cobble together crack teams on-tap to solve their IT headaches is already becoming a huge differentiator for many firms. The will also be a role for the super services integrator, who can pull together teams for clients to work with them on complex projects.
Simplification of business operations is the real key to future success. In short, there is no silver bullet to solve these endemic issues companies are facing to break out of legacy ways of working, but being able to align a determined mindset shift on the business side with smart IT skills to bring it to reality, is the only true way forward for firms who know their days are numbered, if they cannot change their inner workings to get somewhere near a OneOffice end-state. The future is really all about simplifying operations to bring them completely in line with the world of the customer. Hence, successful businesses need IT folks who can think logically to simplify business operations through the use of automation, cognitive, AI and digital. It's not just about software packages and APIs, it's about both business and IT staff learning to understand each other's strengths and challenges better. It's really not rocket science, it's about learning to simplify business models to stay ahead of your customers' needs and not giving your competitors a window to take you out of your market…because that may already be happening to you.
Posted in : OneOffice