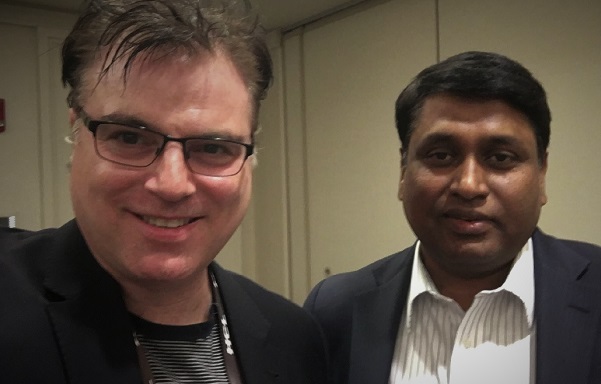 One of the leading service providers is also one of the most understated: Hindustan Computers Limited, or its better-known abbreviation, HCL. This company has grown its revenues by more than 75% in the last 5 years and maintained its profitability to surpass $7 billion this year, while running Wipro close to being the 4th largest Indian heritage IT services firm. Its reputation is one of having a very strong engineering pedigree, a "roll the sleeves up" attitude and a no-nonsense approach to business. The fact it has never bothered to spend millions on a fancy new logo, or glitzy marketing posturing, speaks volumes for this determined, humble and very focused firm, quietly – but aggressively – going about its business as becoming one of the heavyweights of the IT services industry, and one of the best positioned to weather the current malaise caused by flagging demand, too many competitors, and creeping automation.
So when I got a chance to spend some time with its new, young dynamic CEO, C Vijayakumar, or "CVK" as everyone calls him, I just had to share some of our conversation with the HfS community…
Phil Fersht, CEO and Chief Analyst, HfS Research: CVK, tell us about your journey to becoming the CEO of HCL Technologies? What is your secret sauce?
C Vijayakumar (CVK), President and Chief Executive Officer, HCL: More than the secret sauce that I bring to the table, the question is, what is really special about HCL, and what is that secret sauce that has developed a range of leaders within the company. They may seem different and diverse on the surface, but all our leaders embody a core culture within, and that's fairly constant. I have had the good fortune to be part of some great milestones and worked with some excellent teams at HCL. I have also worked across multiple business functions – strategy, practice, product management, sales, business development and delivery. This has helped me to get a well-rounded view and brought me to this position today.
Phil: So what is the number one issue with HCL and the business… what is keeping you up at night?
CVK: The number one issue is the speed at which we can evolve our next generation of services. I believe if 40% of your revenues are from next generation services, then we have crossed a threshold to be relevant and do well. 20% of our current revenues are coming from next generation services. How can we get this up to 40% in the next 2-3 years? Or how fast we can get there? That's what we are working on and that's what keeps us up at night. We have a strategy, our "Mode 1-2-3 strategy" we are driving on a three-lane highway where we need to maintain a steady pace in the lane we are driving on, Mode 1 – our core services. Moving to the adjacent lane, Mode 2, we have an opportunity to overtake and finally working our way to the high-speed lane which is Mode 3. That's how we and a lot of global leaders look at it, especially in the IT industry. Technologies themselves may not be the big things you are worried about, I think every business is trying to reinvent themselves, reimagining and rewiring their business using new technologies. Every aspect of the IT industry, infrastructure, application, business services, even the talent, and skill is undergoing significant change or disruption. My focus is to evolve the business in line with the changing dynamics and rapidly changing customer dynamics. That's where the focus of the company and the leadership team lies. Our Mode 1-2-3 strategy has been built to address theses issues:
Mode 1 – is our core services: infrastructure, applications, BPO and engineering services. They contribute 82% of our revenue as measured in the last quarter. The differentiator is the industry leading autonomics platform called DRYiCE. We are still the most significant player in these services offering practical benefits for our clients.
Mode 2 – our experience-centric digital services or outcome orientated IoT services enabled by a foundation of cloud and security, leveraging what we call DRYiCE orchestration. This is where cloud and security are already enabling digital which offers a great growth opportunity for us.
Mode 3 – this is unique to us and is about using the ecosystem to future-proof our business. Building a products and platform business, by creating innovations enabled by creative partnerships. The products are stable, long-standing products and we make them relevant for the new world. This is different from creating products from scratch. You buy the IP and see how you can modernize and make them relevant. A good example would be our work with Workload Automation, we bought the source code license from IBM and created a cloud Workload Automation solution which is very relevant in data centers, which are becoming hybrid cloud solutions. This strategy is working very well. We have numerous products in the pipeline, they are all traditional products but they are being reinvented to be relevant in the modern world. That's the Mode 3 strategy, we not only have this on the technology side, we are doing this on the business functionality as well. We have a few things in the pipeline that we will announce shortly. We are building a strong products and platform business. This is an in-depth answer, but technically this is what is keeping us up at night.
Phil: Very well-articulated! What do you think, CVK, is going to have the biggest impact in the next 3-5 years? Is it blockchain, automation, cognitive or something else?
CVK: I think it's a confluence of all these things, not just one thing. These and some more things will all have an impact. We have now identified 5 distinct areas that will have a huge impact on the services industry and they are: Digital, IoT, Automation, Cloud and CyberSecurity. There could be many sub-themes in and around these areas, but broadly these are the 5 key themes. We recognize that clients' ability to adopt these will vary based on the maturity of their existing environments, hence we have created separate focus groups with a leeway to invest adequate management support to the three Modes that we are operating in. I believe having the right investment and right management across all the various aspects of operation is critical to our Mode 1-2-3 strategy.
Phil: A lot of this is going to require 'unlearning', changing the way things have been done in the past. When you look at your company and where you are going, how can you unlearn the last couple of decades to make yourselves truly relevant for the next decade?
CVK: I open a lot of presentations with a quote from Alvin Toffler – "The illiterate of the 21st century will not be those who cannot read and write, but those who cannot learn, unlearn, and relearn" – I keep emphasizing this to our business leaders and the technical talent – learn, unlearn and relearn – is a very important aspect. The outsourcing business is definitely changing. Even if for a moment we believe it's not changing dramatically, it's always good to believe it's changing dramatically, which will propel us to do the right things and be ready when these changes have to be implemented for a client, or to change your business model. I believe the industry is changing significantly and we have to change ourselves. Traditionally there were many subject matter experts with in-depth knowledge in technologies, but today the silos have broken down and IT is a vast horizontal plain, cutting across technology, businesses and different functions. The challenge is to create a breed of inter-connected specialists who can traverse different domains. This is where we need to focus our talent – continually building capabilities that will make them a full stack engineer or a converged engineer who can look at not just running infrastructure but who can program application API's and micro-services etc. Creating talent that has a broader view than the siloed view of the last few years.
From an industry and services perspective, it's no longer a labor and a cost arbitrage game, it's about how you can deliver a business outcome and encourage your teams to have skin in the game, by committing to a solution, committing to an outcome, that will deliver through that phase and ensure the outcomes happen. Customers today are looking for a partner who will have skin in the game and ensure business outcomes. We are therefore encouraging our teams to take some risks, learn something on the way and deliver outcomes.
Phil: That's great to hear, and it's difficult to have a conversation like this without talking about the impact of politics. For the first time politics and technology are becoming entwined in a business model. In terms of HCL business have you seen a major impact on your own financial performance, as a result of some of the political changes and noise that we have had in the last few months?
CVK: Yes, due to the political changes, I think some decisions have been delayed, people are reviewing their decisions a lot more carefully and thoughtfully. Everyone is worried about being visible. It has definitely slowed down the flow of some new deals. But most customers strongly believe in the business model, the outcomes that they expect in the services outsource space. There is some delay but I don't think that people are fundamentally rethinking this. They are being a little bit more cautious, so it has an impact to that extent but I do not believe it will fundamentally change the way customers are thinking about a business case.
Phil: So, my final question, if you were to be anointed the 'Emperor of the Service Industry' for a whole week and you can make one change, what would that be?
CVK: We have an internal communication platform called MEME where I communicate directly with all HCL'ites every day and I actually posted this question there. There were lots of very interesting responses, some of them very closely aligned to my own thoughts on this subject. I believe the IT industry is an open source world and cannot have one Emperor, but to answer your question I would probably aggregate the forces of IT to really use them for the less advantaged and unleash its benefits to the common man – in today's world that is not the central piece which drives investment. We could really leverage IT in unimaginable ways – help the disadvantaged, help to fight crime in a very meaningful manner. The other decision would be around AI. Currently, there is a lot of nervousness about automation and AI. I am a strong believer that if you use Automation and AI in a thoughtful manner, it will give more benefits to humanity. But how do you get that done in a very thoughtful and disciplined manner? There's a very good analogy that we can draw from the 'Nuclear non-proliferation treaty', signed across many countries in the world. Something like that should be done for AI, an AI treaty that mandates the use of AI in a meaningful manner to augment what humans can do and improve lives. I hope that makes sense.
Phil: This is the most thoughtful answer I have had from this question and it makes a lot of sense. It's been a great interview and good to hear what HCL is doing to continue to be successful… excited to share with our audience, CVK!
Posted in : Outsourcing Heros