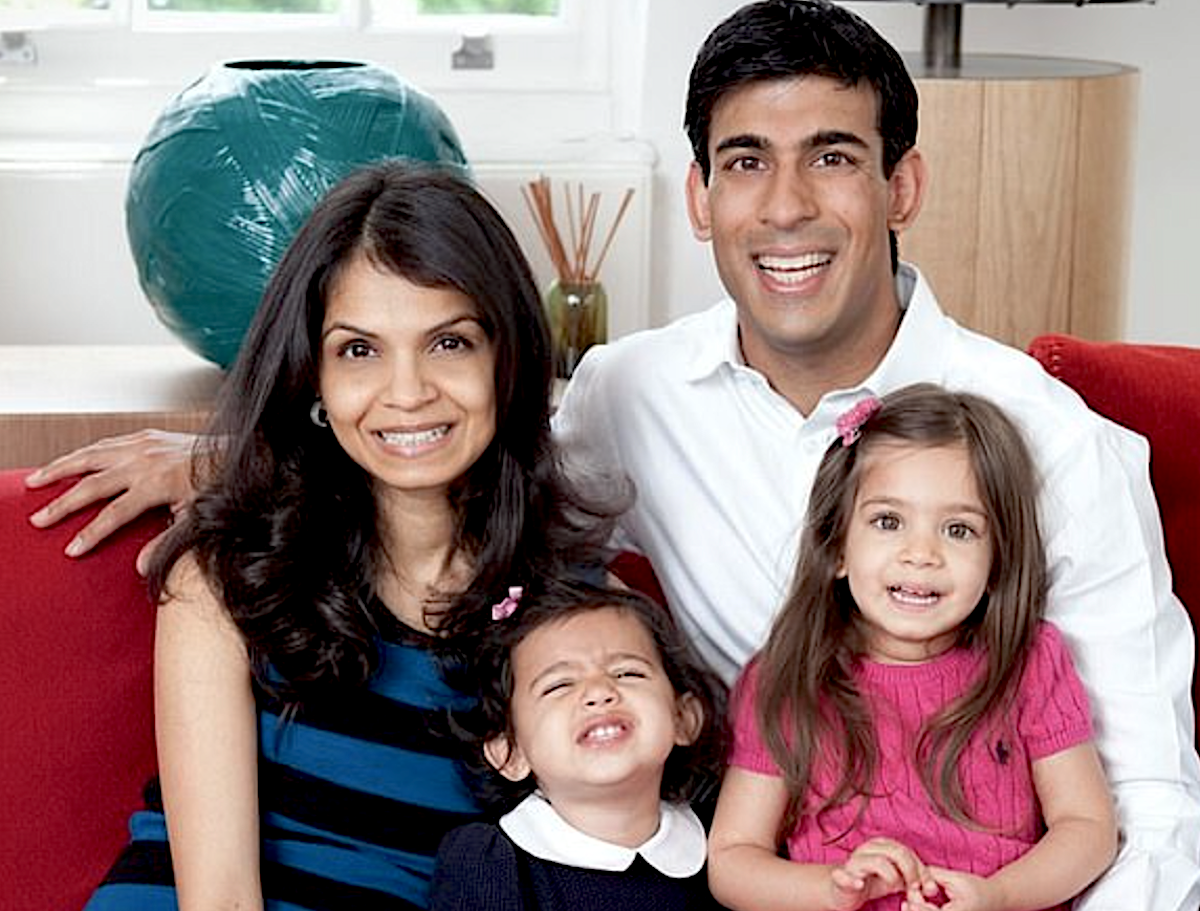 In today's world of constant fake news it was refreshing to get some real news that literally made me choke on my 57th microwaved frozen chicken jalfrezi of the year.  The fact that this real news emanated from the Daily Mail (the UK equivalent of the New York Post or Air India's in-flight magazine) was an indicator of how bad today's media has become.  Also, the fact that my head of marketing actually reads the Daily Mail gives me serious concerns for our 2021 marketing strategy… 
Anyway, let's get to the point.  Our Chancellor of the Exchequer (CFO for you corporate types), "Dishy" Rishi Sunak is married to the daughter one of India's IT industry's founding godfathers, none other than Akshata Murthy, daughter of Narayana Murthy, the man who created Infosys.  Like that happened and no one's noticed until someone at the Daily Mail discovered this… and they wed in 2009.
The UK is in a mess so bloody big we need to redefine "mess"
If a depression-driven Covid catastrophe wasn't bad enough, the mother country is going into a catatonic depression so bad, it may lead to an economic fossilization (that is my term for something worse than a depression) when we throw a no-deal Brexit into the mix… due end of 2020.
Anyone observing the thrilling performance of the Indian-heritage service providers this year will observe how the leaders have somehow kept the IT outsourcing industry actually growing a little bit, despite a predicted 8-10% nosedive that analysts many predicted.  And this owes a huge amount to its standout performer of 2020, Infosys, which has chugged along signing megadeals and reinforcing its commitment to the cloud at a time when enterprises are desperate for a partner to help them pivot at breakneck speed into the cloud model.
Anyway, as a disillusioned British born analyst (and global citizen) I suddenly see hope…
I have a lot more faith in these entrepreneurs from Bangalore than the current old-boys network running Her Majesty's economy into the ground.  I always knew Rishi was the only smart one in there, and now we have the evidence.
So… now good old Infosys has no choice butto bail us out as they married into… the UK!  
I am sure they will appreciate some free advice on the governance team that can drag us quickly out of our current predicament, so here's an initial strawman architecture:
UK Prime Minister:  Ravi Kumar S.  No one spins it better than old Ravi… all he has to do is bulldoze our media with pics of his new baby girl all over twitter and have us guessing forever on the mysterious "S"…
Chancellor:  Pravin "UB" Rao… this man can keep a ship sailing through any storm.  This current crisis stuff is child's play compared to rogue CEO's in private jets and dodgy Israeli automation purchases..
Head of the UK Coronavirus Task Force:  Vishal Sikka… time to dust off the former CEO to convince the UK public that we needn't worry about Covid as "AI will provide the answer" (after showing up 30 minutes late to every briefing).
Brexit Secretary:  Salil Parekh… who better to carve us out of the EU than the king of the carve-out deal himself?  He'll even do the deal on the golfcourse showing the rest of Europe how it's done.
Head of Cybercrime:  Mohit Joshi... who better to arm our cyber-defenses than the man who can iron-wall any bank still running on Cobol mainframes?  Easy, just move all our sensitive data onto Finacle and the Russians and Chinese will go crazy trying to figure out what the hell we just did…
Vaccine Distribution Czar:  Radhakrishnan "Radha" Anantha… who better to command the British vaccination process than InfosysBPM kingpin Radha himself, who will ensure everyone needs to "calm down and just focus on the outcomes".  If things get a bit dicey, he will take questions from his kitchen where we'll be far more interested in what on earth his kids are sneaking out of the fridge while he's too busy talking to us…
But what about Rishi himself?
Oh, he's far too smart for us.  Can't you get him to take over from that Modi guy?  Rishi makes money appear from magic, you know?
Posted in : Outsourcing Heros, policy-and-regulations