We've been doing this research things for a while now. The blog started in 2007 and HfS Research has been around since 2010. It's really a blink of an eye when you think about it–especially compared with the established firms that we knock heads with every day: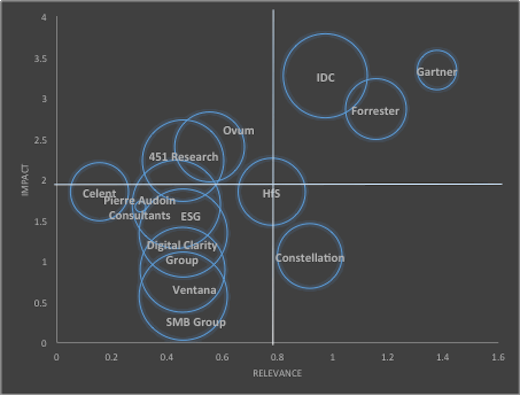 But what keeps us going, apart from the great (and sometimes insane) clients we work with, is the knowledge that we're doing the right thing – or at least we convince ourselves we are. But, occasionally, there is independent confirmation that tells it like it is, for example this new analysis from the International Institute of Analyst Relations, which surveyed analyst relations professionals from 60 organizations.
Again, here we are in the mix with the Gartners, Forresters and IDCs of the world in The IIAR's now infamous "Tragic Quadrant," which IIAR just released on the impact and relevance of IT analyst firms. As you can see, we're square in the bullseye on the Impact and Relevance quadrant, along with Interaction (which is depicted by the size of the bubble).   What's really encouraging for HfS is our reach beyond outsourcing and services into mainstream coverage of technology – we really seem to have left some of the niche analyst firms in the outsourcing space behind.
We're not much for living in bubbles, but it's not bad for your favorite insurgent firm. And we assure you, we won't let it go to our heads.  Honest we won't =)
Posted in : Business Process Outsourcing (BPO), HfSResearch.com Homepage, IT Outsourcing / IT Services