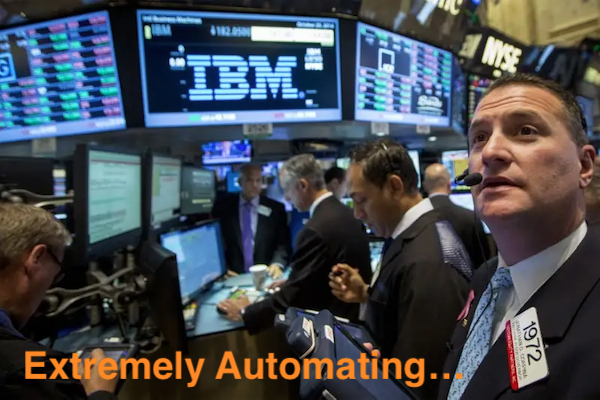 The automation game just changed – and most of you barely noticed
It's sometimes those low-profile moves that make the bigger impacts on markets, versus the big glamor ones. Who would have thought Jurgen Klopp would end Liverpool's 30-year wait for the English Premier League title when he quietly disappeared himself from Borussia Dortmund? And who would have thought a smallish Brazilian RPA firm, WDG, could propel IBM into the first one-stop services and software automation shop for organizations. This is in stark contrast to the Accenture Synops model, which is focused almost entirely on partnering with 3rd party software. Oh, this is going to be fun… the big services giants are back to duke out automation dominance in the middle of a pandemic.
10 reasons why IBM's move will have such an extreme impact on the existing automation market
1. WDG adds proven attended desktop automation capability and has already displaced UiPath in a major organization. The technology provides a low code, cloud-based authoring experience for the business user to create bot scripts with a desktop recorder, without the need of IT. These scripts are executed by digital robots to complete tasks. Digital robots can run on-demand by the end-user or by an automated scheduler. Arguably, WDG is on a par with Softomotive – acquired by Microsoft for considerably more money. What is clear is these RPA firms are offering pretty much the same functionality for the basic scripting and recording.
2. WDG is focused heavily on quality customer service ops and is great at integrating with chatbots, digital associates and other AI tools. Pre-Covid, most RPA was focused on low-risk back-office processes, especially in finance. Now customers are desperate to automate the customer-facing and revenue-generating processes and need tools proven to work in the environments. Noone has a huge advantage in the CX automation space so this provides a greenfield opportunity for IBM.
3. The WDG automation software sits under IBM Cognitive and Cloud giving it a broader playing field to compete with the likes of MSFT, Pega, Appian, and even ServiceNow. Arguably, this is the real play that excites IBM's top brass. This is where the big dollars are and where IBM has powerful potential as the world's largest IT services provider. Orchestratng processes and data in hybrid cloud environments is where IBM should be leading the market, and now it has plugged some holes to do it even better.
4. This is no desperate measure. IBM software made this investment after seven patient years observing the market. It was not a huge secret that IBM flirted with the concept of acquiring Blue Prism (and others) in recent times, and its software team also partnered with Automation Anywhere in 2017. Of one thing you can be sure, IBM Software does not suffer fools these days and does exhaustive due diligence. They also have in-depth working knowledge of the major RPA products and know exactly what functionality they need to have a one-stop-shop capability.
5. IBM doesn't want to acquire a huge installed base of messy RPA customers – it wants to create its own customer base bought into its own Extreme Automation vision. The last thing future-thinking services firms like IBM need is a plethora of unprofitable clients which have underpaid for too many bot licences and have little money left to spend on professional services to deploy them effectively. It makes more sense for IBM to go after clients willing to start afresh… and with over 90% of RPA clients struggling to get even 5 bots functional, the market is ripe to pick off many of the failed RPA implementations and move them to the emerging IBM automation platform.
6. Already demonstrated by MSFT and SAP, you don't need to make insane investments to add RPA functionality. In short, why spend billions on the "Big 3" when you can get perfectly adequate functionality (and standout features) from the likes of Another Monday, AntWorks, Kryon, Jiffy.AI, WorkFusion etc? The big guys did the diligence. Softomotive, Jidoka, WDG, Contextor were all small – but more than good enough to achieve automation goals.
7. IBM no longer has to hang onto the coattails of AA, Blue Prism or UiPath – the power is shifting. While most customers of the "Big 3" will not be ditching their investments anytime soon, IBM can enjoy the freedom to pitch its own automation platform twinned with its own service delivery and choose how to price in the way the clients wants to invest (such as as-a-service). Being subjected to erratic pricing and some of the wacky marketing being purveyed by some RPA firms, where reality takes second place to hype, makes it hard for services partners to build a cohesive automation business. This is why so many have backed away from the market.
8. IBM can leverage RPA as a loss-leader to win larger automation and AI business further down the line. IBM can afford to be brutal on price if it knows it will lead to selling more of its other wares. This will make life very difficult to the standalone RPA vendors desperate for whatever revenue they can scrape in the current abnormal market place. It may also be a smart play to win over disaffected customers who need a whole new direction to fast-track their automation journeys.
9. IBM services will still benefit from its partnerships with AA, Blue Prism and UiPath. They will have no choice but t play ball. This is all about who controls the client in this environment. Forget lovely partnerships in this post-covid economy – this is a cut throat battle to win the hearts and minds of the customers/
10. WDG' partnerships with Deloitte, Capgemini and Grant Thornton will be challenged, but won't have a lot of choice but to play ball. WDG's partners will be desperate not to lose their services business to IBM so will likely have to be very nice to IBM to keep their business with the WDG clients and make efforts to be "collaborative".
Extreme times call for extreme measures
In a recent conversation with automation leadership at IBM, HFS shared our view that technology is really only 10% of digital transformation. The true heavy lifting is driving change with people, process and data to truly advance to integrated automation. We challenged IBM to showcase their approach to achieving automation at scale without overly relying on specific tools or services. The result is the following "extreme automation" model – showcasing our current anaemic automation reality on the left and the potential "extreme" future opportunity: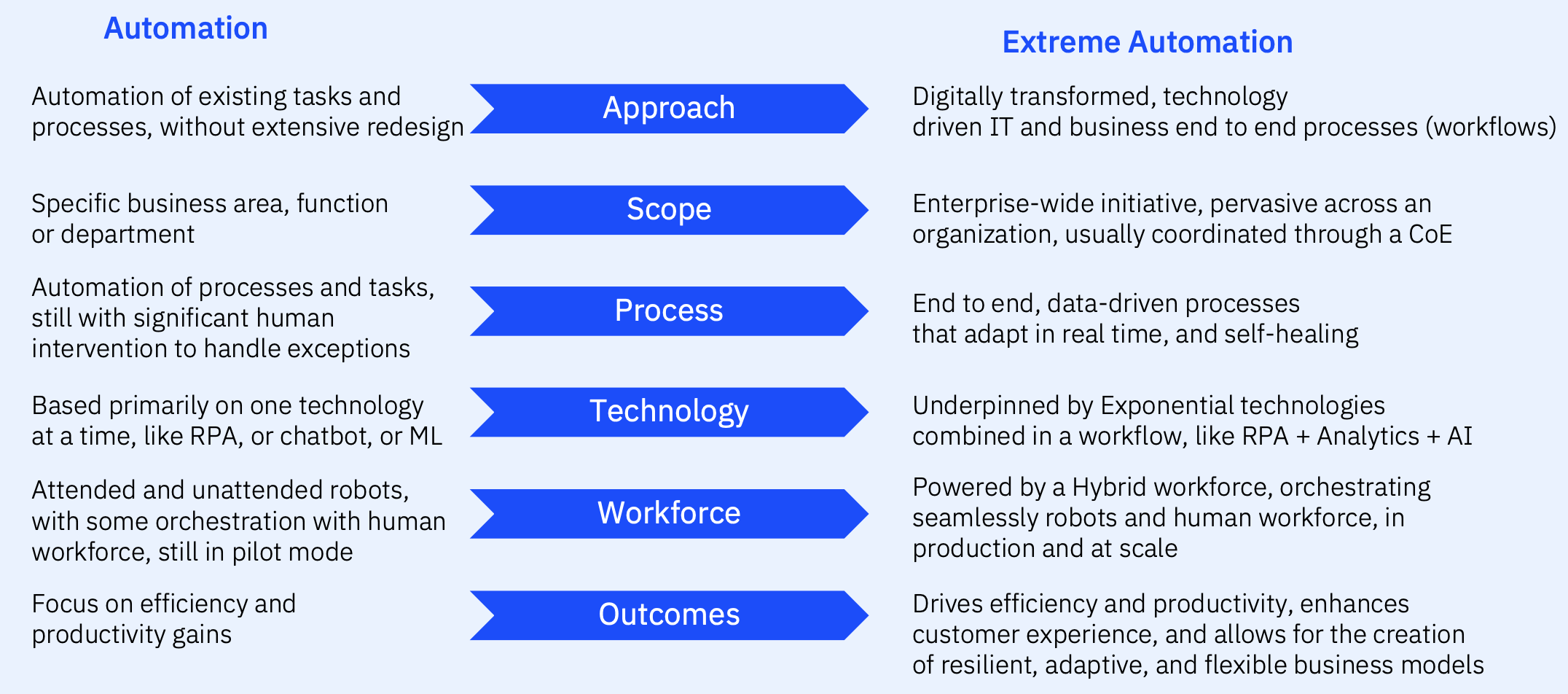 Source: IBM Automation / IBM Corporation 2020
The Bottom-line: The automation game is being elevated to low-code cloud-based automation platforms with strong capability to integrate across core customer and employee-facing processes.
The rapidly evolving digital workplace is creating the "have-to-have" mindset and clients need service partners to drive rapid speed-to-outcome solutions, leveraging whatever technology tools can create an immediate impact that are easy to deploy. Complex partnerships, landgrabs and hyped marketing have faded into the memory of the pre-covid world. Clients need real hands-on help to rethink a much more concise – and often extreme – automation strategy, and then need to act fast to execute these plans. Having a one-stop-shop where software firms and service providers are not fighting for attention, where one partner can help clients look at the bigger picture and devise a realistic, measurable plan is the new normal for automation.
IBM's super patient approach to filling these RPA holes in its portfolio could have just been perfectly timed to take this market in an entirely new direction.
Posted in : Artificial Intelligence, intelligent-automation, Robotic Process Automation