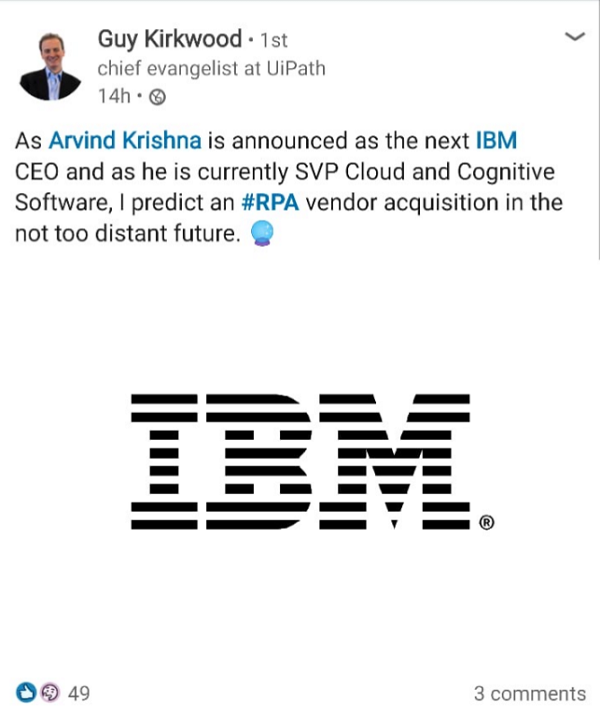 UiPath's "Chief Evangelist" Guy Kirkwood (who once famously proclaimed "AI is bollocks") has predicted that new IBM CEO Arvind Krishna will soon turn to RPA and make an acquisition.
Of course! Ginni was driven out because she failed to get the Blue Prism deal over the line, and Arvind is now in the hotseat to make damned sure they don't miss out on UiPath…
Of course! All this "hypercloud" nonsense and the $34bn of loose change they dropped on Red Hat was just a diversion from their real intention… to make IBM the Big Blue RPA monster!
In all seriousness, we were speculating about IBM and Blue Prism during RPA's infancy in 2016 (see blog)… and while it made sense back then (and at a far cheaper price tag), it sure doesn't make any sense now. SAP, Microsoft, Pega, IPSoft and Appian have all made modeinvestments to have their own RPA capability, and all of them chose either very small scale acquisitions or developed it themselves (in Microsoft's case). I also fully expect Salesforce and Oracle to tick the RPA box at some stage, but it is highly unlikely to be with one of the big three with a nine-figure price tag.
Now there is a small chance I could be wrong and IBM has suddenly decided to take the plunge several years too late, but it really makes no sense at this point.
Posted in : IT Outsourcing / IT Services, Robotic Process Automation