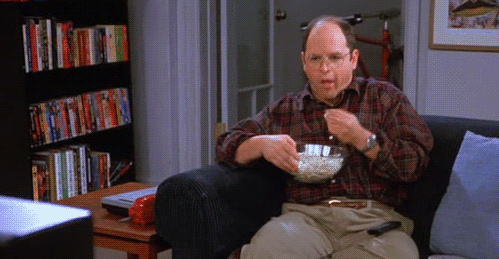 Lord, do we hate predictions.  But as analysts we get treated like robots sometimes and are expected to churn them out like some pre-defined analyst chatbot algorithms.  So, in robotic fashion, here is a splurge of stuff we think could well happen from the HFS analyst team…
1) The consequences of taking out Soleimani may make all the following predictions moot
This really matters. Just as we were hoping for another year of investor money sloshing everywhere trying to find a meaningful home, the trigger we were dreading that sparks a dramatic finale to this unprecedented 11 years of economic growth may just have been pulled.
Iran's regime there has little to lose, with its economy in tatters, being reliant on Russian and Chinese imports, it's people close to desperation. But this is no Venezuela, North Korea or Iraq that can be pushed around at whim… this is a country with a 500,000 strong army now united in this act of war.  Iranians for and against the current regime have now united in their desire NOT to have outsiders determine their fate. More dangerously, pro-Iranian and anti-Iranian factions in Iraq who were fighting each other are now bonded together in their one desire that America not decide their fate and get out. ISIS grew out of Iraq the last time we stepped away, and I fear what will grow this time. If intelligence exists that showed an attack was imminent, this needs to be shared now to break this blind unity the US move created. The main point is that the middle east, particularly Israel, Europe and the US are all less safe than they were 3 days ago. We need to learn from the messes we have created in Iraq, Syria, and Afghanistan that if there is not a viable option to form a government backed by the people and the military, then military conflict leads to a situation of less stability for the world – not more.
We must also not underestimate Iran's cyber-terrorism capabilities – we know they've been throwing money at it. They also have good links with North Korea and Russia – both experts at using it (they are also looking to grow their empires in the region, so it's possible they will lend a hand). Iran knows it couldn't win a conventional conflict with the west – it will look to fight their war in a way that means it doesn't risk invasion. We think they will follow in the footsteps of North Korea and look to inflict financial damage, with sophisticated attacks, which will likely further come in combination with the small raiding boats that will look to target shipping.  Of course, this may well lead to a ground invasion in any case if the US (and any allies) decide to go for regime-change.
Net-net a major global downturn, which is a likely outcome from a messy widescale conflict where oil prices rocket, confidence tanks and our digital lives get violated, will have a huge impact on how enterprises decide technology and people investments.  We're not even sure many businesses will know how to handle a rapid downturn and simply fold.  The global economy sits on the precipice right now as geopolitics and other political agendas dictate behaviours that could have a savage threat on the health of the world… let's pray this all gets resolved quickly.
2) The Rise of Process Orchestration will fill the void RPA never really filled
2019 marked the year the 7 year RPA hype journey hit a major roadblock after UiPath's $8m Vegas party culminated in half the firm getting canned the following week.  What was left was the void of promise unfulfilled and a market that needed urgent redefinition and a new manifesto.  Almost going unnoticed was the iconic process mining firm Celonis raising a colossal $290m series C finding round and Automation Anywhere raking in $290m as part of its series B, notably with Salesforce dabbling in the investment.  "Why is this different?", I hear you cry… well, the discussion noticeably switched to end-to-end process and workflow optimization rather than the whole "bot for every desktop" nonsense.  RPA was even touted as "bridging the gap between front and back offices" by Automation Anywhere… clearly a message to excite its new romance with Salesforce and an effort to steer the conversation into more a meaningful, realistic place.
2020 will see a new narrative emerge as smart enterprises explore a broader tool box of process discovery, process mining, process automation and data ingestion to help them orchestrate true end-to-end processes that actually bring an enterprise's customers, employees and suppliers closer together.
3) The OneOffice progression will bring customer and employee 'human' experiences much closer together
We've droned on for years now about "Bringing the front and back offices closer together".  2020 will see this narrative move beyond nice graphics and a narrative that makes back-office people feel more customer-centric, with the focus shifting to enterprises driving an employee experience similar to that of their customers.  This entails the use of digital associates for internal needs in addition to "humanizing" digital customer interactions.  Customer Experience (CX) will increasingly be considered an umbrella term for the experience interacting with an entire organization, whether it's the customer, partner, employee or any other entity: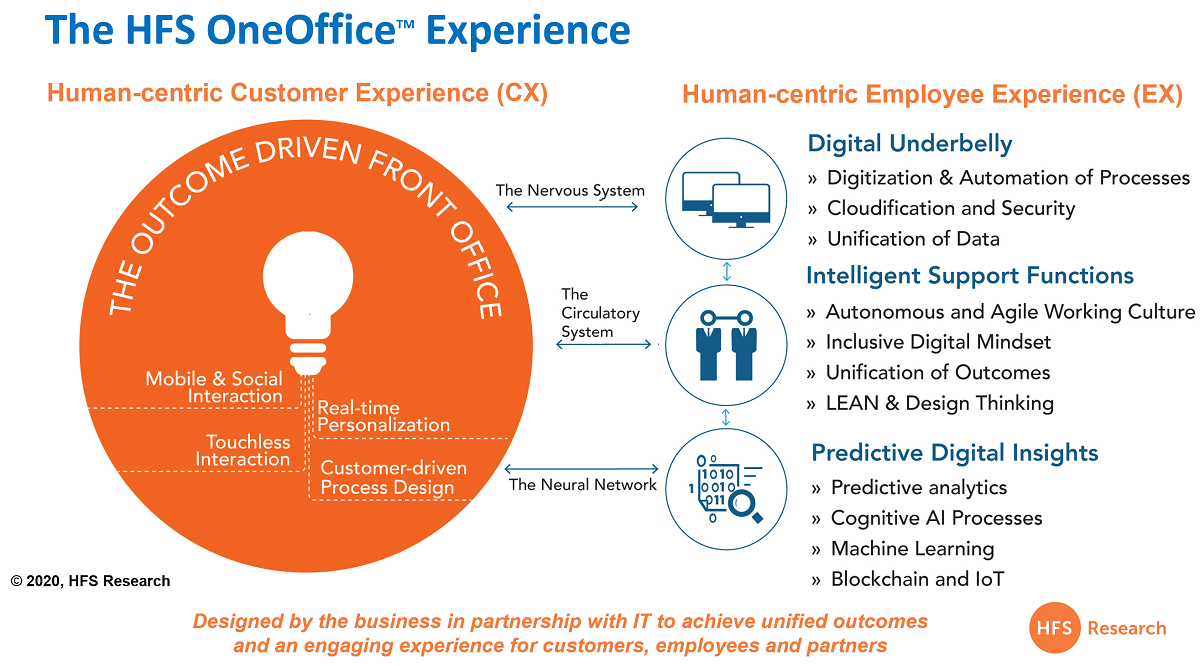 An employee experience (EX) culture is one where people work together shifting from transactional interactions to deeper relationships. Organizations need to ensure they get the balance right; which includes optimizing the use of emerging technology with a robust business case to improve CX to the long-term benefit of the business, getting the right information flows in place, eliciting strategic advantage and ensuring exceptional CX. The HFS OneOffice Experience typifies how customer, partner and employee experience are coming together to drive a unified mindset, goals and business outcomes.
Rolling out technology and hoping "box ticked, job done" will suffice, is unlikely to end well. Only customers, employees and key partners can judge the success of an enterprise's endeavors,  and smart firms will start measuring what matters: sentiment, preferences, engagement levels, propensity to consume, customer lifetime value, employee satisfaction and experiences of key partners and suppliers.
4) Digital Associates become a real part of our work-life
We've become very comfortable with using digital assistants as consumers, and 2020 is the year that we'll start to see them more actively in our work lives.  Companies that are pioneering cognitive assistants in the workplace, like IPsoft, have been quietly implementing them to assist with IT tickets, HR queries, and as a whisper tools to help customer service agents resolve problems.  Next year we'll see these become more commonplace as an enabler of the OneOffice within our organizations, helping us do our jobs more efficiently and intelligently.  What's more, the conversation around cognitive assistants will start to mature, with less of a focus on how "human" the assistant can be, and more of a discussion about how it can accomplish tasks and understand people to help them rather than mimic them.
5) Technology convergence continues as low-code / no-code platforms continue their surge
While each element of the HFS Triple-A Trifecta (Automation, AI, and Smart Analytics) can be deployed individually, there is increasing convergence between the three elements to solve real business problems. For instance, smart analytics are increasingly reliant on AI tools such as NLP to conduct search-driven analytics, neural networks to do data exploration, and learning algorithms to build predictive models. Process mining and discovery is increasingly emerging as the front-end means to best assess automation potential and the post-automation means to track progress.  Low-code platforms will allow enterprises to deploy the Triple-As to quickly and easily create modern enterprise apps. While the speed implication is massive, so too is the potential impact on business enablement. Low code technologies will enable greater participation from business operations constituents. However for this to work, as we have seen played out on the RPA stage, there has to be tight partnership between IT and business. We expect an increasing intersection of other emerging technologies like IoT and blockchain to this mix over time.
6) DXC and Cognizant will be the most acquisitive IT service providers as the market tightens
We predict DXC to be the most active in the market as it sheds some business and adds new ones into its portfolio.  With Mike Salvino at the helm do not be surprised to see him looking at sharpening his firm's business process teeth with an eye at Genpact.  Cognizant could also spring a surprise or two after years of rampant growth and now shifting to a more disciplined focus under Brian Humphreys.  Perhaps a foray into a high-growth banking-centric provider like Mphasis could be in the cards?
7) Most of the Indian-heritage providers will be dull as dishwater in the M&A market
As the big founder-driven firms seek to maintain margins in this flattening market, do not expect to see much at all of note from any of Infosys, TCS, Wipro, HCL or Tech Mahindra.  The odd "tuck-in" service play may occur, but nothing that will raise eyebrows or drive the Times of India wild.
8) None of the big three RPA's will get acquired
It just won't happen – everyone's looked and noone's biting… the Salesforce interest in Automation Anywhere will be a big test as to whether one of the software big-runs make a major play.  We thought Microsoft would make a play with UiPath, but clearly got sticker shock and dusted off some old tech to tick that itchy RPA box for a while.
9) Google and Amazon could make big plays into enterprise IT services
Yes, we could well see a Wholefoods style Amazon play into enterprise IT at looks at ingesting Big Blue – just think it completely solidifies cloud supremacy in one go (if it ever needed it) and has a household American name to go after the enterprise in a very big and ugly way.
Meanwhile, Google is trying to make a very enterprisey play adding the likes of Thomas Kurian and Robert Enslin to its expensively assembled enterprise catch-up team.  If they take the plunge, expect them to move for the more affordable DXC or Cognizant to fill out their services portfolio.
10) Alibaba Cloud will leapfrog Google and Microsoft in PaaS and IaaS Revenues
We can expect to see the hyperscale applecart upset by Alibaba cloud. Alibaba Cloud will leapfrog Google and Microsoft in PaaS and IaaS Revenues.  With Alibaba Cloud, Google and Microsoft all boasting limitless investment potential, it's hard to call who's winning the battle. But if we were to put on our more speculative 2020 prediction hats on, we'd turn our attention to Alibaba Cloud, which has been quietly gaining significant ground over the past two years, doubling revenues between 2017 and 2018. While Google has developed a compelling long-term strategy for substantial growth, in the short-term we can expect to see Alibaba come up through the ranks as it consolidates it's control in APAC and significant 2019 investments start to pay off in 2020.
11) Quantum leaves the lab and moves into the modern enterprise
We believe the cloud giants will spend more time and money on the emerging technology, having already seen quantum offerings delivered via the cloud from IBM and Amazon. Given the current levels of investment from Google and Microsoft we expect them to have quantum capacity on their cloud platforms by the end of 2020.
HFS expects to see Quantum make waves more broadly as it leaves the lab and moves into the modern enterprise in 2020. 2019 was an amazing year of progress for Quantum computing. Googles claims of quantum supremacy, some success with commercial quantum experiments, VW's battery development tests and the growing investments from enterprise organizations, particularly those with existing high-performance computing. Although we haven't changed our long-term forecast for full quantum computing, we expect genuine business use cases to emerge over the next 12 months. As current experiments start to bear fruit.
12) 2020 will see more record GDPR breaches, IoT cyber-security investments and cyber-insurance products
All of these clouds and qubits will need protecting from those grinch-like hackers and regulatory killjoys desperate to harsh the Christmas buzz of CISO's everywhere. We can expect a rise in nation state hacking – with naughty national bodies targeting private enterprises with euphoric abandon in 2020. HFS also warns that this new threat will come in lockstep with strengthened regulatory bodies, and we'll see a record breaking fine for GDPR… you might have thought the British Airways £183.4 million fine was bad – but that won't be the last mega-fine to be handed out by regulators. 2020 will also see an increase in ransomware and hackers targeting enterprises who have been quick to stump up cash to unlock data in the past.
The increased sprawl of IoT networks will see the provider community race to embed cybersecurity into offerings and open up the warchest to buy what they need and look out for massive purchases in this space, alongside startups and SMEs partnering with service providers.
As data breaches, hacking, and all-round cyber-nastiness continues we can expect cyber-insurance products to increase in value and prevalence – we suppose we'll need someone to pay BadDog1998 the bitcoins he wants to hand back our world of warcraft accounts.
13) Close to half of Enterprise AI engagements will shift from pilot to production as investments in explainable and interpretable AI boom
we'll see more AI engagements move out of pilot to production environments with 80% of enterprise AI projects sitting in POC stages, and barely 20% in production. We expect this to flip in 2020 with close to 50% now making it into production.  The areas we can expect to see the most value come in will include autonomous invoice processing, legal document validation and extraction, fraud detection, and similar business and process areas.
HFS also predicts a significant increase in R&D spend on explainable and interpretable AI as enterprises push vendors control and transparency. Most SP's and AI technology vendors will invest more than 50% of their AI related R&D and CTO funds into the areas of explainable & interpretable AI, and also in building frameworks and solutions for AI governance, audit, lifecycle management, security, ethics and maintenance.
14) Supply chain will overtake financial services in terms of blockchain adoption and we will also see more public initiatives
Global supply chains are becoming increasingly complex and opaque—and less trustworthy. The multi-fold increase in product variants and the drive for speed to market, a shift toward mass personalization, growing logistical complexities, and increasing globalization necessitate a more connected and nimbler, yet flexible, supply chain. Supply chain problems are not new, but solutions were not forthcoming until distributed ledgers and blockchain began making inroads into the world of supply chains. The financial services sector was the first mover in enterprise blockchain adoption, but supply chain initiatives leveraging blockchain (especially provenance tracking) are  catching up quickly. Global giants (like Walmart, Maersk, AB Inbev, and Nestle) as well as smaller and emerging players across logistics, CPG, agriculture, pharmaceuticals, and retailers are more interested than ever in applying blockchain technology to solve supply chain issues. The TradeLens ecosystem started by Maersk and IBM today is comprised of over 100 diverse organizations including carriers, ports, terminal operators, 3PLs, and freight forwarders. The power at the intersection of blockchain with other emerging technologies (IoT, AI, and advanced analytics) is making supply chain aficionados salivate!
2020 will bring more public blockchain initiatives, however, as firms like EY continue their investment into ZKPs, announcing in the final month of 2019 that they could offer private transactions for $0.24 per transaction, it's possible that public blockchains could see favor, as they offer the scalability required alongside the previous missing ingredient; privacy.
15) 3D Printing and Drones will really come of age to drive manufacturing 4.0
HFS also looks forward to other exciting technologies – particularly 3D Printing and Drones – which will move off of the faux industrial racking at the sides of every vendor 'ideation lab' and out into the real world. While both 3D printers and drones are still at the periphery now, we predict that leading service providers, vendors, and manufacturers will continue to innovate and partner to set the groundwork for a future when technology bugs and market barriers have been removed. Many will find it too late to catch up, while the pioneers will either leverage existing solutions or partner with vendors to co-develop the technology.
16) Sustainability will come back into vogue as our environment decomposes further – and the UK gears up to host a critical COP26
HFS anticipates growing demand for sustainability services. And while most of the market is chewed up by the major consultancies, by 2020 we'll see a move as providers take leaning from internal initiatives to professionalized customer facing offerings.  We advise everyone should watch the space for one big legacy provider making the jump – whether by partnership, acquisition, or leveraging their existing internal sustainability expertise.
Moving to 2020's COP26 (the UN's latest climate summit – to be held in Glasgow): a lot of key decisions from this year's COP25 in Madrid were delayed to 2020, and a a result there's going to be a lot of hype surrounding COP26. Keen sustainability providers like KPMG, Accenture, and friends – alongside consulting giants like McKinsey and sustainability boutiques – will ramp up their CSR and sustainability services/consulting activity… while many legacy providers who've not yet moved whole-heartedly into this space will have to struggle to cut through by only marketing CSR projects and a few LED lightbulbs.
The EU could also play a massive part if they can get some climate clause into the UK's Brexit withdrawal agreement – and everyone's eye's will be peeled to see if Boris Johnson will decide to unveil some big commitment given the UK is hosting COP26… whether or not that is a tangible commitment that spurs action is another matter… be he might yet surprise us by going beyond an arbitrary net-zero deadline. Any businesses residing in or dealing with the EU should watch the space surrounding November's COP26 with a great deal of interest and scrutiny!
17) The S4 HANA migration deadline will get postponed
Now this one's a real risky bet – and given we have five years to see if we're right it's more for fun than anything else. The S/4 HANA migration date is set for 2025 in a bid to drive clients to bite the bullet and stump up for the new technology. But we've been doing some digging over the last year and it's fair to say, sentiment from business leaders is lukewarm at best – and even some of the most bullish proponents of migration in the services market have cooled off. In part, we think the appetite isn't there to make plans for something so far off – when there's so much quantum and blockchain to pay for. But there are also real logistical issues around getting trained professionals in to help do the work. And an already dicey talent pool is keeping prices high, a rush as the deadline gets closer will only push costs higher. Making those all-important business cases much harder to get passed the board. Something business leaders are already telling us is like banging their heads against a wall as they justify an upgrade on a system they've only just finished implementing. Our bet is as the deadline approaches – SAP will acquiesce and offer clients a rope rather than risk lifelong clients heading off to Oracle or Microsoft
18) Transactional F&A will start to become "invisible" to elevate finance as a strategic business partner
Enterprises have always wanted far more for far less from their F&A function. But the old days of finding cheaper labor and some better packaged software have pretty much been exhausted. The new thinking is to change how finance is delivered, where the routine F&A work becomes invisible to focus completely on the strategic value finance brings to the organization. HFS defines "Invisible F&A" as the state of an F&A function where accounting transactions run like water and finance professionals focus on driving strategic objectives. Leading F&A service providers like Accenture and Genpact are starting to take their clients on a journey towards continuous accounting requiring no waiting to close books, effortless payables and receivables with near-zero cycles, and real-time analytics capabilities enabling proactive decisions. In 2020 we will start hearing more success stories about pioneering enterprises achieving a near "invisible" transactional F&A.
19) The boundaries between finance, procurement, and supply chain start to blur
Back-office operational transformation journey started nearly two decades ago with the rise of shared services and outsourcing around payables, receivables, and general ledger management. These mostly siloed tasks evolved into end-to-end processes as payables became procure-to-pay (P2P), receivables evolved to order-to-cash (O2C), and general ledger expanded into record-to-report (R2R). Finance was already expanding into procurement and sales organizations; however, it was still mostly back-office focused. The future calls for a boundary-free organization where silos around the front, middle, and back offices collapse to create a "OneOffice" — the office that caters to the customer. To create this Finance OneOffice, P2P needs to expand into source-to-pay (S2P), O2C needs to expand upstream into the CRM space (lead-to-order) and downstream into after-sales services, and R2R should extend into enterprise planning management (EPM).
20) 2020 will mark the start of a new decade where we focus on the "How"
A new year and a new decade is upon us. The last 10 years were dominated by digital everything! As we enter the next decade, the "why" is relatively well understood. Data explosion, digital disruption, and customer experience emerged as the three most important drivers impacting business operations. Clarity around the "what" is emerging. The promise of emerging technologies across the Triple-A Trifecta (Automation, Analytics, and Artificial Intelligence), cloud, IoT, and blockchain is unquestionable. But the "How" continues to be a black hole. The talent question needs to be resolved. Siloed and piecemeal technology solutions need to get more integrated. Stakeholder alignment across business and IT is crucial. Success needs to be defined by digital change management versus digital adoption. And transformation needs to increasingly be driven by better experiences – customer, employee, partner – not faster and cheaper. 2020s will be the decade of the "How."
21) …. and finally the 2020s will see the start of a debate to understand the "New why"
The focus on business outcomes helps us do the same things better, faster, or cheaper (often in a 'pick two' mode) but is that sufficient to succeed in today's world? Some of the most highly valued companies are not even profitable. Investors are replacing price to earnings ratios with price to sales ratio. This often creates "hyper-hype" because the reality is, we no longer know "why" we are doing digital! We are just doing it because others are and we are in the rat race for better, faster, cheaper – none of which actually means "transformation!" The new "why" will be based on a value algorithm that combines traditional definition of business impact (better, faster, cheaper) with:
The Social impact (values, sustainability, and diversity/inclusion)
The OneOffice impact where internal silos cease to exist and there is only One Office that matters which caters to the customer
The Hyperconnected Ecosystem Impact (can a car manufacturer even aspire to deliver ultimate customer experience without its ecosystem of insurers, government and other supply chain entities?)
Or will the "WeWork" debacle push us back to unfashionable but tried and tested methods of creating shareholder value?
Happy 2020 folks… and Peace Out 
Posted in : Artificial Intelligence, OneOffice, Robotic Process Automation, sustainability