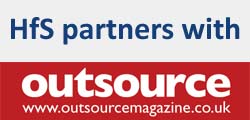 Everywhere we go lately, we encounter Outsource Magazine editor Jamie Liddell, as the newly-launched publication looks to get serious in the US and European markets.
Most recently, we saw him at SIG's summit on Amelia Island in Florida, where he successfully flooded the event with copies of his publication before disappearing to the bar, where the real business was conducted.  I, personally, have enjoyed reading Jamie's stuff over the years – he's one of the few commentators in our industry who injects personality and humor into his craft, and avoids the dry, passionless, jargon-laden and nauseating verbiage to which we are so often subjected.
So, we're happy to announce that we'll be seeing even more of each other now: HfS and Outsource Magazine have formed a research-media partnership.
Here's how it will work:
Outsource will feature key HfS research and insight in the magazine. In fact, you can see our first contributions right here;
Jamie will contribute a monthly industry column for HfS. "Liddell lifts the Lid" will, in Jamie's inimitable style, uncover things you might not have thought of. Look for this coming soon.  We coined the title, so lids will get lifted…
Outsource Magazine will promote HfS' key "State of the Outsourcing Industry" survey to its readership;
Outsourcing Magazine team to treat the HfS analyst team to a round of drinks next time we see them;
We probably agreed to some other stuff as well, but these are the main things.
We're excited to inaugurate this partnership with Outsource and look forward to opening up a dialog with Outsource Magazine subscribers. And we're anxiously awaiting Jamie's lid-lifting contributions to HfS Research…
Posted in : Business Process Outsourcing (BPO), Captives and Shared Services Strategies, horses-for-sources-company-news, IT Outsourcing / IT Services, Outsourcing Heros