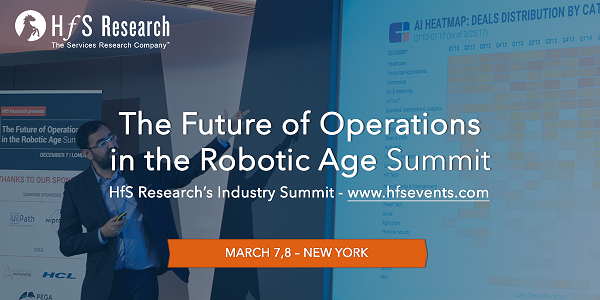 Dear Friends,
On behalf of the HfS analyst team and global community, I am delighted to announce our flagship FORA summit taking place this coming March 7th and 8th at Convene, Times Square, Manhattan, New York City.
This will span the entire two days with the theme "Learning to Change" dominating the conversation. The tech is here and is being proven, but are we really, truly ready to disrupt our underlying corporate DNA to exploit it to its full potential? Can we really change how we operate, think, collaborate and focus to embrace the new wave of data-driven transformation that is engulfing us?
Key Topics up for Debate:
Intelligent Automation in Practice (not theory); Blockchain demystified; Emerging Sourcing Models and the Digital OneOffice; The Emergence of the Chief Data Officer; Making Change Management actually work.
Key Speakers and Panelists:
Tim Leberecht (Author of the Business Romantic); Tony Saldanha (VP, IT and GBS P&G); Phil Fersht (CEO, HfS Research); Mike Salvino (Pioneer behind Accenture Operations and a key investment partner for Carrick Capital); Larry Carin, Professor of Computer Engineering, Duke University (More to follow….
CEOs of the leading Intelligent Automation software firms and IT/BPM service providers
Key enterprise leaders managing data, automation, global business services and operations initiatives
HfS analysts spanning emerging technologies, industries and sourcing solutions.
Why FORA is Special:
The worlds of software providers, business operations leaders, and services providers have always been chasms apart – different mindsets, vernaculars, conversations, ideas of what constitutes value – and vastly different cultures. At FORA, we are bringing together these diverse groups of people to rethink completely how we run global operations in this robotically digital era, to debate the challenges and opportunities posed by automation, AI, analytics, blockchain, global talent on our business operations and our careers.
If you have further questions regarding FORA, how you can attend, sponsor, speak, or just make suggestions, please drop us a note at [email protected]
I hope to see many of you in NYC,
Cheers!
Posted in : Business Process Outsourcing (BPO), IT Outsourcing / IT Services, Outsourcing Events, Robotic Process Automation, smac-and-big-data