Much as I'd like to, I can't foresee the actual future of the U.S. Affordable Care Act (ACA) or healthcare policies under President-elect Donald Trump… anymore than anyone could predict the true outcome of the recent U.S. presidential election. What I do foresee, however, is the increased need for partnerships to focus on what the ACA is designed to accomplish (regardless of its existence) – affordable, accessible, quality health care.
Getting to the heart of the problem –the cost.
There are many people who are upset at having to pay for "other people's" healthcare costs – which they believe is because of the ACA. And there are many people who are receiving care who didn't before and wouldn't otherwise, because of pre-existing conditions or age, for example. And these are often people who when they did get sick, would go straight to an emergency room – an expensive treatment which by the way somehow had its cost passed in some way at some time to, likely, people who today do "not want to pay for other people's healthcare." Any way you look at it, costs get spread around.
So let's look at this issue – cost – from a different angle… how about the angle of reducing or eliminating some of these costs? Reducing the cost of ER visits or readmissions because we can identify and intervene in someone's pattern of such use or events before they happen because of triggers? Or, increasing the possibilities of people being healthy because of proactive education around nutrition, exercise, and lifestyle?
Partnerships are critical to truly changing the nature and outcome of health care
Just as it "takes a village to raise a child," it takes a community of partners to create a high quality, lower cost environment for healthy consumers. Those partners include people on the front lines of care everyday—the obvious, like doctors, nurses, pharmacists, social workers – and also professionals who work behind the scenes but have an impact on care and cost – such as billing coordinators, claims processors, and coders. If everyone is thinking about their work, and how changes to the way they work, can impact the healthcare consumer, we have a giant brain trust and energy force working for change.
A significant part of this "back office" for many years in healthcare operations has been the service provider. Business process outsourcing service providers (BPO/BPS) have been engaged mostly in stages – for claims processing, enrollment, billing, utilization review, collections—but few have been involved, truly integrated into the health care operations so that they have insight and impact on the healthcare consumer experience.
It's time to change the nature of engagement in healthcare business operations, using design thinking, digital technology, and relationships
Now that we are more than 30 years into experience in BPO/BPS, and many healthcare providers and payers have such partnerships, it's time to step back and look at how to partner more effectively and use digital technology such as robotic process automation, mobility, and analytics tools, along with human centered, creative problem solving like design thinking, to define and address problems with services and solutions that fit – that broker across organizational silos and internal and external partners.
A number of service providers are stepping in to help change the game in this way, and partner to make healthcare business operations more effective, with an eye toward impacting health, medical, and financial outcomes. We hear from service buyers that they are partnering increasingly for resources—to allow local clinicians more time and energy for interactions with healthcare consumers by rethinking what activity can be done remotely, through partners, or even automated.
What are service providers doing to help healthcare providers and payers?
In our recent Population Health and Care Management Blueprint, we take a look at the role of service providers in bringing together talent and technology to broker solutions through BPO and BPaaS engagements. The scope is:
Population Data Management and Analytics: identifying whom to target with what intervention
Consumer Engagement and Interaction: reaching out, engaging healthcare consumers
Utilization Management: processing authorizations, reviews, appeals and grievances
Care Coordination: coordinating care activity
Performance Management and Operational Analytics: program evaluation and assessment, quality and compliance reporting
Here's a quick look at the service providers that participated actively in this research – each one brings value to a business process services engagement, depending on how you want to partner and what you want to accomplish.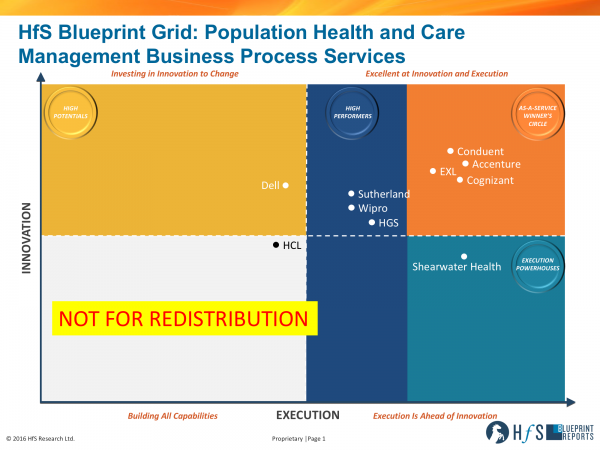 We go into more detail on trends and service provider analysis in the blueprint report, which you will find described here, and you can go so far as to download here.
The bottom line is that regardless of the good, bad, and ugly of the ACA, what it did was drive forward a change towards value-based and consumer-oriented care that was and is needed, not just in the U.S. but globally.
And this kind of value-based health and care system is one that requires effective operations, and effective partnerships—and that's what gets my vote.
---
Barbra Sheridan McGann is Chief Research Officer at HfS (see bio). This role encapsulates her passion for research, analysis, and strategy, which has been 20 years in the making. Barbra's scope of work covers the business process outsourcing and emerging "as a service" market broadly, as well diving into industry and functional areas of Healthcare & Life Sciences, Public Service, and Marketing.
Posted in : Business Process Outsourcing (BPO), Healthcare and Outsourcing