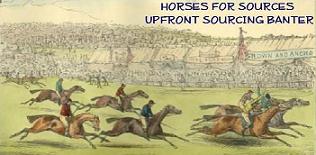 306 posts, 1445 comments, 12,000 subscribers and 30,000 RSS-feeders later, "Horses" today makes it to 2 years' old.
There's never been much of a plan, just a platform for good discussion, sharing of ideas, and open debate on tough issues for the global sourcing industry – and all with a hint of cranky sarcasm.  And we try to keep it unbiased…
Drop me a note if you have any suggestions on what you would like to see more/less of on here – your input is always welcome.  And a special thank you to all of you who come here regularly and support this site (you know who you are).
Here are some favourite posts from the last 2 years:

Horses Exclusive: Obama to ban offshore outsourcing
The 2008 Horses Awards for Awful Outsourcing
Forget 2006, let's go back to '96 
Global business on a Knife-edge: Bonuses, H-1Bs and Naïve Protectionism 
Is it time to dump the term "outsourcing"?
Why Rick Astley should be put in charge of the US Treasury
Think before you fire: The cost of replacing IT talent 
Cost-cutting measures for troubled companies in these tough economic times 
The change imperative: it's back-to-basics time
Why not build a shared services infrastructure to support the banking sector?
Phil Fersht on service provider rankings: make the experts accountable, not faceless brands
Annoyances at work that make you cranky… 
And if a sourcing advisor was elected President…
Cheers,
PF.
Posted in : Absolutely Meaningless Comedy