Did you hear the one about the GE finance captive spinoff which ended up as a Top 6 AI Services firm before making a bold move into the front office with the acquisition of the respected Right Point Group?  And did you hear it broke into the world of digital service capability without ever succumbing to the delights of acquiring an IT services shop?  Welcome to Genpact, folks, the former BPO firm which has been breaking the mold of business services for the past two decades.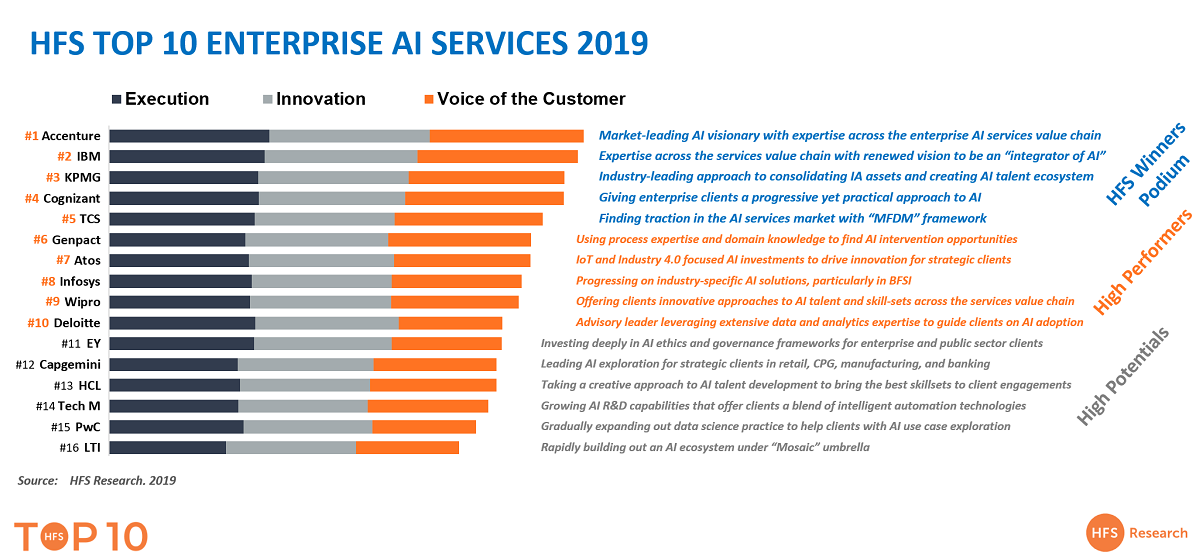 This is a serious digital acquisition that brings Genpact right into the customer paradigm
Genpact has been slowly but steadily building thought leadership and capabilities around "experience innovation" over the last few years.  Genpact's 2017 acquisition of Design Thinking consulting firm TandemSeven was its first demonstration of the firm's appetite to develop a OneOffice capability, aiming to move beyond its back office roots and help its clients develop more holistic experiences.  It has now announced an agreement to acquire digital consultancy Rightpoint, with a focus on digital transformation, with capabilities for CX, commerce, and mobile application development.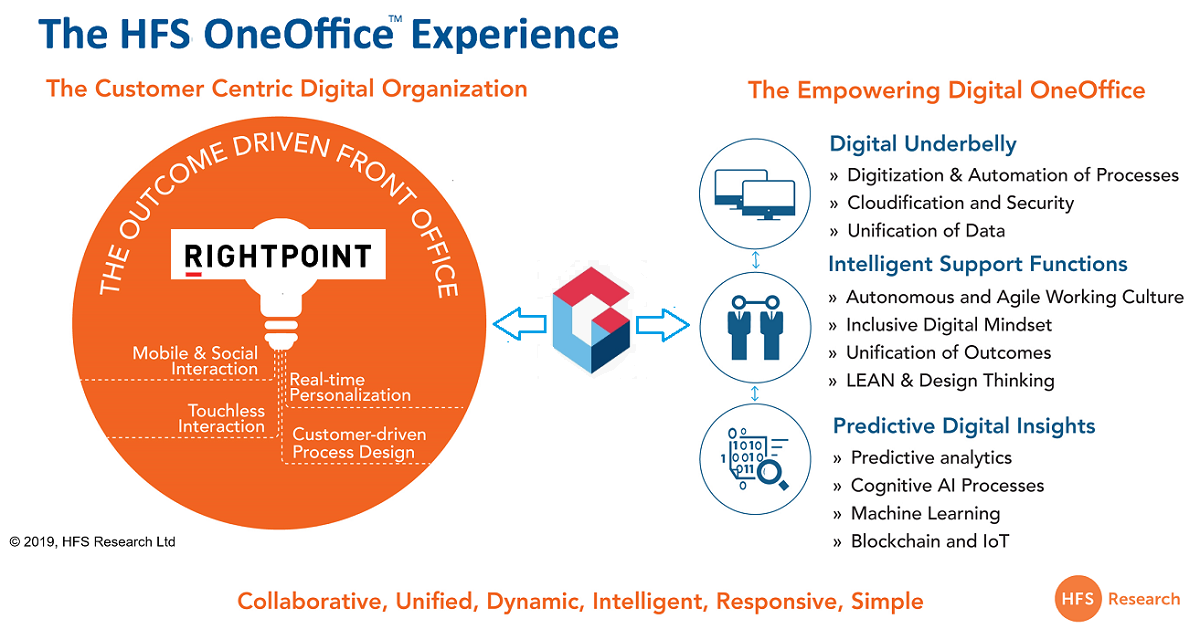 A highlight of the acquisition and one of Rightpoint's most distinctive features is its expertise for designing and implementing digital workplaces – its work with Aon, for example, demonstrates Rightpoint's capability to reimagine the workplace.  This is such an important element that many companies need help with, as they struggle to connect experiences across the organization and align to the customer.
While TandemSeven gave the firm a flavoring of customer experience design, the sheer size and scale and depth digital tech implementation across North America puts Genpact right on the digital map, with a unique value proposition of leading with process transformation, enabled by AI and digital capability where we can expect a significant jump from its current position, which we assessed earlier this year in our 2019 Design, Sales and Marketing Services Top Ten report.  Genpact landed at #14 in the rankings, largely as it just begun developing thought leadership for front office focused offerings and mindshare has been relatively low on our Voice of the Customer rankings. The Rightpoint acquisition is a step in the right direction to move up the value chain – particularly as it can bring in its strong capabilities around data and analytics to fuel the digital transformation roadmaps for its clients.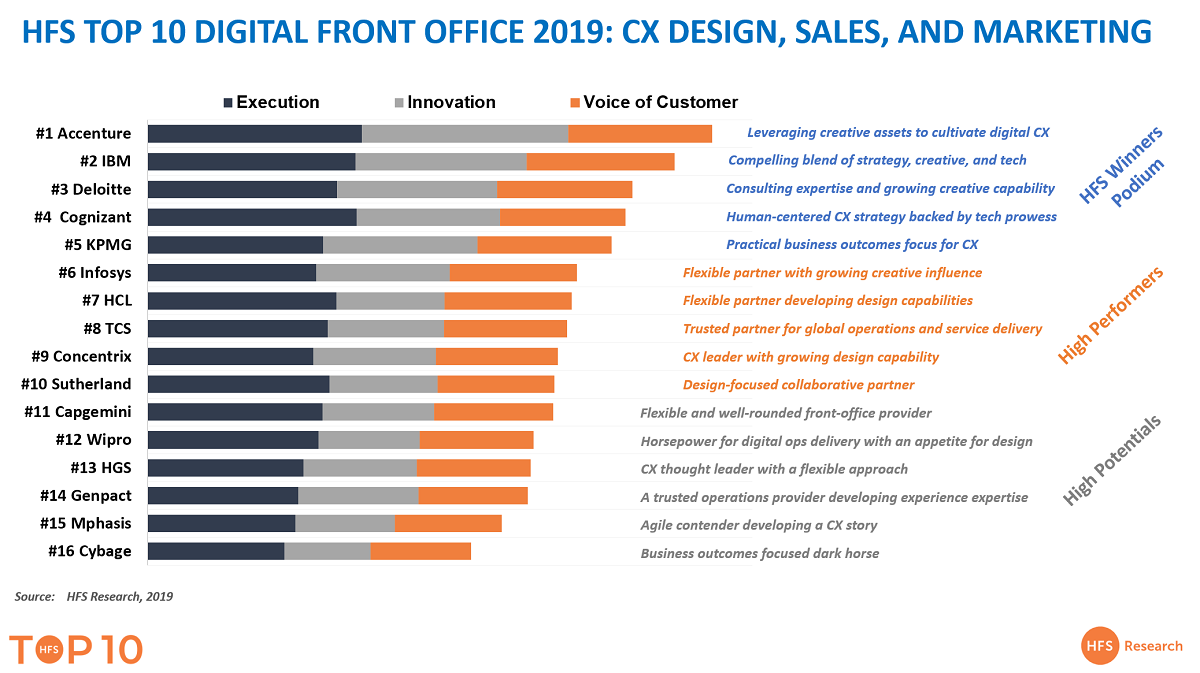 Genpact will not force its culture onto Right Point as it learns from the Accenture play-book
We view this as the most exciting acquisition yet by Genpact, as it signifies the direction the firm is taking as a process designer, executor and engineer enabled by supporting digital and AI technology.  We also see this as one of the most genuine OneOffice investments made by a (predominantly) middle/back office service firm to unify and front-to-back "OneOffice" offering. While we have seen contact center firms such a Concentrix acquire Tigerspike, and Sutherland partner with Google, there have been few moves from traditional BPOs to bring together front and back office delivery with real technology enablement.Other front-to-back moves in the business process space have also been WNS quietly beefing up its call center capabilities in South Africa, Teleperformance's acquisition of Intelenet and InfosysBPM's recent pick up of Irish call center Eishtec.
The challenge will be integrating Right Point into Genpact mothership, and keeping it as a separate entity reporting to Ahmed Mazhari (Chief Growth Officer) as opposed to attempting to force a quicker integration into Sanjay Srivastava's Digital organization tells us that Genpact is keen to retain the culture of Right Point in the initial phases and not force Genpact's culture onto Right Point's people.  This is more from the Accenture playbook of 36 digital acquisitions to-date, where they learned quickly not to Accenturize these creative firms too quickly.
The Bottom-line:  business process service providers failing to invest in digitizing their capabilities across front-to-back offices are in a race to the bottom
The message to today's business process services firms is simple – you're dealing with the institutional processes of the world's biggest businesses.  Help align them with the needs of their customers and you will win.  Stay doing the same old legacy processing and you're probably toast in a couple more years.
Believe it or not, if you're helping clients manage their processes and data, you're right where you need to be… but you need to develop or acquire the expertise to help them get where they want to go. That means you need to help them design, digitize, automate and self-remediate their processes to stay ahead of their customer needs, as they simply cannot survive treading water in today's environment.  As we recently pointed out, 75% of enterprises will demand significant changes to their services partnerships when they next evaluate their contracts.  So providers thinking most of their clients will tolerate them not making significant investments in delivering digital services are going to be in serious trouble (and some are and are fast realizing it).
Posted in : Business Process Outsourcing (BPO), customer-experience-management, OneOffice