Last year we couldn't help ourselves revealing our lovely Gartner analyst friends, via the voice of Chief of Research and Distinguished Analyst, Fran Karamouzis, declaring, "3 million of us will be supervised by robobosses by 2018".
So, while many of us are counting down the last few months enjoying our last experiences of having human bosses (or maybe some of us will actually prefer a robot), we can now breathe a huge sigh of relief that a whopping "96% of clients are getting real value from RPA" (Robotic Process Automation). And not only that, RPA is thriving at a "satisfaction level greater than anything Fran has seen in her 17 years at Gartner":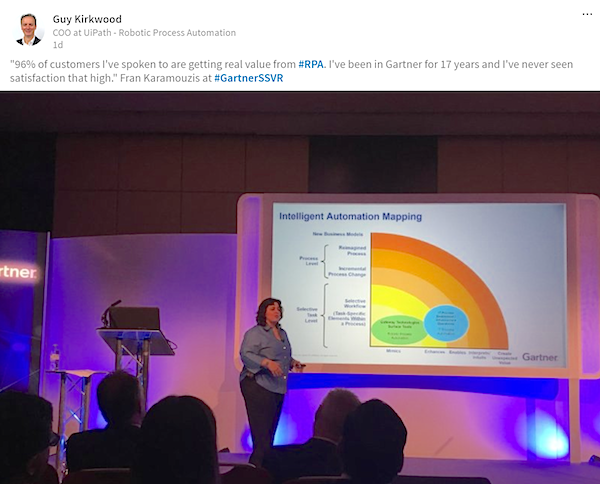 I personally would love to meet this incredible cross sample of delighted clients Fran has had the good fortune to interview, seeing as we've been covering the emergence of RPA for nearly 5 years and this space is still at a very early phase of (sometimes) painful RPA experimentation, as enterprises figure out how to scale these tools, govern them and learn how to integrate them with other applications using scarce technical skills, while dealing with very challenging change issues.
At HfS, we just came off a very intense day with 60 enterprise clients tinkering with RPA, and can officially declare that 96% of them are definitely not in love with their experience. In fact, only a handful are making real progress, while the majority lack a cohesive governance program to get this stuff working on even a few rudimentary processes. At HfS, we estimate, from our extensive ongoing research, that about half of today's RPA implementations are, so far, making some progress, while even Ernst and Young's new RPA report declares it has seen 30-50% of initial RPA implementations fail. (And this McKinsey piece entitled "Burned by the bots: Why robotic automation is stumbling" has since been published… well worth a read).
Why claiming 96% of RPA customers are seeing real value is plainly ridiculous
Several of the RPA solutions vendors are painting an over-glamorous picture of dramatic cost savings and ROI. RPA software firms are claiming – and demonstrating – some client cases where ~40% of cost (or more, in some cases) is being taken off the bottom line. While some of these cases are genuine, there are many RPA pilots and early-phase implementations in the industry that have been left stranded because clients just couldn't figure out the ROI and how to implement this stuff. This isn't simply a case of buying software and looping broken processes together to remove manual efforts… this requires real buy-in from IT and operations leaders to invest in the technical, organizational change management, and process transformation skills.
Several RPA clients cannot scale their solutions and are aborting implementations. One solution in particular, which featured high in many analyst scatterplots, has recently suffered the ignominy of not being able to scale at the level it needs, with several of its clients and projects being either aborted or moved onto other solutions
Buyers are backed into a corner with broken delusions of automation grandeur as their CoEs fail. Buyer leaderships are being fed all this rosy information and are under incredible pressure to devise and execute an RPA strategy, with some sort of set of metrics, that they can demonstrate to their operations leadership. Many are quickly discovering they simply do not have the skills inhouse to set up automation centers of excellence and are frantically turning to third parties to help get them on the right track.
Outsourcing consultants are selling RPA before they can really deliver it. Sourcing advisors are claiming they are now "RPA experts" who can make this happen, while struggling to scale up talent bases that can understand the technology and deal with the considerable change management tensions within their clients. RPA is murky and complex, and not something you can train 28-year-old MBAs to master overnight. Meanwhile, we are seeing some advisors simply do some brokering of RPA software deals for small fees, only to make a hasty exit from the client as they do not have the expertise to roll-out effective implementation and change management programs.
RPA specialist consultants few and far between. Pure-play RPA advisors are explaining this is not quite so easy and requires a lot more of a centralized, concise strategy. There are simply not enough of these firms in the market, especially with Genfour having been snapped up recently by Accenture. With only a small handful of boutique specialists to go around, these firms can pick and choose their clients and command high rates.
Service providers are setting the pace, but will destroy each other in the process, making it challenging to source the right RPA capabilities. Service providers are claiming they can implement whatever RPA clients need, but are not willing to do it at the expense of reducing their current revenues. Meanwhile, smart service providers are aggressively implementing RPA into their own operations to drive down their delivery costs and reduce their own headcount, and many are already claiming 10-20% of their delivery headcount has been reduced. So we can expect to see providers aggressively attacking competitive clients with automation-led solutions that should create unbearable pricing pressures for service providers looking to retain the talent they need to implement this stuff. Hence, services providers will be hell bent on destroying each other and the winners will be those who eventually succeed in winning more work than they lose amidst all the destruction.
Half of enterprise buyers want help from their service providers when it comes to RPA and cognitive. When we privately polled 60 senior outsourcing buyers, at the recent HfS New York Summit, on what would improve the quality and outcomes of their current services relationships, the answer was pretty conclusive – half want to work with their providers to rollout their automation and cognitive roadmaps, begging the question why half of this famous 96% of RPA customers feel they need help from third parties if they are already so satisfied with their current RPA experiences?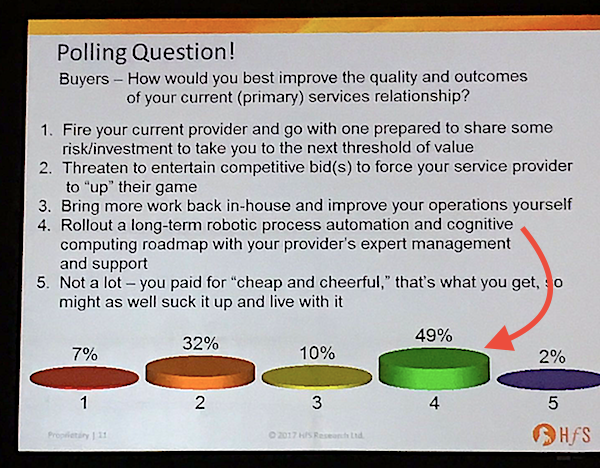 The Bottom-line: It's time to stop pandering to the hype merchants and get real about the true challenges of RPA
The biggest issue threatening the real progress of RPA is the sheer deluge of misinformation that is being churned out to the poor unsuspecting customers. I cannot tell you how many have called us up at HfS bemoaning the fact their CFO has just returned from a conference and wants a piece of this 40% savings from recording manual processes in a digital loop.
Now, it may simply be that Fran has been lucky enough to have been spoon-fed references from only those highly successful clients of RPA, hence her unadulterated exuberance of its proven value. Sadly, I don't get to wallow in such a haven of client success, and seem to have all the clients who are struggling to get this stuff moving call us up and come to our summits to share war stories. However we conclude this latest little debacle in the unraveling of the RPA odyssey, it is clear is our leading analysts need to get their research right and owe our industry the real facts, not the puffed up hype to excite the marketeers and sales people in the software and services firms. RPA impacts jobs, it impacts process effectiveness and can cost you dearly if you mess it up. It needs to be handled with intelligence and diligence.
Posted in : Confusing Outsourcing Information, Robotic Process Automation