Cognizant had an unprecedenced growth spurt in 2010,  attaining annual revenues of $4.59 billion – up 40% year-over-year. We have arrived at the growth peak of offshore IT services, and Cognizant has led this acceleration coming out of the Recession.
Things have certainly kicked on since we talked with President and CEO, Francisco D'Souza, a couple of years' ago, and what's alarming for the rest of the industry, is that "Frank" (as Francicso tends to be called these days) isn't resting now. The company has provided guidance for 2011 predicting revenue growth of at least 26% – and this is a firm that tends to stick to the conservative side of its financial predictions.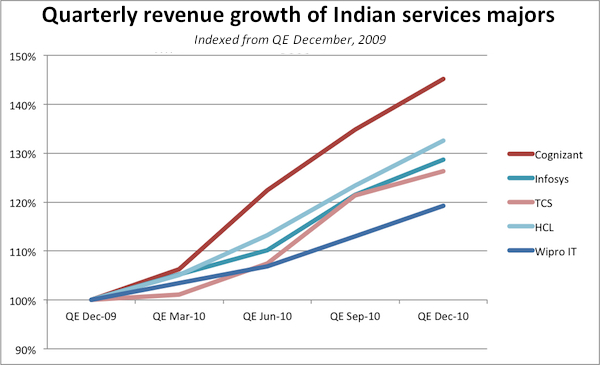 So we caught up with Frank this week to discuss the dynamics behind Cognizant's growth, the state of the services industry, the global economic outlook and (of course) his perspective on the Cloud, among other issues.  Here is part 1 of this 2-part interview:
HfS Research: Frank, firstly, congratulations on such a barnstorming financial performance – and over such a prolonged period of time. What's the "secret sauce" you can share with our readers? Is it all about focus on revenue growth and account management, or are there other critical elements to achieving such prolonged financial success?
Francisco D'Souza: Thank you, Phil, and congratulations to HfS Research for a great inaugural year and to you on being named Analyst of the Year.
As for Cognizant's success, we have always been very open about our "secret sauce" – we put our client first. Of course every professional services firm approaches the market that way, but we have made some unique business decisions – namely our reinvestment model – to support that principle.
Cognizant manages our non-GAAP (before the impact of equity compensation expense) operating margins in the range of 19 to 20 percent – below that of many of our competitors. We invest that difference back in to our business in a number of different ways.
For example, in strong client facing teams. Our 2-in-a-box model – which pairs an on-site client manager with an offshore delivery manager — provides superior customer intimacy and an enhanced relationship experience. We continue to strengthen that experience through investments in consulting teams and, most recently, in Program Management resources capable of driving large-scale organizational transformation.
We also invest in new service offerings to stay on top of our clients' evolving business and technology needs. Offerings such as Infrastructure Services, Business Process Outsourcing, Enterprise Analytics, and Engineering & Manufacturing Solutions give us entrée to serve clients in new areas as the offshore "share shift" continues.
And, finally, we hire and retain the best talent in the marketplace. Last year we added over 25,000 associates in over 50 centers across 22 cities around the globe. We improved already strong relationships with key Indian universities – a primary source of talent for the company – and began an undergraduate recruiting program in the US and Europe to capture a new pipeline of strong talent. And we continued to provide the best career opportunities for our existing associates by, for example, promoting nearly a third of our workforce in 2010.
HfS Research: We've talked a lot about the changing economy and secular change within industries over the Recession years. Now the fog is lifting, is your outlook any different?
Francisco D'Souza: While we continuously refine our outlook, we see things unfolding the way we had anticipated. The economic environment is generally more stable, IT and Outsourcing budgets seem to be showing modest increases, and Cognizant's investments over the past few years position us well for growth at the intersection of three large trends.
The first is expansion in the scale and scope of global sourcing to new areas – the so called "share shift", which accelerated during the Recession. Our clients' intense focus on operational efficiency served as a catalyst to examine what activities are core to their business and what should be done from somewhere and by someone else. As a result, companies are driving more work and corresponding budget to a global delivery model, thus expanding the addressable market for traditional outsourcing. We also see significant opportunity as we continue to take the offshore model to newer geographic markets such as Europe, AsiaPac, Latin America and the Middle East. In aggregate, scale expansions in to new geographies and scope expansions in to new processes represent a market opportunity that is as large as, if not larger than, the traditional ADM market.
The second is continued spending on discretionary projects as companies embark on transformational programs to address secular changes in their industries. These projects range from companies rationalizing complex back-office infrastructure by consolidating data centers, virtualizing servers, and modernizing legacy applications – to implementing or upgrading packaged software to support efficiency and effectiveness in the middle and back office. Once again, we see clients becoming increasingly comfortable using a global delivery model to execute these large, complex transformational engagements.
And the third is a new set of services and solutions that companies are adopting to embrace the new business models, new technologies and new generation of workers and consumers that form the foundation of a new Future of Work.
HfS Research: Cognizant talks a lot about the Future of Work. In a nutshell, how is Cognizant gearing up to service its clients, bearing in mind this future vision?
Francisco D'Souza: Cognizant has very publicly shared our view that three global trends that are rapidly redefining the "new normal" and reshaping the way forward-thinking companies operate.
The first is a new generation of highly distributed and virtualized business models that push global talent integration to new levels in search of dramatically better efficiency and effectiveness.
The second is a new generation of cloud, mobile, and social technologies that are redefining the range of business problems that technology can help address.
And third is a new generation of workers and consumers that grew up with technology and has dramatically different expectations about how they interact with companies.
In this virtualized, globalized environment where new technologies like cloud computing and social networks intersect with the millennial generation, clients are looking for better ways to organize teams, cultivate innovation, allocate resources and reinvent knowledge processes. This is how we define the Future of Work.
To illustrate how we're gearing up to support clients, let me use two examples. The first example relates to a new class of "Business Process as a Service" (BPaaS) outsourcing solutions. Through the investment in new services that I mentioned earlier, Cognizant can provide clients with a fully integrated solution including IT infrastructure, applications and business process outsourcing to solve a specific business or functional problem. The client pays for the outcome and, generally, does so on a transactional basis. This model appeals to a client base that's looking to replace fixed capital expense with variable operating costs that scale with demand.
An example of this is the work we are doing at Eli Lilly & Company, where Cognizant is deploying a comprehensive BPaaS solution to support US sales and marketing operations. Our solution covers a range of functions such as sales force planning, sales incentive compensation, customer relationship management, business reporting, data warehousing, analytics and state compliance reporting. We are excited about expanding our portfolio of solutions aligned to these unfolding secular changes.
A second example where we are geared up to help clients is in the adoption of new technologies to improve employee and customer experiences. Today, technology expectations are increasingly being shaped by the consumer world where sleek smartphones, always-on broadband, and boundless virtual personal interactions are the norm. Yet in the corporate world, the technology environment is far different. Clients recognize that the chasm between the state of technology in the consumer and corporate worlds is unsustainable and they are investing to bridge the gap.
We recently developed a mobile application for a global consumer products company that allows delivery personnel to collect competitive intelligence about product placement in retail stores. The application captures information about where competitors' products are placed in each store, the amount of space they are allotted, and a qualitative opinion of how their own placement stacks up. Once analyzed, this information – which was previously not captured – provides valuable input to promotional decisions.
We increasingly see clients conducting pilots in areas around the Future of Work. While still early days, we are convinced that we are witnessing another large inflection point in the technology industry which will be a significant revenue opportunity in the long term. Our investments in creating practice areas around mobile computing, Cloud computing, social networking and a host of other areas position us well to take advantage of the opportunities raised by the future of work as this market opportunity unfolds over the coming years.
HfS Research: Your peer at HCL recently declared that private Cloud is "overhyped" (ahem) and will struggle to make a real impact. Other providers are jumping on the bandwagon and puffing up the marketing-volume, but many are guilty of defining it incorrectly and confusing the market. What's your take on the whole thing – isn't the Cloud a threat to the core offshore business model? India is branded as a good value location where you will get lower cost reliable services, however, doesn't the 'Cloud' concept dilute the Indian brand…e.g., Come to the Cloud, which can be anywhere, not just India and get affordable, reliable, on demand services….any concerns?
Francisco D'Souza: Cloud computing represents a profound paradigm change in the way computing is delivered to end users. I would argue that the impact that Cloud will have on enterprises will be more profound than the impact of the client/server and Internet paradigm shifts. And while it's true that there's a lot of hype out there about the Cloud, we should not let the hype obscure the business value that cloud will increasingly deliver as the underlying technologies become more robust, secure and industrial strength.
Having said that, I see the Cloud as accretive to the offshore business model; it is not at all dilutive. Businesses are becoming more technology intensive – not less. So our clients will continue to need access to the best talent – regardless of where that talent is located. We view ourselves as a global service provider, not an Indian service provider. We are continually expanding our delivery network in to new geographies where we can tap in to world-class resources. There is no doubt that India is and will continue to be an incredibly important pool of talent, but by no means is it our only focus.
HfS Research: Clearly, these are the hyper-growth years for the offshore-centric services business, but we all know this growth can't be sustained at such an intense pace for much longer. How does the offshore IT/BPO industry need to adapt to continue to be successful – where do the winning firms need to invest? Can everyone win out, or do you see only a few of the leading providers really staying the course?
Francisco D'Souza: As I mentioned earlier, there is a considerable amount of opportunity in the market. IT and BPO services represent a large market that remains very underpenetrated by offshore providers. This is especially true as companies rely even more on new technologies and expand the scope of services that they outsource to parlay the efficiency and effectiveness gains they see from IT into new domains. Having said that, I expect growth rates will inevitably slow as companies face the impact of the "law of large numbers".
From a competitive standpoint, the model is changing. Labor arbitrage has become mainstream requiring providers to innovate and push the envelope to stay in front of evolving client demand. Companies that don't will struggle to remain relevant. At Cognizant, our reinvestment approach has ensured we sustain our relevance. We are focused on new services – like Engineering & Manufacturing and Enterprise Analytics, delivering complex transformational engagements, and innovating new offerings driven by the Future of Work – such as BPaaS delivery models.
Stay tuned for Part II coming soon…
Posted in : Business Process Outsourcing (BPO), Cloud Computing, IT Outsourcing / IT Services, Outsourcing Heros