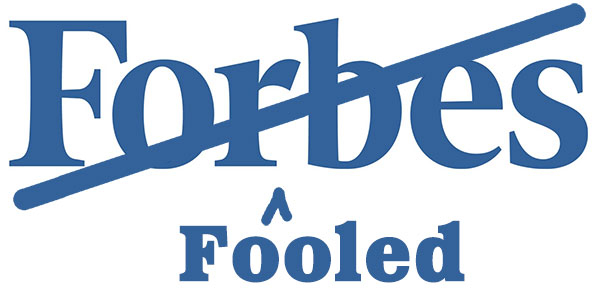 One issue dominating the tech-media back channels of late is publisher Forbe's use of its column "BrandVoice" to promote blatantly various technology products, such as Oracle and SAP.
"What's wrong with advertorials?" I hear you ask.  Well, simply put, BrandVoice articles are not clearly portrayed as advertorials, such as when you read a car advertisement in the Wall Street Journal, but appear to be regular news and opinion pieces.  For example, take a look at this write up of SAP's "Pioneering Walk in the Cloud", or Oracle's "Why Exadata Is Rocking the Tech Industry".  The only indication that these are sponsored columns, is the "BrandVoice" note at the top, if you happen to know what "BrandVoice" actually means. There is no sponsored content indication anywhere on the BrandVoice articles, not even a company logo at the top of the pieces.  Moreover, midway through last year, the column title was changed from AdVoice to BrandVoice, further blurring the lines between reality and fantasy.
The list of praiseworthy articles is endless, and (seemingly) very convincing to the general reader, who is being fooled into thinking they are reading real journalism.  And why would you think these articles were suspiciously fictional marketing puffery, while skim-reading over your corn flakes and coffee? It's Forbes, for chrissakes… has to be great content, right?
Sadly, these pieces are not even written by journalists, but by marketers within the respective vendors.  And hey – it's awesome marketing. A prestige media platform like Forbes allowing sponsors to pen their own content under their famous brand? Can't fault the savvy CMOs for buying up some serious media real-estate.
And this pay-for-praise content fest doesn't stop with the BrandVoices. There is more blurring of the lines as some regular Forbes columnists are brand sponsored, for example Dan Woods used to be sponsored by IBM, now he is sponsored by SAS. How do his followers know who's paying him to wear their rose-tinted spectacles. Even at HfS, we've been approached to be interviewed by Forbes "journalists" for sponsored pieces by services providers.
So what does this say about Forbes and the state of tech journalism? 
Has Forbes reached a level of greed from its advertising revenue, that it simply doesn't care about fooling its readership into reading blatant commercials?  According to one (highly credible) vendor marketer, the cost is $1M to get into BrandVoice, and there is even a more modest program requiring a paltry $50K to $100K a month for a six-month trial package of fantasy pieces.  This isn't small potatoes stuff, ladies and gentelmen…
Or is this simply the decline of the tech journalism industry, where vendors have taken their level of control over written content to a whole new level where the publisher and vendor have lost all respect for impartiality?  The vendor having its unblemished one-sided spectacular praise pieces, the publisher getting paid spectacularly well, despite risking losing all credibility with its readers.
We had the opportunity to talk to some vendor executives recently to get their experience working of the strategy behind Forbes' BrandVoice….
HfS:  Does Forbes promise to make the sponsored content appear independent?
Potential Advertiser: No, they don't promise to make their content appear independent.  They position it as another marketing channel where editorial and advertorial co-mingle and co-exist.  They are, in fact, quite proud of the hits BrandVoice articles get relative to straight editorial.  They like that blending of content.
HfS: Does Forbes have specific writing/content guidelines – and how much do their own staff shape the content?
Potential Advertiser: They do have specific writing and content guidelines, yet there is no vetting process whatsoever.  Vendors can publish anything through the WordPress site.  I get the impression that only after someone calls out an egregious post will they do anything.  There is no filter, no vetting, vendors can post anything they want.  In the case of using their content bureau, things are different, however – they do screen their own content.  It is very much like the Wild West, that's why Oracle and co. can get away with such blatant advertorials.
Key facts* about Forbes BrandVoice, relayed to HfS:
33 active advertisers as of today
BrandVoice generates 150,000 hits a month on average
Forbes has added what it calls a "service bureau," which operates like a creative services team, to help brands publish content of interest to readers across not only the site, but also social media
SAP has been onboard since the beginning and averages about 60% of all hits to BrandVoice columns
SAP aspires to turn 10% of its Forbes readers into what it calls "marketable contacts," but right now that number is somewhere between 2% and 10%.
Cost is $1M to get into BrandVoice, and there is a more modest program requiring $50K to $100K a month for six months
Forbes expects BrandVoice to generate 25% of all revenues in 2013, up from 10% this year
*If Forbes deems these to be wildly inaccurate, then please share this openly with us here
The Bottom-line: Beware of famous media brands bearing free content
To be honest, this whole debacle leaves me depressed and speechless.  While less credible or renowned brands (or some lower tier analysts) might be pressured to take vendor handouts for rose-tinted articles, you expect more from a world famous brand like Forbes.  It's almost as if the vendors want to cut corners these days and simply buy opinion – and even write it themselves, and some of these media platforms are (apparently) giving up the ghost on quality reporting and journalism.  This is a slippery slope, and one you struggle to see bottoming out anytime soon.
Posted in : Confusing Outsourcing Information, HfSResearch.com Homepage, Social Networking