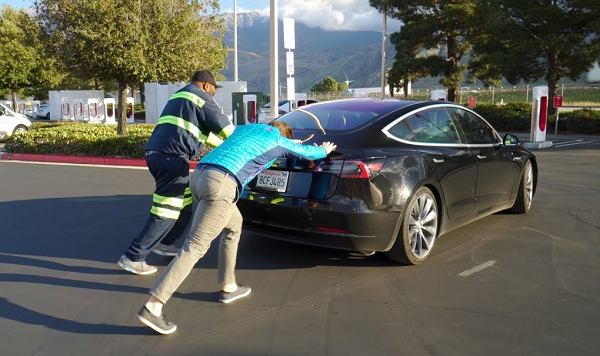 As we discussed last week, the 2019 State of Operations data shows a strong appetite from enterprises to dump legacy outsourcing practices and reinvest in operating models that can take them straight to digital. 
While the desire to invest in an outsourcing model nose-dived from 62% in 2018 to 28% this year, it's also worth looking at the definitive actions enterprises plan to take when their current outsourcing engagement come up for renewal: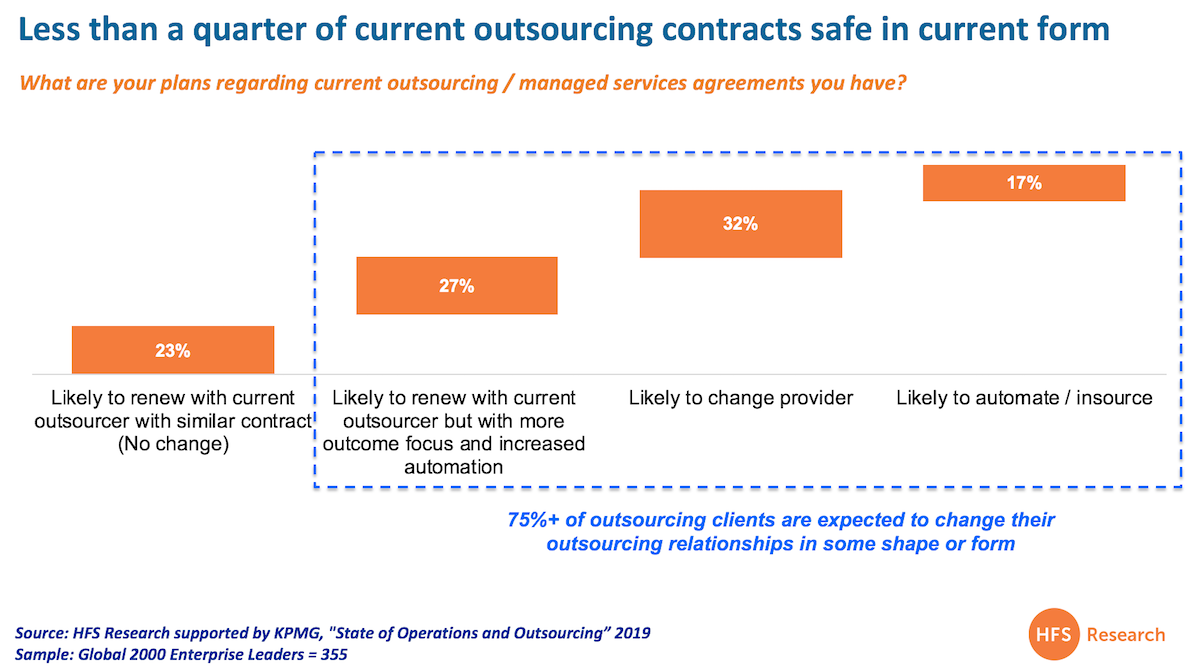 There is a clear appetite for change and complacent service providers are in serious trouble
Several service providers have already commented that they "just don't see their clients wanting to change this aggressively" since our recent roundtable in London and the recent blog post which amassed huge attention across the industry. However, many are clearly in denial that we're deep in a critical transition from the traditional labor-driven model to one that is much more touchless and less physical in nature.  In my view, the issue here isn't that these peoples' observations are wrong, they're just not having the right conversations.  Most of the BPO executives admit they are "feeling their way" to address their clients' needs for more RPA and digitization of their processes, but simply do not have the scale of people on hand with the necessary training and skills to help them.  Instead, they are simply waiting for a burning platform that forces them into some sort of action.  Worryingly, when we look at this data, when this burning platform finally appears under their posteriors, it's already going to be far too late for them to save themselves. 
Why going straight to digital with your outsourcing engagement is like buying a Tesla – it's a big change, can be expensive and requires a very different type of service partner to make it viable 
Most enterprise operations leaders are unlikely to tell their provider's client partner "we're fed up with spending the same dollars each year for the same tired old processes and small army of staff to deliver them".  That is like going to your car dealer and saying you're sick of paying extortionate sums for gas to fuel your car, and you're also sick of polluting the environment.  Unless your car dealer is fully up on electric cars and has a great financing model to switch you up, you're more likely to find a dealer who specializes in what you need.  The only way your existing car dealer is going to have a chance of retaining your business is if his firm has invested in mechanics who are trained in electric car maintenance, sales people who know enough to sell you one, and a financing partner to get you "fully electric" with a financially affordable package.  
So what can we expect today's enterprises to do when their current outsourcing engagements expire?
Barely a quarter of enterprises content to stick with their gas-guzzlers.  As the data clearly tells us here, not even a quarter of clients intend to stay true to their tried, trusted, stable (and stale) relationship.  Perhaps they just don't care that much and can quietly drift along to retirement by merely "keeping the lights on" with their legacy business practices that just about get the job done.
Another quarter wants to move the needle, but may opt for a hybrid model. Meanwhile, 27% are getting itchy to kick their service provider up the rear end and get them embedding some real automation into their delivery if they are to renew with them.  This means they want to see real commitment to reduce the dependence on the staff army and see real investments in process automation to digitize their delivery.  This could perhaps be the car dealer selling you a hybrid vehicle as you look to move to an electric model, but need a defined transition period to get there. It is also less extreme for a car dealer to invest in hybrid cars as they require less specialization than fully electric vehicles, so this is often a great compromise for both parties.
A third is more decisive and likely to make the switch.  32% have clearly got to know their current outsourcing provider only too well over the years and have zero hope they can get any real co-investment out of them.  As we have discovered over the last couple of years, some providers have made real investments in competencies like automation and AI, while others have merely added a little sugar-frosting and persist with selling the same old model with some cost shaved off the package, and some added incentives for performance (i.e "outcomes").  Moreover, ambitious outsourcers are heavily targeting their competitors' disaffected clients and are willing to offer eye-catching deals to win their custom.  This can include attractive pricing tied to aggressive delivery staff reduction over a 3-5 year amortization plan that is offset by efficiency savings due to automation and digitization.
In some cases, it may also prove more attractive for the legacy provider to shed the business than fight to keep a client that will quickly become unprofitable (and the industry is littered with those engagements). In many of these cases, this is more like a car customer moving towards a brand they haven't driven before, most likely a hybrid, and having an acrimonious split from their current model because their dealer tried to sell them a car that just didn't check the boxes.  However, in several services markets, we are seeing emerging offerings from providers where they are offering fully digital offerings (with vastly cheaper support), such as TaskUs in the customer call center market, or nDivision in managed IT operations, which can undercut traditional outsourcers so aggressively, there is no feasible way the traditional providers can compete.  In addition, we are seeing several India-centric service providers offer $-per-chat support models for some transactional services that are essentially chatbots offering basic-level support services at costs as cheap as 15 cents a chat… we are finally seeing "digital disruption" attack the traditional outsourcing market that has somehow staved it off for years thanks to lethargic clients and lock-in contracts.  
The 17% who have given up and will just look at something very different.  Maybe the cost of changing the model is just so abhorrent it's time to pull the work back and fix it yourself.  Maybe you're so fed up with the lack of innovation in changing anything you've realized you have smarter people on staff who are better deployed to take the work back, staff up to execute it while you explore all your digital and automation options.  Maybe you want to invest in an integrated automation platform, and you want to use the funds saved by backsourcing the work to invest in an automation backbone that enables you to perform work in a touchless, smarter manner?   Maybe you've seen that shiny new Tesla in the showroom window and decided to take the plunge and to hell with the upfront cost…
The Bottom Line – after years of providers complaining about their clients being unwilling to invest, the outsourcing chickens are coming home to roost
The problem with outsourcing is that it has always been underpinned by financial models that give the buyer or provider little wiggle room to make investments to do anything differently.  Most firms still run most of their processes exactly the same way as they did 20/30/40 years ago, with the only "innovation" being models like offshore outsourcing and shared service centers, cloud and digital technologies enabling those same processes to be conducted steadily faster and cheaper.  However, fundamental changes have not been made to intrinsic business processes – most companies still operate with their major functions such as customer service, marketing, finance, HR and supply chain operating in individual silos, with IT operating as a non-strategic vehicle to maintain the status quo and keep the lights on.  
And the poor whipping child over the past couple of decades has been the poor outsourcer, who's taken on the putrid old processes and attempted to deliver them for their clients at lower cost, where the necessary investments needed to redesign the processes and improve the technology backbone would far outweigh the slim profits being eked out through using cheaper labor and following sensible process delivery templates.  Sadly for our lovely outsourcers, they have little choice but to suck up the fact that they ventured into this business to turn a profit, and if they want to remain in it, they need to make some new investments to get into a position to turn more profits in the future.
As we can see, 59% of their clients are open to doing things differently or using a different partner altogether, so the opportunity is there if you're willing to take some short term pain for longer-term gain.  This means retraining current delivery staff; this means adding skills in areas like RPA, ML and AI; this means smarter partnering with software firms and specialist consultancies.  This means you need to get out of your niche and provide solutions that your customers need, not merely force them to buy what is convenient and profitable for you to sell them.  This means you may need to start selling Teslas, not gass-guzzling SUVs….
Posted in : Artificial Intelligence, Business Process Outsourcing (BPO), IT Outsourcing / IT Services, OneOffice, Robotic Process Automation