Are you ready for our next installment of HfS' Live and Unfiltered series, broadcast live infront of the HfS Research community? Well... wait no longer for more no-holds-barred fun, no sponsors, no schmaltz, no selling - just good banter and discussion to share with our industry peers and colleagues.  Amd this time we'll be debating the very "Future of BPO"...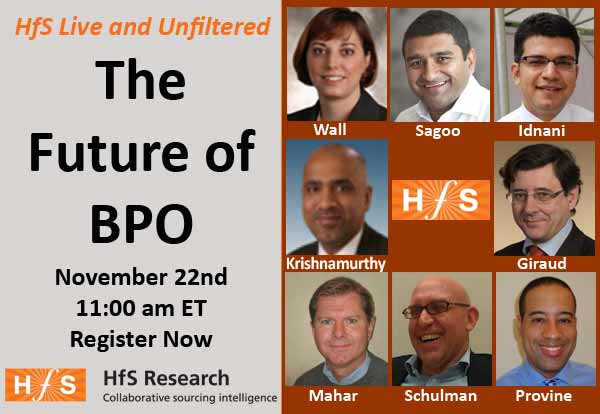 Here's the line-up...
The Buy-team
Roxanna Wall, Executive Director, Corporate Development at UBS AG
Colin Provine, Global Commodity Director, Honeywell
Ian Maher, Sourcing Management Office, The Hanover Insurance Group
Srinivasan Krishnamurthy, Vice President, Kronos Inc.
The Sell-team
Anoop Sagoo, Managing Director, Business Process Outsourcing, Accenture
Ritesh Idnani, Chief Operating Officer, InfosysBPO
Donniel Schulman, GM, F&A and Supply Chain Global Process Services, IBM
Hubert Giraud, Chief Executive Officer, Business Process Outsourcing, Capgemini
The Referee
Phil Fersht, Chief Executive Officer, HfS Research


November 22nd at 11:00 AM Eastern Time, 4.00pm GMT
Posted in: Business Process Outsourcing (BPO), Buyers' Sourcing Best Practices, Outsourcing Events